posted by
cbra
on
Thu, 09/22/2016 - 01:14
California Beverage Retailers Association
Beverage Bulletin
P.O. Box 56686
Sherman Oaks, CA 91413
(818) 693-5561
Ron Ziff, Editor
Ben Ziff, Publisher
August 2016
In this month's edition:
Headline News Stories - Urban Winery for Sale, Total Industry Sales Increase,
Henry Wine Group Sold, Retailer Faces Prison, Drought Update
Celebrities in the Industry - Matthew McConaughey, GWAR, Dave Mustane,
New Order, Iron Maiden, Vernon Wells, Chris Iannetta, Max Thierot, Hafþór Júlíus Björnsson, 50 Cent, Gene Simmons, James Hetfield
Popular Culture - Star Trek, Pokemon Go, Beer Mile
Books - A Proper Drink, Cocktail Cookbook, Pretty Fly for a Mai Tai, 101 Cocktails to Try Before You Die, A Glass Full of Miracles
Movies - A Year in Port
Politics - Prime Minister Theresa May, Bill Clinton, Trump, Pierre Emmanuel Taittinger, Trump Winery, Captain Morgan Rum amend the U.S. Constitution,
Sasha Obama
Wine - Top Selling Wine Brands in the World, Frose', Wine Bar Fraud, French Wine Arsonists, Barolo Stolen, Hail Hits Barolo, Big Sur Vineyard Fire, Refugee Wine Queen, Vineyard Olympics, 621 Years Ago, Dog Gone!
Beer - Glitch in Beer Mega Merger, Brewery Sucks Land Dry, Craft Brewing Continued Growth, Beer at Tour de France, Spilled Beer, U.S. #1 in Hops, Miller/Coors Buys Craft Brewer, Olympic Beer Mile, Job Offer, Beer Hotline,
A Product Whose Time Has Come, A Century of Beer Pong, A Pony Walks into a Bar, A Dog Walks into a Bar
Spirits - Brexit Helps Scotland, Brexit Hurts Diageo, Adult Milk Shakes, Hennessy XO Stolen
Other Foods and Beverages - Philadelphia Taxes Sugary Soda, Bon Appetit's Top 50 New Restaurants, Bloomberg 8 SFO Restaurants, What Your Customers Eat Out, Living High!, Living High for Less, Cuban Coffee, Big Tip?, Only on TV?
The Changing Market - Pokemon Go, Law School Drought
Recipes - Grape Gatsby, Frose'
Health - A Happy Marriage, Red Wine Could Slow Alzheimer's
…and as always Tasting Notes and the Industry Calendar
"You can't be a real country unless you have a beer and an airline. It helps if you have some kind of a football team, or some nuclear weapons, but at the very least you need a beer." -Frank Zappa
Headline News Stories
Urban Winery for Sale
Do you want to have a winery, but really don't have the time to get out of town most days? There's a property available in Beverly Hills. The Palazzo di Amore 25 acre estate at 9505 Lania Lane, has city and canyon views, a 35,000 foot main house, a 15,000 foot entertainment center with a bowling alley, 50 seat theater, and revolving dance floor. Originally offered at $195 million, it's marked down to a bargain $149 million. The vineyard produces 500 cases a year. With all that wine you'll make your money back in no time.
Total Industry Sales Increase
For 12 months ending June 30, 2016 the Total Beverage Alcohol Overview shows total consumer spending on beverage alcohol at just over $222 billion, an increase of 3.4% over the previous 12 months.
Henry Wine Group Sold
The Henry Wine Group has been sold to the Winebow Group. Warner Henry will stay on as an adviser and CEO Ed Hogan will continue to manage operations. The purchase price was not disclosed. Winebow will now be now distributing in 20 states.
Retailer Faces Prison
John Fox, who operated the now defunct Premier Cru wine store in Berkeley, has changed his plea in federal court to Guilty. He had been charged with wire fraud and had previously pleaded Not Guilty. The company was in bankruptcy with $7 million in assets and $70 million in debt. 9,000 customers in 45 states and 8 countries had paid for wine that was never delivered. In his guilty plea he admitted to stealing $45 million. He said the money was spent on women, golf club memberships, and luxury cars. He will serve 6 1/2 years in federal prison.
Drought Update
The California Supreme Court has settled decades of litigation among Delta property owners. The decision will allow state officials to begin geological testing on 150 properties. This could eventually lead to Governor Brown's water project to pipe Delta water to Southern California.
Celebrities in the Industry
Alright, alright, alright!
Matthew McConaughey will be the Ambassador and Creative Director for Wild Turkey. His first project is a short film detailing the brand's position in a unique American industry.
Heavy Metal band, GWAR, has its own Vodka. It's potato Vodka, distilled 4 times, bottled by James River Distilling in Richmond, Virginia.
Singer Dave Mustane of the band, Megadeth, has sold Mustane Vineyards Cabernet bottled by Fallbrook Winery since 2014. Now he's getting into the beer business with a Belgian style ale from Unibroue in Quebec, Canada. The brew is named A Tout Le Monde.
The electronica rock group New Order has released a 4.2% ABV golden ale named Stray Dog. The brewery deal was negotiated by agent Renegade Music.
The rock group, Iron Maiden, is introducing their own Trooper Red 'n Black a 6.8% ABV porter that will be available September 1. This is the third in the series. First there was a beer named Trooper. Second came Trooper 666, a strong bitter. They have sold more than 13.5 million bottles so far.
Former Toronto Blue Jays, LA Angels, and New York Yankees outfielder, Vernon Wells is making wine with Seattle Mariners catcher, Chris Iannetta. Their Jack Winery Cab is made from grapes grown at Diamond Mountain and Howell Mountain. The just released 2013 vintage sells for $100.
Actor, Max Thierot, stars in the A&E thriller, Bates Motel. He owns Senses Wine with two partners. They grow the grapes on spare land in his parents vineyard property in Occidental, California. The vineyard is planted in Pinot Noir and Chardonnay. Max grew up in the Northern California wine industry and his family has been here for generations. His great great grandfather co-founded the San Francisco Chronicle with other relatives. When you see family dinner scenes of Bates Motel, look closely. That's Senses Wine on the table. The wines are sold privately to a select list twice a year.
Game of Thrones strongman Hafþór Júlíus Björnsson stars in a new laugh filled ad for his own vodka brand. View it at https://youtu.be/c19HRM0x-lA
 
Some celebrities are in the business even though they don't drink. First among them,
actor and rap singer, 50 Cent, explains "I know a big opportunity when I see one, which is why I decided to partner with Effen last year. We're going to show the world why Effen is the next big player in vodka."
Gene Simmons from the band, Kiss, has promoted a line of wines from Chardonnay to Zinfandel. He doesn't drink for religious reasons. A set of 5 bottles each etched with one of the band's pictures originally sold for $260. Only 80 sets were made.
James Hetfield from Metallica is a teetotaler. He had no problem handing out 91,000 cans of Bud that had one-time special Metallica labels. These collectible cans now sell for up to $130 a 24 pack.
Popular Culture
Star Trek
New York's Schmaltz Brewery will be bottling two ales under contract with CBS to honor the 50th anniversary of the show, Star Trek. The beers are named "The Trouble with Tribbles" and "Voyage to the Northeast Quadrant." They were released in conjunction with the new movie "Star Trek Beyond."
Maison Eight in London is offering special Star Trek themed cocktails and desserts in honor of the new movie Star Trek: Beyond. You can order Kali-fal made with vodka, sake, lime, Orgeat syrup and Blue Curaçao; or Star Drifter mixed with gin, green tea, ginger, cucumber and honey; or Jubalan Rum mixed with rum, strawberries, coconut milk and cinnamon. Desserts are Bajoran Gâteau-amande, almond cake with Earl Grey ice cream and orange syrup; Crème Brûlée Romulan served with rhubarb compote; and Orion Rhum Baba, a rum-soaked cake with blood orange ice cream. If this is all too complicated, you could just order "Scotchie, beam me up."
Pokemon Go
Pokemon Go fans in Hong Kong's Woods Bar can use the Wi-Fi and USB wall sockets while they drink a Bulbasaur Basil Daiquiri, Squirtle Tom Collins or Charmander Pineapple Verdita, your choice at HK$88.
Beer Mile
The Beer Mile, America's unique sport, has now become international. London held the second International Beer Mile Competition. Last year's event was in San Francisco. The winner, Corey Bellemore, set a new world's record at 4:34. That's impressive! You can watch the event at http://www.telegraph.co.uk/news/2016/08/01/world-record-smashed-at-londo...
Books
A Proper Drink: The Untold Story of how a Band of Bartenders Saved the Civilized Drinking World, by Robert Simonson, Ten Speed Press, 352 pages, $27. The bars, bartenders, and drinks that have forever changed the world of cocktails are documented in this book. Their stories are all shared here. Released in September.
Cocktail Cookbook by Oskar Kinberg, Francis Lincoln Publishers, 192 pages, $23.99. The owner of Dabbous, a top London bar, gives the recipes for 75 of his famous food/drink combinations. Among them: Basil Fawlty, Better Safe than Sorrel, Tequila Mockingbird, Currant Affairs, Shiso Fine and the Grape Gatsby. The reader can easily duplicate these delights by following the cookbook style recipe instructions. To be released October 4. See recipes below.
Pretty Fly for a Mai Tai by Mitchell Beazley, Octopus Books, 160 pages, $12.99. Pairs drink recipes with Rock 'n Roll classics. Learn how to make Jumpin' Jack Splash, Rum as You Are, and a host of others.
101 Cocktails to Try Before You Die by Francois Monti, Cassell, 224 pages, $12.99. Takes you from an Old Fashioned and Manhattan to Irish Mermaid and Bramble. Gives the recipe, background, history, and legends of each.
A Glass Full of Miracles by Miljenko "Mike" Grgich, Violetta Press, 418 pages, $40. The famous winemaker's memoirs. His travels as a young boy from Croatia to chase the American Dream. Issued on his 93rd birthday and the 40th anniversary of The Judgment of Paris when his Chateau Montelena Chardonnay beat the best of Chablis.
Movies
A Year in Port
This is another in the series produced by David Kennard. Previously we saw A Year in Burgundy and A Year in Champagne. The movie opens with a black tie dinner in England with a toast to the Queen. It takes a tour through the Douro Valley, growing season, and harvest. The history of Port and Portugal and the strong connection to England.
Politics
Politically inspired beers are the rage this year. Britain's Star Pubs and Bars is serving Come What May Ale in honor of new Prime Minister, Theresa May.
Exile Brewing has Chill Clinton Double Hemp Amber Ale. The brew is named for former President Bill Clinton, not candidate, Hillary. A picture of him playing the saxophone adorns the label. Undeterred, Hillary stopped in recently to buy a 6 pack.
5 Rabbit Cerveceria, noted for its Mexican Style beers, is making Chinga tu Pelo. The translation is F*** Your Hair in reference to Trump's comb over. The brewery discontinued making Trump Golden Ale which had been on draught at Trump Tower.
Brewdog launched Hello, My Name is Vladimir after the Russian Premier signed anti-gay legislation. The label depicts him with lipstick and make up.
Pierre Emmanuel Taittinger, Champagne magnate, declared and then withdrew from the race for Premier of France after only 5 days.
Trump Winery has received a fine and suspension for shipping wines to Arizona with the wrong type of license. Eric Trump's (not Donald's) winery had a farm winery license which allows small wineries producing 8,300 cases or less to ship direct to consumers. Authorities became aware of the problem when news reports put production at 40,000 cases. An audit showed the number was actually 56,609 cases. Trump will have to wait until January to apply for the correct license.
Captain Morgan Rum has started a campaign to amend Article 2 Section 1 of the U.S. Constitution. The section does not allow anyone under 35 to serve as President. The campaign is aimed at Morgan's core drinkers, the 75 million American Millenials. The brand has website under35potus.com, which redirects visitors to petitions.whitehouse.gov, to sign the petition. Under Obama administration rules, if petitions get 100,000 signatures in 30 days, the White House will issue an update on the request within 60 days.
..and finally, 15 year old Sasha Obama spent a few weeks this summer working 4 hour shifts at the take out window at Nancy's Restaurant in Martha's Vineyard. Customers and co-workers wondered about the men wearing earpieces and dark suits that were helping her.
Wine
Top Selling Wine Brands in the World – 2015 sales
#1 Barefoot 22.5 million cases – E&J Gallo Winery
#2 Concha y Toro 15.2 million cases – Concha y Toro
#3 Gallo 15 million cases – E &J Gallo Winery
#4 Changyu 15 million cases – Changyu Pioneer Wine Co.
#5 Robert Mondavi 12 million cases – Constellation Brands
#6 Yellow Tail 11.5 million cases– Casella Wines
#7 Sutter Home 10 million cases – Trinchero Family Estates
#8 Hardy's of Australia 9.5 million cases – Accolade Wines
#9 Great Wall 7.8 million cases – China Foods Ltd
#10 Beringer 7.9 million cases – Treasury Wine Estates
Frose'
Frose' is the new drink phenomenon sweeping the U.S. and Europe and pushed through social media. What is it? A rose' wine based drink that's frozen into an adult slushie. Who is drinking it? Young women on a "girls night out." Primi, a New York hot spot claims to have invented the drink. See the recipe below.
Wine Bar Fraud
Nick Gaskin in Australia is serving a 3 year prison sentence after opening a wine bar; The Perth Champagne Club. The reason: he funded the business by fraudulently charging patrons credit cards.
French Wine Arsonists
On the night of July 19 a group of about 30 French protesters vandalized and set fire to the offices and facility of Sudvin in Languedoc-Roussillon, France. Sudvin does about 10% of its business in Spanish wine. The attack appeared to be from Comité Régionale d'Action Viticole (CRAV), a secret group of winemakers that has intermittently used violence to pursue its goals for the past 50 years.
Barolo Stolen
Thieves stole 250 cases of wine worth $100,000 from Cordero di Montezemolo on June 25 and 100 cases worth $112,000 from Armando Parusso Winery on July 14. Security cameras took pictures of the men wearing masks and gloves. The wines stolen included special bottlings that can easily be identified. The thefts underline the growing value and prestige of Barolo wines.
Hail Hits Barolo
Hailstorms hit Barolo for two consecutive days during the last week of July. Estimates are that 20% to 30% of the crop was lost to the storms. Some properties were protected with netting that prevented the hail from hitting the grapes. Vineyards with Nebbiolo were not affected because they ripen late and were too green.
Big Sur Vineyard Fire
The vineyard at Big Sur Vineyards in Monterey County was destroyed in the Soberanes Fire in late July. The winery facility itself was saved from fire. Since the winery buys most of its grapes from other growers it will continue to operate. The fire burned nearly 40,000 acres and destroyed 57 homes.
Refugee Wine Queen
26 year old Ninorta Bahno has been named German Regional Wine Queen for Moselle. What is unusual is that she is a Syrian refugee. She came to Germany 3 years ago. Her favorite is Sweet Riesling. Bahno is taking a crash course in winemaking so she can properly represent the industry. She feels she not only represents the wine business, but it is an honor to represent refugees.
Vineyard Olympics
Vineyard workers in England's Hampshire and Sussex held the first Vineyard Olympics
at the same time as the games in Rio. Events included a wine waiter's race, complete with English sparkling wine flutes on trays; barrel rolling; throwing an end post; cork bobbing in a bucket; tug of war over bottles; and a relay race down a row of vines, using a bottle baton.
621 Years Ago
Historical note: on the 31st of July, 1395, Philip the Bold issued an edict banning Gamay grape vines from the Cote d'Or. The new hybrid of Pinot Noir and Gouais grapes was considered a low class product. At the same time he forbid the use of fertilizer in vineyards to increase production.
Dog Gone!
...and finally, Ralfi, a Whippet and Jack Russell mix in Tennessee can balance a glass of red wine on his nose for 15 seconds. There is no word on what he can do with white wine. See the video at https://www.youtube.com/watch?v=Ooi3i8QVKqU. What can your dog do?
If Ralfi decided he wanted to drink instead of balance he could call on Apollo Peak. The company that makes Pinot Meow and MosCato for cats now has non-alcoholic wine for dogs. Just order up a ZinFanTail or CharDogNay.
Beer
Glitch in Beer Mega Merger
SAB/Miller suspended its merger with AB/Inbev when the devaluation of the British Pound reduced the value of the sale. The merger process was resumed after AB/Inbev increased its purchase price to make up the difference. The price now stands at $107 billion. Meanwhile this largest consumer product merger in history has received approval from regulators in Australia, Europe, South Africa, and now the U.S. and China.
Brewery Sucks Land Dry
Mayor of Zaragosa, Mexico, Leoncio Martinez Sanchez, has petitioned the governor of Coahuila State for aid in getting drinking water. The Constellation Brands Brewery in nearby Nava that was built by AB/Inbev and sold to Constellation as part of a merger settlement is sucking the land dry. The brewery is pumping 1200 liters of water a second from a depth of 500 meters. In addition Constellation is expanding to be able to fill 20 million bottles of beer a day by 2017. Tap water is already only a trickle and Sanchez fears the town water will not have any after the expansion.
Craft Brewing Continued Growth
Craft Brewers produced 8% more beer in the first 6 months compared to a year earlier. As of June 30 there were 4656 breweries operating, an increase of 917 over last year. In addition 2200 more are in planning.
Beer at Tour de France
Chris Froome celebrated winning the Tour de France by drinking a beer during the final mile of the race. He broke the tradition of celebrating with Champagne.
Spilled Beer
A beer truck had an accident in Brooklyn during the Olympics creating a huge traffic jam with an aroma all its own. The cases spilled were Bud's special patriotic packaging. USA! USA! USA!
U.S. #1 in Hops
The U.S. became the biggest producer of hops for the first time. Germany has held the title since 1967. In 2015 U.S. production was up 12% to 36,389 tons and Germany's production fell by 26% to 28,337 tons. 83 varieties are now grown in the U.S. compared to 32 in Germany.
Miller/Coors Buys Craft Brewer
Miller/Coors has continued its buying spree with a major stake in another craft brewer. Hop Valley Brewery in Oregon joined MC's Tenth & Blake Division at the end of July. Last September Saint Archer was purchased and Terrapin was bought earlier in the month. The long term aim is to own regional breweries across the country.
Olympic Beer Mile
World of Beers, a tavern and package store with locations in 22 states, has asked its customers to petition the International Olympic Committee to add the Beer Mile as an Olympic event. Customers that sign the petition get a coupon for a free draught beer or $5 off food, depending on law in each state.
Job Offer
The Smithsonian Institute in Washington, D.C. Is looking to hire a beer historian. Over the years the museum has collected a large number of 19th and 20th century artifacts as part of its food collection. It will need someone to find things from the 1960's to date and put it all together. The position is funded by The Brewers Association. Apply to Smithsonian curator Paula Johnson.
Beer Hotline
Southern California beer fans now have a place to call with their most difficult questions. Tour operator, Hal Mooney, has set up a beer hotline. He runs a local craft brewery tour called the L.A. Beer Hop. From 10AM to Midnight he answers questions like "What's the most hipster craft beer bar in town, and how do I get in?" Answer: "Button Mash in Echo Park. Great beer, video games, pinball and amazing food. You get in by not going after a Dodger game."
A Product Whose Time Has Come
Rogue Ales in Newport, Oregon is making a Sriracha Beer. A little on the spicy side, an acquired taste. There's no mistaking the distinctive packaging.
A Century of Beer Pong
A woman in Prospect Heights, Illinois celebrated her 100th birthday by playing her favorite sport; beer pong. See the video posted by her grandson at
https://www.facebook.com/popet004/videos/vb.1604970061/10207002532334157...
A Pony Walks into a Bar
...and finally, a pony, named Mocha, broke into his owner's bar in Kent, England overnight and helped himself to enough beer and cider to get drunk. Pub owner, Mihaly Herczeg, was able to coax him out with carrot sticks.
A Dog Walks into a Bar
...And really finally, the Brownswood Pub in the Finsbury Park area of London is serving beer for dogs. The brews come in pork and chicken flavors. It's OK, the beer is non-alcoholic. There's no chance of doggie hangovers.
Spirits
Brexit Helps Scotland
Scotland voted to remain, while England voted for Brexit. Yet, the situation has created a spike in business for Scottish distilleries. First, there was a drop in the value of the Pound. Then the Bank of England lowered interest rates to stabilize the financial markets. The result has been a 10% drop in the price of Scotch which has made it an attractive purchase around the world.
Brexit Hurts Diageo
Diageo's quarterly profits were down 6% due to currency fluctuations after the Brexit vote.
Adult Milk Shakes
The Westbound bar in downtown L.A. has livened up the summer with grown up milk shakes. The drinks are cocktails made with artisan ice cream. The Grasshipster is Mint Chip ice cream, Fernet Branca, crème de cacao and menthe. The London Fog is Earl Grey ice cream, lemon sorbet, Beefeater Gin, and garnished with lemon curls. Matcha Madness is vegan matcha ice cream, rye, honey syrup, Amaro Montenegro and matcha powder.
Hennessy XO Stolen
An oversize bottle of Hennessy XO Cognac worth $15,000 was stolen from Dennis Rodman's charity in Foxboro Mass. Rodman for Kids raises money for at-risk youth services.
Other Foods and Beverages
Philadelphia Taxes Sugary Soda
Philadelphia became the second city in the country to tax sugary sodas. The Philadelphia City Council voted 13-4 to impose the 1.5 cent per ounce tax. It will add 36 cents to the price of a twelve pack. Opponents fought the issue, saying "Soda is a right." Michael Bloomberg funded part of the battle, contributing $1.6 million to the pro forces. His next target: Oakland, California.
Bon Appetit's Top 50 New Restaurants
Bon Appetit will list the top 50 new restaurants in the U.S. in its September issue. Andrew Knowlton, BA's deputy editor, says "They define the way we eat." Here's a preview of the 8 from California that made the list.
Baroo – Los Angeles – Ched Kwang Uh. In a Hollywood mini-mall you can get a choice of 5 Cal-Asian Grain Bowls and 2 Pastas.
Cassia – Santa Monica – Chef Bryant Ng. Bistro classics cooked Vietnamese style.
Lord Stanley – San Francisco - Chefs Carrie and Rupert Blease. Seasonal SFO food at its best.
The Perennial – San Francisco – A sustainable New American menu with meat and fish raised in an environmentally friendly way. Everything is handmade, including the fresh baked breads.
RiceBar – Los Angeles - Chef Charles Olalia. Specialty rice cooked with Philippine perfection and topped with an array of meats and veggies. Onlly 7 stools at a counter; get there early.
Tacos Cala – San Francisco – Gabiela Camara's creation. A garage with a roll up door serves tacos during the day. The warehouse space next door serves sophisticated Mexican style seafood at night.
Trois Familia – Los Angeles – Chefs Ludo Lefebvre, Jon Shook, and Vinny Dotolo (the guys who brought you Trois Mec and Animal. A French/Mexican/ American brunch menu served over the counter to be eaten at a picnic table in a strip mall parking lot.
Winsome – Los Angeles – Chef Jeremy Struble with pastry chef Leslie Mialma. Corned beef sandwiches, pork ribs, and rice dishes topped with cheese and other treats all served outdoors in Echo Park.
Bloomberg 8 SFO Restaurants
Bloomberg listed 8 restaurants in SFO's Financial District that are musts to try when in the city:
Tosca Cafe – Traditional Italian food in a relaxed atmosphere with leather booths.
Kokkari Estiatorio – Seafood in a Greek style and reasonably priced.
Tadich – San Francisco's oldest; celebrating its 160th birthday, serving top quality seafood.
Alfred's – Steak and HUGE Martini's.
Boulevard – New American Cuisine served with a view of the Bay Bridge.
Benu – Korean and Chinese specialties prepared by chef Corey Lee, a veteran of the French Laundry.
R&G Lounge – The home of the best Cantonese food in America.
Slanted Door – Vietnamese food from cellophane noodles to pho.
Wayfare Tavern – American classics made with top quality ingredients and served with local wines and serious beers.
What Your Customers Eat Out
The Top 10 Foods Eaten Out
Americans say they ate these foods out during the past 3 months as reported in Food Experience 2016.
Casual American Classics (Burgers etc) 79%
Pizza 77%
Breakfast Food 62%
Mexican 62%
Chinese 55%
Italian 46%
Steak 41%
BBQ 40%
Japanese/Sushi 28%
Southern Comfort Food 22%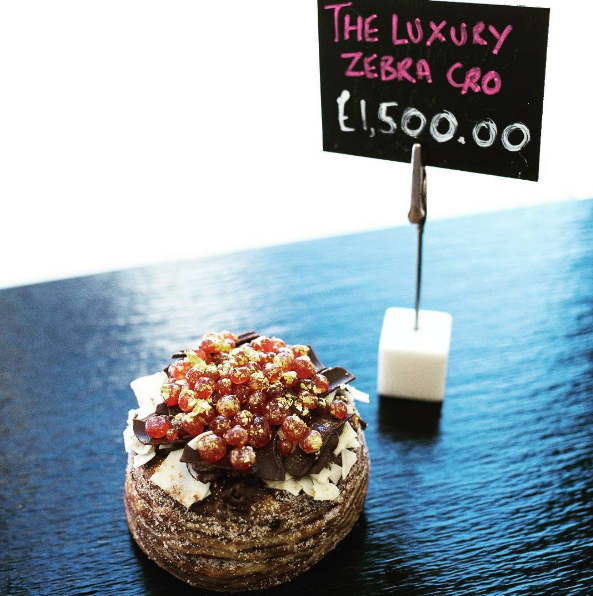 Living High!
Order this caviar topped doughnut for £1,500 (roughly $1,975 USD) at London's Dum Dum Donutterie, it contains Cristal Rosé Champagne caviar, gold leaf flakes, Tahitian gold vanilla beans, and rare Amedei Porcelana chocolate.
Living High for Less
A little too expensive? Go to Singapore instead. The Michelin Guide just rated the city's restaurants and awarded a star to HK Soya Sauce Chicken Rice and Noodle, a street vending stall. There chef Chan Hon Meng will cook you the cheapest Michelin rated meal in the world. It'll set you back $1.50. Chef Meng says "I dream that our food can be enjoyed on an international stage... it's the skill of a chef that makes his food outstanding."
Cuban Coffee
Nespresso will be importing Cuban coffee to the U.S. for the first time in more than 50 years. Two types are planned; Nespresso Grand Cru and Cafecito de Cuba. The company will be working directly with small farmers and begin shipping this fall.
Big Tip?
A wealthy diner ran up a tab of ₤100 for himself and two friends at Rajpoot Indian Restaurant in Inverurie, Scotland. When he was given the check machine, he punched his own numbers into the electronic machine and used his chip & pin card. The transaction was turned down by the bank. The restaurant owner called the bank, answered a few questions, the bank cleared the transaction, then he looked at the total in shock. The customer had entered ₤1,006,082.04. He showed the total to the diner, who just said "Oh." A quick call to the bank corrected the error.
Only on TV?
And finally... In an event that is reminiscent of the Seinfeld episode where Kramer and Newman load up a mail truck with cans and bottles and drive to Michigan to redeem them at the highest rate in the country; Brian Edward Everidge rented a truck from Budget Rentals, loaded up 10,000 cans, and drove from Kentucky to Michigan. He was stopped en route for speeding and later charged with illegally transporting cans and redeeming them. According to his attorney, Marcus Wilcox, he was arrested too early and hadn't yet redeemed anything. The lawyer said "If the statute doesn't fit, you must acquit." I think we've heard that before too.
The Changing Market
Pokemon Go
Pokemon Go has been an instant success as more than 15 million players in the U.S., UK, Australia, & New Zealand downloaded the game in its first week after being introduced on July 6. The hook is that restaurants and bars have to buy PokeStop units and load them with "Lure Modules" that are purchased in 30 minute segments. Here's a seven-step tutorial on buying and using the "Lure Modules" that the developer Niantic is selling and experts recommend to draw customers' attention.
Law School Drought
Some law schools are not filling their classes for the first time. Observers speculate that the reasons may be: incurring a 6 figure student debt to get into a crowded field, limited access to the top rungs of the business, giving up your own desires to represent others, or a desire for instant gratification for an internet generation.
Recipes
Grape Gatsby from Kinberg's Cocktail Cookbook
Ingredients
50ml gin
20ml sugar syrup
20ml fresh lemon juice
1 egg white
three marjoram sprigs
six white grapes
Mix and top with soda.
Frose' from Primi
1 750 ml Rose' Wine
Juice of 2 Lemons
2 teaspoons Sugar
Mix ingredients. Freeze for six hours. The alcohol keeps it from becoming solid and turns it into a slush. Garnish with Mint, Pomegranate, or a slice of Lemon. Primi adds a Strawberry.
Health
A Happy Marriage
A study by the University of Michigan showed that couples over 50 that have similar drinking habits are happier than couples whose drinking is misaligned. The amount was less important than whether or not one partner drank. Dr. Kira Birditt at the Institute for Social Research at The University of Michigan interviewed 2,767 couples over a 10 year period to develop her findings.
Red Wine Could Slow Alzheimer's
A new study published in the journal Current Topics in Medicinal Chemistry showed that resveratrol in combination with anti-oxidants and chelating agents, all found in red wine, slow Alzheimer's disease. Neuroscientist, Dr. Nady Braidy, at Australia's University of New South Wales studied the effects on 30 individuals. The study will now be expanded to a larger test group.
Tasting Notes
Each month we are out there looking for wines that "over deliver"; wines that offer more than others in their category and price level. We search out the wines that you can buy to help build your business; wines that make customers happy and keep them coming back. These are wines we rate as good buys and best buys. Check our notes. The opinions in the reviews are our own and unsolicited. We receive no compensation from wineries or brokers. This month there were several wine tastings that showed some very nice wines available at reasonable prices. The prices shown are approximate retails.
There were a number of good to great wines at the Revel Wines Portfolio Tasting. For all contact Tom Hunter tom@revelwine.biz or (213) 309-7890. Among the wines:
Piedra Sassi Santa Barbara Syrah 2013. Dark color, good nose, full body, soft. $36.
Contact Melissa Sorongon at melissa@piedrasassi.com
Teutonic Jazz Odyssey White Wine 2015. Willamette Valley. A blend of Riesling, Chardonnay, Gewurtztraminer. Light, clean, clear, good nose, semi dry, bright. $19. Contact Olga Tuttle at olga@teutonicwines.com
The Imported Italian wines from Trappolini we rate as good buys and best buys. Grechetto Lazio 2015, white, semi-dry, clean, clear, minerality. A good buy at $19. Montepulciano/Sangiovese blend 2014. Dark color, good nose, full body. A best buy at $15. Canaiolo Nero Lazio 2014. Dark color, good nose, full body. A good buy at $19. Cascina La Ghersa Timorosso 2012. Aged, minerality, clean, clear. A good buy at $21. Cascina La Ghersa Barbera di Asti 2014. From 90 year old vines. Very dry, very full body, good color and nose. A delight & best buy at $18. Contact your Revel salesperson or Tom Hunter for all of the above wines.
The Rhone Rangers Tasting was one of the highlights the summer season. It was held at the Skirball Cultural Center in a scenic location in the Santa Monica Mountains. The Rhone varieties have found a home California and seem to show better every year.
Consilience Wines by Sanger poured a Santa Barbara Syrah 2013. Good color and nose, balanced, full, ready to drink now. $22. Contact info@sangerwines.com or (805) 691-1020.
Morgan Winery's G17 Syrah 2014 (86% Syrah, 7% Grenache, 7% Tempranillo) was a fruity drink with good balance, tannins, good color and nose, 14.4%ABV. $22. Through Wine Warehouse. Contact jonathan@morganwinery.com or (949) 294-7031.
Ridge Vineyards Petite Sirah 2014 was a dark ruby color, full body, deep flavors. $34. Contact (408) 867-3233.
Kenneth Volk Vineyards poured several good wines. These are always among my favorites. Garnacha Blanca 2014. Clean, clear, light nose, minerality, 13.7% ABV. $28.
Grenache 2012. Light color, good nose, body, 14.4% ABV. $28
Petite Sirah 2013. Very dark color, good nose, fruity, a delightful glass full, 15.5% ABV.
$36. Contact Barbara Smith barbara@volkwines.com or (323) 426-9346.
Industry Calendar
8/6 Rhone Rangers – LA
8/6 Taste of Mt Veeder - Napa
8/12-15 Latin Food Fest – San Diego
8/17-18 Unified Grocers Expo – Long Beach
8/21 Family Winemakers - SFO
8/22-25 Natural, Organic & Specialty Foods – San Diego
8/25-28 LA Food and Wine - LA
8/27-28 Spirits Festival – San Diego
8/28-30 Western Foodservice Expo – LA
8/28-30 Sabor Latino – LA
8/28-31 Global Wine, Beer & Spirits
9/ TBA California Craft Beer Summit & Showcase – Sacramento
9/5 Labor Day
9/7 Latin American Wine & Spirits - SFO
9/12 Kobrand Tour d'Italia - SFO
9/13 Kobrand Tour d'Italia – Silicon Valley
9/14 Kobrand Tour d'Italia – Beverly Hills
9/15 Kobrand Tour d'Italia – San Diego
9/16 Mexican Independence Day
Promotion Calendar
9/1-9/30/16 National Bourbon Heritage Month
9/1-9/30/16 California Wine Month
09/05/16 Labor Day
09/07/16 National Beer Lover's Day
09/11/16 Patriot Day
09/15/16 National Creme de Menthe Day
09/20/16 Rum Punch Day
09/28/16 National Drink a Beer Day
09/29/16 National Coffee Day
New Legislation for 2016
Our industry has more laws controlling it than most industries. The State
Legislature and the ABC give us license privileges and can take them away. New alcoholic beverage laws were passed that will be effective in 2016. Many critical issues are pending. Do you know about them and are you prepared for the changes. Is your business safe? Members are encouraged to look through the Legislative Bulletin. If there is a new law that is a problem for your business, call the association office now. The CBRA is your voice in Sacramento. If you are not a member, join today. The CBRA is your only voice when it comes to new beverage laws.
Brands and Comments
The CBRA Newsletter has not accepted any payment from any of the brands mentioned
in this edition. The editor, Ron Ziff, welcomes comments at ron@cbraliquor.org
CBRA Membership Remains Open
Now, more than ever, access to your industry is important. The CBRA is California's
only statewide association of licensed retailers, and our membership continues to be
open for the first time in 20 years.
At CBRA we deal with licenses and regulations that affect the beverage business on a
daily basis. That's why CBRA offers practical solutions, unique products, services,
information, and timely advice for both large and small beverage businesses. With
reasonable fees, superior service, and associates that are easy to reach, CBRA helps you
to run your business better and easier. One of the most valuable services we offer is that
call to the ABC to ask your question. We can ask that question and keep you anonymous. That's something you just can't do yourself.
Join or renew your valuable membership today. You can't afford to delay.
California Beverage Retailers Association – California's Only Statewide Association of Licensees. We're #1!
If you would like to be removed from this email list, please email to
ron@cbraliquor.org with UNSUBSCRIBE in the subject line.