posted by
cbra
on
Tue, 02/09/2016 - 22:06
California Beverage Retailers Association
Beverage Bulletin
P.O. Box 56686
Sherman Oaks, CA 91413
(818) 693-5561
Ron Ziff, Editor
July 2015
This Month's Stories Include:
Headline News Stories-Honor Our Veterans, Supreme Court Decision Will Reshape the Industry, Warriors Champagne Final, Aldi Expands to California, Congress Passes Two Bills that Affect Wine Industry, Drought Update
Celebrities in the Industry-American Pharaoh, John Elway, Rob Mondavi, Eva Longoria, Brandi Glanville, Silverado Pickups
Popular Culture-Breaking Bad, Pick Your Team, Game of Ravens
Books-The Angel's Portion, Wine Trivia
Movies- The Perfect Harvest, LA Beer, Natural Resistance
Wine-Pope's Wine, Industrywide Credit Card Breach, 15 Man French Wine Crime Ring Convicted, Chablis Stolen, Wine Fraud Trial, Champagne Grows, Oenophile Flyers, Beating Airport Security, Chinese Buy California Vineyards, Grapes Make the Real Estate, Auction Napa Raises Charity Funds, What Kind of Wine Do You Serve With Tacos?, Aldi Wine, Pair Wine with Yoga, Getting Up in the World, Amateur Wins National Competition, Benziger Winery Sold, Sauvignon Blanc Shortage, Summer Wine Tours, Modern Egypt's Ancient Wine
Wine Tech Changes-New Barrel System, High Tech Barrel Control, New Grapes for Bordeaux, No More Spoiled Wine, New Better Tetra Pak, New Glass Wine Bottles
Beer-AB/Inbev Invests in U.S., More Beer with Less Water, Small Brewer Wins Big, Cider Grows, Corona Grows, Snoop Dogg Sues Pabst, 3G Eyes Two Brewers
Spirits-3G Eyes Diageo, Big Brother Diageo is Watching You, Bulleit Class Action Suit, Kosher Liquor Sued, Cruise Line Sets Liquid Restrictions, Consumer Interview
Other Foods and Beverages-No Lunch Interruptions, New Mexican Finds, Restaurant Pays More and Gets More Profitable, Home Delivery Water Grows, $100,000 Water, University of Vermont Fails, Davis Pushes Milk, Seltzer Bubbles, Amazon Adds Private Label Foods, Deep Fried What?, Dodgers Join MLB Food Frenzy, San Francisco Soda Warning
The Changing Market- Bottled Water Surges, Shrink, Sysco U.S. Foods Merger Off
Health-Red Wine for Colds
...and as always, Tasting Notes and the Industry Calendar
"I wish to live to 150 years old, but the day I die, I wish it to be with a cigarette in one hand and a glass of whiskey in the other." (Ava Gardner, 1922–1990, American actress)
Headline News Stories
Honor Our Veterans
Too many veterans are returning to civilian life with injuries sustained during their service in Afghanistan and Iraq. Since 2007, the Military and Veterans Appreciation Trust Foundation (MVAT) has raised more than $2,000,000 on behalf of charities that support the U.S. military, wounded warriors, veterans, and their families. The MVAT Golf and Tennis Classic is the main vehicle for raising these desperately needed funds. The 2015 MVAT Golf and Tennis Classic tournament will take place on Monday, August 17 at the MountainGate Country Club in Los Angeles. You can help by playing in the tournament, hosting a hospitality table on the golf course, or just donating some wine for the dinner time raffle. Contact Ron Ziff at ron@cbraliquor.org.
Supreme Court Decision Will Reshape the Industry
The US Supreme Court handed down a decision in Horne vs Department of Agriculture. The first effects of the decision will be felt this year in the raisin industry. Eventually it will also affect the wine industry. Raisins account for about 200,000 acres of the nearly 1 million acres of California land planted in grapes. Each year the Raisin Commission decided if it would take a portion of the raisin crop and how much it would take in order to support prices. Government trucks would roll up to a warehouse, load raisins, and take them away. The raisins were eventually used in food programs or sold for export. The growers would get back a portion of the proceeds. In 2003 the taking was 47% of the crop. In 2004 it was 30%. Grower, Marvin Horne, formed the Raisin Valley Farms Marketing Association and refused to surrender their raisins. He was fined $650,000, which he now does not have to pay. In the 5th Amendment decision Chief Justice, John Roberts, said "Raisins are private property, the fruit of the growers' labor, not public things subject to the absolute control of the state. Any physical taking of them must be accompanied by just compensation." The Raisin Marketing Order is based on a 1937 law. The current program dates back to 1949.
Warriors Champagne Final
California Senator Diane Feinstein bet bottles of Chardonnay and Cabernet Sauvignon against 6-packs of Great Lakes Beer from Ohio Senator Rob Portman on the outcome of the NBA Finals. The Golden State Warriors and the Cleveland Cavaliers played on, oblivious to the high stakes. Rapper E-40 (Earl Stephens) offered the warriors as much of his Mangoscato wine as they want until next basketball season. It was a tough choice, but, when the Warriors won, they celebrated back home with a Nebuchadnezzar(15 liter bottle) of Luc Bellaire Champagne valued at $10,000 and passed on drinking Mangoscato.
Aldi Expands to California
Discount retailer Aldi will open 45 stores in Southern California next year. Aldi stores are typically smaller than other supermarkets at about 10,000 square feet compared to 50,000 sq ft; have fewer items at about 1,300 compared to 30,000; fewer employees at about 20 compared to 100. The stores are non-union. Wages will range from $13 an hour for store clerks to $26 an hour for long term warehouse employees. Customers bag their own groceries. Most of the products are high quality private label priced at deep discount. The California stores will have wine. Aldi has been gearing up for this entry into the market for the past 3 years. The chain currently has 1,400 stores in 32 states. It is owned by the Albrecht family that also owns Trader Joe's. Aldi stands for Albrecht Discount. The California expansion is part of a strategy to open 650 new stores in the next 5 years. (also see Aldi Wine below)
Congress Passes Two Bills that Affect Wine Industry
Congress has passed the Bipartisan Congressional Trade Priorities and Accountability Act also known as "fast track" It is considered a sure thing that President Obama will sign the bill. The bill passed the House of Representatives 218-208 and the Senate 60-38. The law will give a huge sales boost to California wineries. It will allow the President to continue negotiations with 11 Pacific Rim nations that represent 40% of the world's economy.
In a separate action the House of Representatives passed a bill 300-131 to amend the Country of Origin requirements on beef, pork, and poultry. This will satisfy the ruling of the World Court that said the requirement violated NAFTA. It will give relief to the California wine industry that faced retaliatory tariffs in Canada and Mexico.
Drought Update
The one upside to this year's drought news is that this year's wine grape crop will likely have full flavors. The berries will be smaller and fewer. The tonnage will be down. The wines will be big and intense.
California's beaches are the cleanest they have been in years. Usually there is contamination from motor oil, pesticides, yard waste, animal waste, and other wastes carried by storm water runoff. Enjoy it while you can. There is an accumulation waiting for the next storm to flush it all downstream.
Leona Valley is a center for the state's cherry industry. This year's and Annual Cherry Festival and Parade went as usual. However, there were no cherries in Leona Valley. None, because of the drought. Cherries for the festival were imported.
The State Water Resources Board has ordered users to stop taking water from rivers. Some Central Valley towns are now days away from running dry. Most Senior Water Rights Holders have missed the deadline to register their rights. They could be fined $1,000 a day if they continue to take water.
The National Weather Service announced that there is a 90% chance of having an El Nino winter this California, with an 85% chance rains will be heavy during an extended rainy season. They still warn that we need more than one year of rain to replenish our water supply.
Who is Using Our Water? The figure we hear most of is that 80% of our water goes to agriculture. That figure is misleading. Farming gets 80% of the water given to people for various uses. According to SFGate, the actual breakdown of total uses is 40% for agriculture, 10% for urban uses, and 50% set aside for environmental uses including rivers, lakes, wetlands, and refuges.
The city of Riverside has sued the state over the water cuts. It has been ordered to cut 24% and wants to make it 4%. Riverside does not import water. It uses groundwater and has underground reserves that will last 4 years.
A group of environmentalists have sued state water authorities over the amount of water allotments. The suit alleges that too much was given to people and too little reserved for fish. With the rivers being shorted there isn't enough cold water to maintain fish populations. In danger of extinction are the Delta Smelt and Winter Run Chinook Salmon. Last year there was a massive die-off of juvenile Winter Run Chinooks downstream from Lake Shasta because the water temperature was too high. Whatever the decisions are, they could make no difference this year because there is no remaining Sierra snow pack. The drought isn't limited to California. The USDA Natural Resources Conservation Service measures the Oregon snow pack at 81 stations. As of June 1 only one station had any snow left. There will probably be a massive die-off of juvenile Chinook Salmon in the Klamath River in the next few weeks. The river runs through the California-Oregon border and is normally cold enough to host the young fish in their early days. This year the river is warm and a parasite called Ceratanova is flourishing and infecting nearly all of the the baby salmon. If water was released from dams upstream, the river would cool. But there is no water to release. Proponents of giving the water to farmers say that curtailing water deliveries during the planting season is devastating.
Drought Shaming is becoming a fad. Self appointed vigilantes have been recording videos and taking pictures of lush landscapes, sprinklers running, and water running off into the street. Then they post the pictures on the internet with the name and address of the water waster. Cities like Beverly Hills are easy pickings for these "water vigilantes."
The lack of water will cut California rice production this year. The reduction in rice fields will put a strain on aquatic birds that use the fields for nesting after the harvest. The fields usually provide space and food for about 7 million birds. Other animal side effects abound. Rats and mice are invading homes in search of water. Hungry snakes are following them into the houses. Northern California snake remover, Len Ramirez, has taken as many as 72 snakes out of homes in a single week. Just ahead: expect a heavy year for roaches, ticks, termites, and fleas, and the spiders that feed on them. Shelters are reporting a 30% increase in kittens. The adult cats have been getting amorous in the dry weather. On the bright side, dry rivers and streams are exposing gold nuggets to the delight of amateur prospectors.
The reduced water has left lakes and dams with less water surface area. It's so tight boat collisions are up 59% and groundings are up 29%.
Celebrities in the Industry
American Pharaoh, the first horse to win the Triple Crown in 37 years, has been sponsored by Monster Energy. The press release from Monster says that this will continue the company's marketing objective of disrupting tradition. Monster sponsors a number of athletes and considers American Pharaoh a true athlete. Monster's logo will appear on the horse's stable, his blanket, and his jockey's ascot.
NFL retiree, John Elway, is making SevenWines Elway's Reserve Carneros Chardonnay and Elway's Reserve Napa Valley Cabernet with Rob Mondavi. The white will be $35, red $75. The wine will be available at Elway's Steak Houses and will be in general distribution in time for the Fall football season.
Actress Eva Longoria hosted the Mouton Cadet Wine Bar at the Cannes Film Festival. The wine bar raised funds for several charities supporting women and children's causes.
Real Housewives of Beverly Hills star, Brandi Glanville, was in Lodi to release her new wine. Excited fans had her autograph bottles. The wine is a Chardonnay made from Sonoma County grapes by Lodi Vintners Winery. Glanville calls it Unfiltered Blonde and sells it online for $15 a bottle.
If you follow the Silverado Pickups, a band that hits Nashville and other points west, you'd be interested to know it usually comes to you from Napa Valley. The group includes Shane Soldinger of Silver Trident Winery, Jeff Gargiulo of Gargiulo Vineyards, David Duncan CEO of Silver Oak and Twomey Cellars, Dan Zepponi from Valley of the Moon Winery, Tres Goetting from Robert Biale Vineyards, and wine consultant Paul Hoffman. Percussionist Joe Shotwell is the only professional musician in the group. They have played on the road with Tim McGraw and Joe Pack.
Popular Culture
Breaking Bad
Blue Ice Vodka is releasing a limited edition Breaking Bad Vodka. It is labeled "Heisenberg", the code name for Walter White in the series. 3 different bottles will carry quotes from the script: "Say my name", "The one who knocks", and "Tread lightly". Executive Producer, Vince Gilligan, says "I'm counting on our fans to use it in the creation of a great many delicious cocktails. I'm getting thirsty just thinking about it."
Pick Your Team
Major League Baseball has licensed team logos for proprietary wines from Arizona Diamondbacks, Chicago Cubs, Minnesota Twins, Washington Nationals, Pittsburgh Pirates, Kansas City Royals, Cleveland Indians, Cincinnati Reds, Baltimore Orioles, Chicago White Sox, Colorado Rockies, New York Mets, Atlanta Braves, Philadelphia Phillies, Boston Red Sox, Texas Rangers, and New York Yankees. Can't decide? Then drink All Star Game Midsummer Classic.
Game of Ravens
HBO has filed a trademark registration for a trademark on Three Eyed Raven, stating that it wanted to use the name on alcoholic beverages, energy drinks, mixers, carbonated beverages, and juices. Not so fast! Franciscan Winery filed suit to protect its own trademarks on Ravenswood, Ravens, and Three Ravens, as well as a picture of 3 Ravens found on the label. Ommegang Brewery in Cooperstown New York is already selling its fifth limited edition Game of Thrones inspired brew. This year's entry is Three Eyed Raven Dark Saison Ale.
Books
The Angel's Portion: A Clergyman's Whisky Narrative by Rev. Christopher Thoma, 380 pages, CreateSpace Independent Publishing Platform, Amazon $15.99 Paperback, $9.99 Kindle. Rev. Thoma is the pastor at Our Savior Evangelical Lutheran Church and School in Hartland Township, Michigan. In this book he reviews whisky, tells stories, talks history and whisky lore, and gives you a little religious philosophy.
Wine Trivia, in so many words by Dick Rosano, CreateSpace Independent Publishing Platform, 134 pages Paperback $9.99, Kindle edition $2.99. This book contains wine quotations from Kings, Presidents, Comedians, and Men of the Cloth. For more than 8,000 years prominent people have said prominent things about wine. It's all here in this book.
Movies
Ryan Clarke of Wallop Films of Canada brings us The Perfect Harvest. This is the story of Charles Whetmore winning the Paris International Exposition Grand Prix wine competition in 1889. His Cresta Blanca Livermore Sauterne was found to be best in the world. He brings the story forward by following the Livermore harvest in 2014. He shows how the perfect combination of climate, soil, and talent in 1889 led to today's wine industry.
In a filmed sitcom series LA Beer is an online hit. It's a comedy about a group of beer lovers and brewers set in a Los Angeles microbrewery. The series features actors Sam Daly, Arianna Ortiz, Kevin High, Alicia Ying, James Lontayao, and Sarah Stoecker. Executive Producer Sam Miller also produces shows for CBS. Miller says "Making web series history and getting free beer was just a bonus."
Jonathan Nossiter brings us Natural Resistance, a tale of artisan winemaking in Italy. It tells the story of the winemakers and terroir and how the growers fight against the use of pesticides.
Wine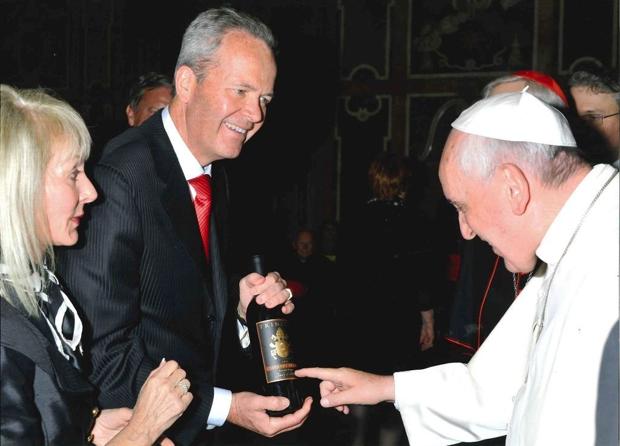 Pope's Wine
Tim and Steph Busch recently presented Pope Francis with a case of specially bottled Cabernet FRANCis. This is the second year they have custom bottled wine to present to the Pope at an audience with him in Rome. It's made from 100% Cabernet Franc grapes grown at their Knight's Valley Trinitas Cellars.
Industrywide Credit Card Breach
Missing Link Network, Inc., which serves Northern California wineries with eCellar Systems has reported a credit card breach. The platform allows wineries to sell wine online direct to consumers. The company began notifying its winery customers that consumer credit and debit card information, addresses, and dates of birth had been stolen during the month of April. The company is working with law enforcement agencies and has blocked further hacking. Social Security numbers, drivers license numbers, and PIN were not taken.
15 Man French Wine Crime Ring Convicted
A French court handed down convictions in a wine crime spree that spanned 2013 and 2014. Carlos Da Silva Lopes de Sa fenced and distributed the wines through a catering supply company and wine club in Biarritz. Yoann Gautrau stole the wines along with 13 accomplices. The targeted victims were top French Chateaux: d'Yquem, Haut-Bailly, Palmer, Cheval Blanc, Mouton Rothschild, Margaux, Lafite Rothschild, Ausone, and others. The group cased each chateau for a few weeks; then stole a truck; burglarized during the night; and burned the stolen vehicle to destroy evidence. At the crime scene they doused the area with bleach to mask DNA. In all they stole 3,771 bottles of fine wines. Sentences ranged from a fine of $67,000 to 4 years in prison.
Chablis Stolen
The House of Brocard in Burgundy was broken into during the night with an armored car that was equipped with a battering ram. This is the fourth theft over a period of 9 months. 2,500 bottles of Chablis vintage 2011, 2012, and 2013 valued at $57,000 were taken in total. So far, the police have no leads in the case. Julien Brocard is quite upset with the police and believes they don't take wine theft seriously. The theft is one of 16 in the area over the past 2 years. No arrests have been made.
Wine Fraud Trial
Conman, Spyros Constantinos, is being tried in a London Court for bilking wine investors out of over ₤1 million. Constantinos had already been prohibited from running any business in 2008 for a similar scheme. He spent 5 years creating shell companies to work around the ban. There were 24 victims of this fraud. The trial is continuing in London's Old Bailey.
Champagne Grows
Veuve Clicquot led the Champagne category in growth for 2014. It sold over 400,000 cases, followed by Moet & Chandon at 370,000 cases. Perrier-Jouet was #3 and Nicolas Feuillatte #4, both had no gain in sales. Dom Perignon moved up to #5 in sales with 60,000 cases passing Piper Heidsieck. The category has increased by 140,000 cases since 2009 to 1.3 million cases.
Oenophile Flyers
Being a frequent flyer is so 20th Century. Today's elite flyers often choose their airline based on the in-flight wine offerings. Not just an important label, but often the vintage is an issue. Knowing this has helped the world's fastest growing airline; Emirates. Last December Emirates made a $500 million investment in its wine cellar. On board you can find Lafite and Margaux. In the Burgundy area cellar 1.2 million bottles wait to be called into service. Some won't be served for a decade. Often it's the Champagne that makes the decision. Qantas serves Taittinger Comtes de Champagne in first class, which sells for $470 on the ground. The next time you fly, ask about the Champagne. It could be from Krug, Clicquot, Grand Siecle, or a small house that's difficult to find.
Beating Airport Security
What do you do when you can't take your favorite wine on the plane because of restrictions on liquid? Two men faced this problem at the Shanghai Airport. Wang Tan and Yang Wu had a $1,300 bottle of aphrodisiac wine. They were just not going to have such a treasure taken away and trashed. So, they did the only thing possible. They chug-a-lugged it right there at the security station.
Chinese Buy California Vineyards
While there has been a lot of publicity surrounding Chinese purchases of over 100 French Chateaux over the past few years, the Chinese have also been quietly buying prime California vineyards. Chinese now own Firefly, Hestan, Yao Ming Family Vineyard, Sloan Estate, Bialla Vineyards, Quixote Winery, Calla Lily Vineyards, and Silenus Winery. What can a Chinese buyer get? A 4 bedroom house with a pool on the edge of Napa $1 million, a 20 acre vineyard in Napa Valley with no buildings $1 million, a 2 bedroom house with a 5,000 foot winery and an 8,000 case permit $5 million, a 5,000 foot home with a premium vineyard and a tasting room with a 15,000 case permit $10 million.
Grapes Make the Real Estate
The most expensive house in the U.S. is for sale at $195 million. The 25 acre Beverly Hills estate includes a vineyard that produces 500 cases a year of Syrah, Cabernet Sauvignon, and Sauvignon Blanc. There is also a 53,000 foot main house, a guest house, spa, 125 foot reflecting pool, 12 bedrooms, 23 bathrooms, 27 car garage, entertainment complex, and a formal garden. If you can't afford to buy it, you can rent the house for $475,000 a month.
Auction Napa Raises Charity Funds
Auction Napa Valley concluded at the beginning of June. The event featured wines donated by area wineries. It raised $15.8 million for area health and charities for children. It also set the context of market prices of Napa wines for the coming year.
What Kind of Wine Do You Serve With Tacos?
Taco Bell will join the industry by serving wine in some of its restaurants. The first store to add vintage to its menu is in Chicago. Look for the program to go nationwide.
Aldi Wine
Philippe Michel Cremant du Jura, a private label sparkling wine owned by Aldi won a gold medal at the International Wine and Spirits Competition. Aldi currently sells the wine in the UK, but not in the US. It was first introduced in 2001 and has sold more than 2 million bottles to date. It represents more than 10% of all wine produced in the French region of Jura.
Pair Wine with Yoga
A new trend in winery sales is selling weekend workouts paired with wine. Visitors exercise in view locations overlooking the vineyards. Brunch with Sauvignon Blanc and buy some white or red to take home. Get a group together and Domaine Carneros will give you a private yoga class. Its an hour class, followed by a glass of bubbly, a winery tour, a light lunch on the patio with more wine, and the opportunity to buy some for your home cellar. All for $125 a person. A Brut class is $175 or $1500 for groups of 10. Clos Pegase at the foot of Mt St Helena offers yoga only for $25 on Friday mornings. Napa Valley Wine Excursions offers a variety of exercise classes paired with tours to help their wineries stand out from the crowd. Dawn classes put new meaning to "a salutation to the dawn."
Getting Up in the World
Devin Shomaker has a vineyard in a most unusual place. He grows his grapes in a rooftop vineyard in New York City. His wine is dubbed "Rooftop Reds."
Amateur Wins National Competition
Washington State engineer and amateur winemaker, Mike Rinker, took top honors in WineMaker Magazine's annual competition. There were 2,825 entries from 49 states, 6 Canadian Provinces, and 10 countries. The winner was Rinker's 2013 Red Mountain Cab.
Benziger Winery Sold
The Wine Group, owner of Almaden and Cupcake Wines has bought Benziger Wines for $70 million. The sale includes the Benziger brand, 2 wineries, current inventory, and 160 acres of vineyards.
Sauvignon Blanc Shortage
Philip Gregan, CEO of New Zealand Winegrowers Association, reports that there will likely be a shortage of Sauvignon Blanc because the 2015 crop was much lighter than in past years. A cool spring caused a late fruit set. The resulting crop came in at 27% less than in 2014.
Summer Wine Tours
The Wine Institute has published 5 detailed itineraries for Wine tours; North Coast, San Francisco Bay Area and the Santa Cruz Mountains, Sacramento and the High Sierra, Central Coast and Highway 1, and Southern California. To get the full itineraries go to https://app.box.com/s/vyxao30jj8tvfapu76nibcs6nk7pyjev
Modern Egypt's Ancient Wine
Labib Kallas manages one of Egypt's two wineries. He is trying to revive an ancient industry that is not welcomed in this Muslim country. He makes organic wine from 120 acres of Bannati grapes grown near the Red Sea. The grapes are an ancient native variety grown in the time of the Pharaohs. Protective laws keep out imports. Muslim laws and traditions keep most Egyptians from drinking. The wines are primarily sold to tourists staying at hotels.
Wine Technology Changes
Traditional wine barrels on the left and new style barrels on the right
New Barrel System
Australian winery, Fraser Gallop, has been experimenting with using a new longer, thinner style wine barrel. The 265 liter barrels are used for white wines and create a more complex flavor profile without over-aging the wine.
High Tech Barrel Control
Chateau Lynch Bages will test a new system called Winegrid in processing its 2015 vintage. Winegrid uses sensors suspended in the fermenting tanks to continuously measure temperature, sugar and alcohol levels, and other changes during the fermentation process. The information is transmitted in real time to the vintner's smart phones. Previously the winemakers had to send samples to labs and wait days for results. The system was originally developed by Watgrid, a Portuguese company, to test water purity. The company believes its system will prove invaluable to vintners who have to monitor every stage of winemaking.
New Grapes for Bordeaux
A grand experiment is taking place in Bordeaux. The French National Institute for Agricultural Research and the Bordeaux Wine Council are trying out 52 grape varieties that are not traditional for the region. There are over 3,000 varieties of grapes and these normally do well in warmer climates. If global warming continues, it will be important to have new vines that produce with short hot summers and very wet winters. In 2003 a prolonged heat wave hit Bordeaux. The grapes from that year ripened too much and too fast yielding thin wines with overripe tones and didn't age well. The scientists hope to find varieties that will be suited to a new climate and make wines that reflect traditional quality.
No More Spoiled Wine
Research at the University of Houston Conrad N Hilton School of Hotel and Restaurant Management has found a solution to eliminate wine tainted by bad corks. Aaron Corsi and Jay Neal found that the cork problem is caused by molds that create a chemical called Trichloroanisole. By treating the corks with an electron beam irradiation(eBeam) the molds are killed and the chemical never forms. Tainted wine accounts for worldwide losses of $10 billion a year.
New Better Tetra Pak
Tetra Pak is using the same eBeam technology in new packaging systems to sterilize its packaging materials. The equipment is built right into the packaging line. It replaces hydrogen peroxide sterilization, is tasteless, and leaves no residue. The system has been tested for 3 years in Eastern Europe and Latin America.
New Glass Wine Bottles
Champagne Bruno Paillard is being bottled in a clear glass bottle instead of the traditional green glass. The bottle is covered in a cellulose sheet to prevent light damage. The bottles are filled in total darkness to eliminate exposure to light. The consumer can see the pale gold color of the Chardonnay wine.
Beer
AB/Inbev Invests in U.S.
AB/Inbev has committed to invest $1.5 billion in its U.S. facilities by 2018. $20 million of that will be spent on its Van Nuys, California plant on water treatment and conservation equipment as the company continues to make operations more efficient.
More Beer with Less Water
It currently takes six barrels of water to make one barrel of beer. Dry River Brewing, a new microbrewery on the banks of the Los Angeles River, will attempt to make one barrel of beer with one barrel of water.
Small Brewer Wins Big
Martin City Brewing has scored a big one. Martin City has had a trademark application filed for a trademark for its Hard Way IPA. AB/Inbev used the term "Brewed the Hard Way" in a Superbowl commercial to make fun of craft brewers. The laugh was on Bud. AB/Inbev put in an application to trademark the phrase. The trademark reviewer sent a letter saying that Martin City Brewing had prior rights to the words referring to beer.
Cider Grows
According to The Canadean Group worldwide cider consumption will reach 2.4 billion liters this year. Growth in the U.S. is predicted to run at 12% a year for the next 5 years.
Corona Grows
Corona's US sales grew by 12% in 2014 as it pulled business from competition. Constellation's beer division now makes up 53% of the company's volume as Corona, Modelo, and Pacifico all grew. Profit from the beer division topped $1 billion beating the wine division at $643 million. The new brewery at Nava, Mexico will double production capacity but that will not be enough. Constellation has been buying half its beer from AB/Inbev as part of the original purchase agreement. When the new brewery comes online, all the beer is already committed. There will still be a need for more. Corona is the fifth biggest seller in the US at 7.8 million barrels. Modelo is the fastest growing beer at 4.5 million barrels for 2014 it doubled sales in the last 5 years.
Snoop Dogg Sues Pabst
Snoop Dogg has sued Pabst Brewing Company for breach of contract. He signed a 3 year contract in 2011 to endorse and promote Colt 45 fruit flavored Blast. The contract called for him to receive 10% of the proceeds if the Colt 45 brand and operations were sold before January 2016. The entire Pabst Brewing Company was sold for $700 million. There was no breakdown by brands at the time.
3G Eyes Two Brewers
Rumors are swirling through the industry that 3G is in talks to take over Peroni and SAB/Miller. See 3G Diageo story in Spirits below.
Spirits
3G Eyes Diageo
A report appeared in the Brazilian publication, Veja, that Diageo is a takeover target of Brazilian billionaire Jorge Paulo Lemann's 3G Capital. Bloomberg also reported that Lemann's group is considering a potential acquisition of Diageo, the world's largest spirits company. 3G is led by Lemann, Carlos Alberto Sicupira and Marcel Herrmann Telles, all controlling shareholders and board members of AB InBev, the world's largest brewer. 3G has made a number of high-profile recent buys, acquiring Burger King in 2010 and Canada's Tim Horton's chain in 2014. The group also teamed with Warren Buffett to buy H J Heinz in 2013, and followed that with Kraft earlier this year. They are now merging Heinz and Kraft. 3G has also been rumored to want to use AB InBev to take over SABMiller.
Big Brother Diageo is Watching You
This one's straight out of George Orwell's 1984. Diageo will be embedding printed sensor labels on bottles of Johnnie Walker Blue. The label will communicate with your smart phone and know when you are standing in the liquor store looking at bottles. It can send you a text message asking for the purchase. Then it will report back to headquarters if it made the sale. Later it will know when you get the bottle home and trace the "bottle opening event." From time to time it might suggest how to enjoy the amber liquid inside. Just remember, Big Brother Diageo is there with you all the way!
Bulleit Class Action Suit
Diageo's Bulleit Distillery has been sued in a class action filed in San Diego. The lawsuit, filed by Kazerouni Law Group and Hyde and Swigart, alleges that there are state labeling violations that mislead the consumer. These same two law offices have previously sued Jim Beam and Maker's Mark.
Kosher Liquor Sued
Absolut is suing Happy Wines of Brooklyn over Happy's new product Kahfua. Absolut wants the product removed from retailer's shelves because it looks too much like Kahlua. It is being sold in stores in the New York area. What do you think?
Cruise Line Sets Liquid Restrictions
Carnival Cruise Lines has banned passengers from bringing bottled water on board. The problem is that some have been refilling those bottles with Vodka or Gin instead of buying their alcohol from the ship.
Consumer Interview
...and finally. A reporter interviewed 101 year-old Hattie Mae MacDonald of Feague, Kentucky: Reporter: Can you give us some health tips for reaching the age of 101?
Hattie: For better digestion, I drink beer.
In the case of appetite loss, I drink white wine.
For low blood pressure I drink red wine.
In the case of high blood pressure, I drink scotch.
And when I have a cold, I drink Schnapps.
Reporter: When do you drink water?
Hattie: I've never been that sick!!
Other Foods and Beverages
No Lunch Interruptions
If you watched the recent French Open tennis tournament at Roland Garros, you might have noticed lots of empty seats in the stands. The seats were all bought and paid for; and you had to be well heeled to afford the tickets. It seems the French just won't give up a 2 hour lunch, even to watch a good match. Some lunches were taken outside and some right in the tennis complex. Here's a sample menu: Champagne, Red & White Wine, Red Mullet Fillets with spices, cherry tomatoes and floral honey, confit Veal Knuckle, stir fried Wild Mushrooms, Blue-Violet Potatoes cut in leaves, verbena, Floating Island Peach Smoothie, and a leisurely Espresso to finish.
New Mexican Finds
El Restaurante Magazine chose the top 15 finds for Mexican restaurants from the National Restaurant Association show. Three of the 15 were drink mixes; Monin Honey Mango Syrup, Spooky Drink Mixes, and Santos Super Premium Michelada Mix. Thanks to publisher, Ed Avis, and editor Kathleen Furore for sifting through hundreds of new Mexican restaurant products.
Restaurant Pays More and Gets More Profitable
Bobby Fry's Bar Marco Restaurant in Pittsburgh tripled profits by paying employees more. Fry changed the economics of the business by paying the employees more and having a no tipping policy. The base salary is $35,000 a year, plus health care, paid vacation, 500 shares in the company, and a share of the profits. Salaries this year will be $48-51,000. Weekly profits have jumped from $3,000 to $9,000. Expenses have gone down as employees are aware of costs. Water and linen bills are half. Bar expenses are lean. Customers like the no-tipping; revenue is up $7,000 a week.
Home Delivery Water Grows
Nestle Waters is expanding its home delivery business with on-demand. Customers access Nestle via the web and order cases of Arrowhead, Perrier, Poland Springs, or Pure Life in a choice of bottle sizes. Nestle says home delivery is growing twice as fast as its business with retailers.
$100,000 Water
Martin Riese is the general manager and water sommelier for Ray & Stark's Bar in Los Angeles. He is also the country's leading mondain. He has served water on camera for Conan O'Brien. He also has his own line, Beverly Hills 90H20. You can get a Diamond Edition with real diamonds embedded on the cap for $100,000. Regular bottles are also available for only $14.
University of Vermont Fails
The University of Vermont has learned about the law of unexpected consequences. In order to make a statement on recycling, the university recently enacted a ban on bottled water in plastic bottles. The students have stopped buying the bottled water, as expected, and have not been putting those bottles into the waste stream. But, the unexpected and unplanned happened. The students are now drinking massive quantities of sugared sodas and putting those bottles into the waste stream.
Davis Pushes Milk
The Davis City Council voted to make milk or water the default beverages for kids meals. Those are the only two beverages that can be offered under threat of fines. Parents can still order soda pop for the kids, but they have to ask for it. The ordinance goes into effect September 1.
Seltzer Bubbles
Consumers are still drinking, but reducing their intake of both sweetened beverages and artificial sweeteners. Seltzer, sparkling water, or "2 cents plain," grew 29% in sales from 2008 to 2013. Seltzer is plain water with carbonation and sometimes added flavor. It differs from Club Soda which has added sodium. Tonic Water has quinine added. Perrier and San Pelligrino have other minerals added.
Amazon Adds Private Label Foods
Amazon is continuing its expansion of Amazon Fresh grocery delivery with private label. Offerings include fresh orange juice, corn flakes, spaghetti sauce, and bean coffee. Private label has been the profitable end of the business for more than a decade.
Deep Fried What?
Charlie Bighosian is back at the San Diego County Fair with a diet creation the Totally Fried SlimFast Bar, a chewy chocolate crisp SlimFast Bar dipped in pancake batter, fried and topped with powdered sugar and chocolate syrup. Now there's a diet with possibilities. In the past Charlie introduced us to the Krispy Kreme Triple Cheeseburger.
Dodgers Join MLB Food Frenzy
In our May edition we talked about the off the chart food offerings at sports venues around the country. Now the trend has come to California. The LA Dodgers will be selling a pizza with a Dodger Dog baked into the crust. For the uninitiated, a Dodger Dog is a 12 inch hot dog made by Farmer John. The menu additions don't stop there. There will be a bread cone stuffed with meatballs and marinara sauce. If you don't want the bread you can get your meatballs and sauce over your french fries. Not the way you want your fries? Then order Carne Asada Fries. To make sure everyone is covered, there is even Nachos made with Vegan imitation cheese. But wait... there is always an only-in-California category. At the more exclusive Stadium Club, you can get a Dodger Dog topped with cornichons, basil aioli, and roasted baby heirloom tomatoes.
San Francisco Soda Warning
The City Council of San Francisco has voted to require sugared drinks to have a warning label. The wording would read "WARNING: Drinking beverages with added sugar(s) contributes to obesity, diabetes, and tooth decay. This is a message from the City and County of San Francisco."
The Changing Market
Bottled Water Surges
Bottled water was a $360 billion industry in 2014. At its present growth rate, it will pass carbonated soft drinks in sales during this year. Projected 2015 world sales for water 233 billion liters; carbonated soft drinks 227 billion liters.
Shrink
The National Retail Federation reports that "inventory shrink", averaged 1.38% of total sales. It's estimated at $44 billion for 2014. The breakdown for 2014 was shoplifting 38%, employee/internal theft 34.5%, administrative and paperwork errors 16.5%, vendor fraud or error 6.8%, and unknown loss 6.1%.
Sysco U.S. Foods Merger Off
US District Judge Amit Mehta ruled in favor of the FTC to stop the merger of US Foods and Sysco. The merger has been pending since December 2013. The judge said the merger was of national importance since Americans now spend more in restaurants than grocery stores. He went on to say smaller distributors compete with Sysco & US in some areas, but didn't have the capabilities of providing a full service package. National chain restaurants are dependent on the distributors for service across all their outlets. Technically, the case could now go to the FTC's in house court. But, speculation is the deal will be called off. US Foods is prepared to go on its own. CEO, John Lederer, said "We have the talent, passion, and financial foundation to take this company to the next level." Debbie Feinstein, a Director at the FTC said the ruling "will preserve competition in both local and national broadline foodservice distributing markets." Sysco has now abandoned the acquisition. The company had invested $355 million in merger planning and anti-trust lawyers. It will have to pay a $300 million breakup fee to US Foods.
Health
Red Wine for Colds
A research team in Australia found that flavonoids found in red wine help in fighting colds. It was already known that the compounds act as anti-oxidants; are anti-viral, anti-inflammatory; and anti-oxidant. Now it turns out that they assist the immune system in fighting common colds.
Tasting Notes
Each month we are out there looking for wines that "over deliver"; wines that offer more than others in their category and price level. We search out the wines that you can buy to help build your business; wines that make customers happy and keep them coming back. These are wines we rate as good buys and best buys. Check our notes. The opinions in the reviews are our own and unsolicited. We receive no compensation from wineries or brokers. This month there were several wine tastings that showed some very nice wines available at reasonable prices. The prices shown are approximate retails.
La Nuit en Rose' presented a vast array of rose' wines. It was especially suited to the start of summer. Jean-Baptiste at LA Wine Tasting did a great job on this event! There were a couple of exceptional wines among the many offered. Lardiley Prestige Rose' 2014 was a delightful and pleasant Bordeaux wine. Organic and biodynamic, from Entre du Mers, 50% Merlot, 50% Cabernet Sauvignon, dry, good color and nose, with a minerality that gave the wine a lot of character for a rose'. $16. Contact Andii Ulrich andii@theorganiccellar.com or (714) 675-8969 or Nicole Gregory nicole@theorganiccellar.com or (714) 319-0989.
Nicolas Feuillatte D'Luscious Demi-Sec Rose' NV, French Champagne, full flavored, lots of body, good bubble structure, good color and nose, $45. Contact your salesperson at Southern Wine & Spirits.
The LA Winefest was one of the outstanding events of the month. There were too many good to great wines to list here.
Old Oak Winery poured some excellent wines made in Northern California and aged in Pasadena. Sonoma Chardonnay 2012, Dry, light straw color, good nose, $22. A good buy. Contact Stanislava Overholt stanislava@oldoakcellars.com or Paul Overholt Jr. paul@inwineinc.com or (626) 674-9244.
Cloak and Dagger continues to make some of our favorite wines. The 2011 Conspiritors Reserve Syrah is among those favorites. Full body, good nose, deep purple color that only comes from 100% Syrah grapes, $39. Contact Ray Schofield at (424) 644-0489 or theconspiritor@cloakanddaggerwines.com.
Overland Wines come from a property that has been planted since 1854. These wines have a lot of style and character. 2011 Kick Ranch Argonaut is a well-blended wine. 38% Syrah, 35% Grenache, 19% Mourvedre, 8% Petite Sirah, in a lighter style, good nose and color, distinctive flavors, $36. The 2011 100% Petite Sirah is big and elegant, good nose, deep purple color, deep full flavor, $48. Contact Dick Keenan dick.keenan@gmail.com or (415) 378-9830
Sunland Vintage Winery poured a Zinfandel from 50 year old vines in Lodi. This wine was full bodied with lots of character, the kind of wine that brings friends together for a good evening. 2013 Old Vine Zinfandel, deep color and nose, lots of flavor, 16.1% ABV, $34. Contact Michael Giovinazzo proprietor@sunlandvintagewinery.com or (805) 379-2250.
Industry Calendar
7/3 Independence Day Observed
7/4 Independence Day
7/11 Garagiste Festival - LA
7/14 Southern California Fresh Produce Expo - Anaheim
7/23 Fresno Food Expo – Fresno
7/24 Pinot Noir Shootout – Reno
7/25 Beat the Heat – Chinese International Beer Festival – City of Industry
8/12-14 Hispanic Retail 360 – Anaheim
8/15 Latin Food Fest – San Diego
8/14-16 Sta Rita Hills Wine & Fire – Sta Rita Hills
8/16 Family Winemakers – SFO
8/19-20 Unified Grocers Expo-Long Beach
8/23-25 Western Foodservice Expo -LA (includes 3 new features: Healthier Choices Pavilion, Japan Pavilion, Latin Pavilion)
8/23-25 Expo Comida Latina - LA
8/23-26 Global Wine, Beer & Spirits – San Diego
8/24-27 Natural, Organic & Specialty Foods – San Diego
New Legislation for 2015
Our industry has more laws controlling it than most industries. The State
Legislature and the ABC give us license privileges and can take them away. New alcoholic beverage laws were passed that will be effective in 2015. Many critical issues are pending. Do you know about them and are you prepared for the changes. Is your business safe? Members are encouraged to look through the Legislative Bulletin. If there is a new law that is a problem for your business, call the association office now. The CBRA is your voice in Sacramento. If you are not a member, join today. The CBRA is your only voice when it comes to new beverage laws.
Brands and Comments
The CBRA Newsletter has not accepted any payment from any of the brands mentioned
in this edition. The editor, Ron Ziff, welcomes comments at ron@cbraliquor.org
CBRA Membership Remains Open
Now, more than ever, access to your industry is important. The CBRA is California's
only statewide association of licensed retailers, and our membership continues to be
open for the first time in 20 years.
At CBRA we deal with licenses and regulations that affect the beverage business on a
daily basis. That's why CBRA offers practical solutions, unique products, services,
information, and timely advice for both large and small beverage businesses. With
reasonable fees, superior service, and associates that are easy to reach, CBRA helps you
to run your business better and easier. One of the most valuable services we offer is that
call to the ABC to ask your question. We can ask that question and keep you anonymous. That's something you just can't do yourself.
Join or renew your valuable membership today. You can't afford to delay.
California Beverage Retailers Association – California's Only Statewide Association of Licensees. We're #1!
If you would like to be removed from this email list, please email to
ron@cbraliquor.org with UNSUBSCRIBE in the subject line.