posted by
cbra
on
Tue, 02/23/2016 - 16:23
California Beverage Retailers Association
Beverage Bulletin
P.O. Box 56686
Sherman Oaks, CA 91413
(818) 788-8120
Ron Ziff, Editor
November 2014
This Month's Stories Include:
Headline News Stories - Fireball Whiskey Recall, California Bans Plastic Bags, LA Bans GMO, Soda Manufacturers Lose Expensive Vote, Drought Update
Celebrities in the Industry, George Clooney, Amal Alamuddin, Jack Nicklaus, Tiger Woods, Kathy Lee Gifford, Nikki Minaj, Justin Timberlake, Pitbull, Sheryl Crow, William Shatner
Popular Culture - Smart Phone Apps-Delectable, Untapped, Total Tiki.
Books - Native Grapes of Italy, The Hills of Chianti, Wines of South America: The Essential Guide, Back Lane Wineries of Napa Second Edition, Back Lane Wineries of Sonoma Second Edition
Movies – Blood Sweat and Beer, Heritage Steinbeck
Wine - TV Laughs Celebrated, 2014 Wines Intense in Flavor, Wine Grape Prices Fall, Vineyard Choppers, Political Wine Choices, Tesco Wine Buyer Suspended, Wine Grape Future Uncertain, Super Rhone Wine, Prosecco Sales Grow, New CEO at Rothschild
Beer - What Will AB/Inbev Buy Next? - Heineken Sponsors U.S. Soccer, Constellation Buys Bottle Plant, Scarce Beer, Belgian Beer Pipeline
Spirits - World Series Drinks, When is Vodka Handmade?, Distillers Sales Down, Chinese Buy Cognac in California, Presidential Whiskey
Other Foods and Beverages - Auburn Football Team Drinks Their Veggies, Soda Machines Fizzle, Coca-Cola Sales Flat, How Ebola Affects the Price of Cocoa
The Changing Market - No More Cartoons, Walmart Amazon Sears Losses, Home Shipping, Darden Board of Directors Out, Chicken Sales Grow, Chefs Win Green Cards, Chipotle Profits Soar
Recipes, Italian Margarita, Goodnight Amigos
Health - Red Wine Fights Acne, Red Wine Fights Tooth Decay, Beer Hops Helps Memory...and as always - Tasting Notes and the Industry Calendar
"Happiness is having a rare steak, a bottle of whisky, and a dog to eat the rare steak." (Johnny Carson, 1925–2005, American television host and comedian)
Headline News Stories
Fireball Whiskey Recall
Fireball Whiskey has been recalled in 3 European Countries. Sweden, Finland, and Norway have ordered the liquor to be taken off store shelves. The drink is a big seller in Scandinavia and Sazerac Company, the owner, shipped a batch of U.S. formula in error. The U.S. formula contains Propylene Glycol, an ingredient commonly used in anti-freeze. The U.S. Food and Drug Administration allows the use of the chemical in limited quantities. It enhances flavor and is intoxicating. It can also be toxic to some people. The Humane Society warns to keep the ingredient away from pets. A spokesperson for Sazerac said that it uses one eighth of the amount allowed. The product is expected to be back on sale in its European formula within 3 weeks.
California Bans Plastic Bags
California Governor Brown has signed into law, SB270, that bans single use plastic bags, making California the first state to do this. The law goes into effect for supermarkets on July 1, 2015 and convenience and liquor stores on July 1, 2016.
LA Bans GMO
Los Angeles City Council voted 13-1 to approve a motion by Councilman Paul Koretz to make Los Angeles a GMO-Free Zone. The motion directs the City Attorney to draft an ordinance making it illegal to sell GMO(Genetically Modified Organism) seeds or grow GMO plants and trees in Los Angeles. The ordinance is only symbolic for 2 reasons: 1) There is virtually no space in the city to grow marketable crops, and 2) The city has no means of enforcing the ordinance.
Soda Manufacturers Lose Expensive Vote
Berkeley voters approved a tax of a penny per ounce on soft drinks sweetened with sugar. The big soda companies poured $1.7 million into the election to defeat the tax. That's $21 per registered voter. 75% of the voters in this liberal city voted for the tax. A similar measure barely lost in San Francisco. Other cities could follow.
Drought Update
As California residents and farmers wait to see if it will rain this winter, the California Water Resources Board reports that 9 out of 11 injection sites that were shut down in July were contaminated by waste water and chemicals used in fracking. The aquifers involved are protected by state law and the Federal Safe Water Drinking Act. Wells near the sites tested positive for Arsenic, Thallium, and Nitrates. The board is considering testing at 19 more sites. The Central Valley Water Board is considering testing more than 100 wells for contamination.
Another contamination issue has come up around oil wells in the Central Valley. Because of low water levels, chemicals like benzene, toluene, and other toxics could be seeping into water supplies.
Professor Noah Diffenbaugh of Stanford University says the current drought in California is caused by greenhouse gases that form a high pressure area over the Pacific Ocean that diverts rainstorms away from California. His study was done by computer simulation and appears in The Bulletin of the American Meteorological Society.
Celebrities in the Industry
Jack Nicklaus has licensed several beverages to use his name or likeness (as well as clothing items). There is Nicklaus Water by Aquahydrate, Golden Bear Lemonade by Arizona, and Nicklaus Cabernet by Terlato. The Cabernet sells for $60 and has moved about 10,000 cases a year since 2010. Nicklaus has a net worth of more than $250 million and doesn't have to lend his name. He says he does it "Because it's fun to walk into a restaurant and order your own wine."
Tiger Woods is entering the industry as a restaurateur. He will be opening The Woods Jupiter Sports and Dining Club in Jupiter, Florida this December. It is located in the Harbourside Place, a downtown development. With a lot of PGA stars living in the area, it's expected to become a hotspot.
Singer, Justin Timberlake, is partnering with Sauza Tequila with specialty Sauza 901 Tequila. It is named for the exact minute "when the evening ends and night begins." It's a very smooth filtered Blanco.
Singer, Pitbull, has his Voli Vodka that is made in Cognac, France. It comes in a clouded glass bottle with a QR code that consumers can use to get low calorie recipes. Pitbull is also known as "Mr. International."
Do you need a sommelier? William Shatner will fill the bill. He knows all about wine, or at least says he does, on his web TV program "Brown Bag Wine Tasting." Each episode features a guest star who tastes the wine along with Shatner. Then he has his guest describe the wine "in their own words." Finally, the bag is opened and the wine revealed. Guests have included LeVar Burton and Miss South Carolina.
George Clooney was married to Amal Alamuddin in a highly publicized ceremony in Italy. It must have been some bash. He shipped 50 cases of his Casamigos Tequila over for the event. (The U.S. importing rights for Casamigos were given to Sidney Frank Company earlier this year.) The wedding and weekend party were held at the Belmond Cipriani Hotel on Giudecca Island, across the lagoon from Venice. The hotel was founded in 1958 by Giuseppe Cipriani, the owner of Harry's Bar. Wedding guests had a choice of Bellinis, Goodnight Amigos, or Italian Margaritas (see recipes below). The menu included stuffed zucchini flowers with tagliolini pasta and truffles, prosciutto and figs, polenta with wild mushrooms, lemon risotto with sea bass and lobster. The Champagne was from Alain Navarre, a small Domaine of 6 hectares. It was specially labeled AG for Amal and George. It is a rich, fruity style wine made from 30% Pinot Noir, 30% Chardonnay, and 40% Pinot Meunier. The cost of the wedding weekend: $1.6 million.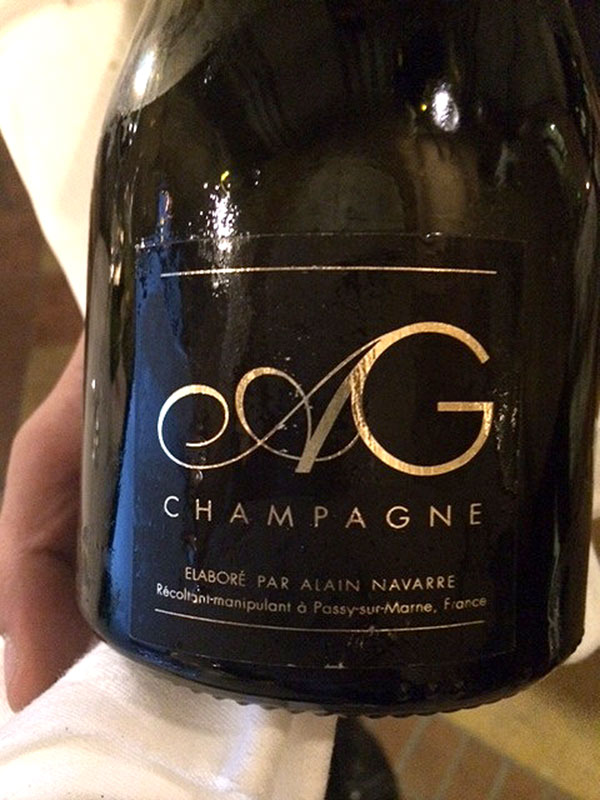 Singer Sheryl Crow partnered with Chateau St. Jean in the "Notes of Hope" program to raise money to fight breast cancer. The winery donated $1 for every bottle sold during October. Consumers got exclusive Sheryl Crow videos along with bottles they purchased from the winery's website. Chateau St Jean is owned by Treasury Wine Estates.
We previously profiled Kathy Lee Gifford's wine named GIFFT. Currently, she is touring and making liquor store appearances to promote the line. Pictured here she chats with a customer.
Singer, Nikki Minaj, has Myx Moscato. She markets her wine in several flavors that include Regular, Mango, Coconut, and Peach. A 4 pack of 6.3 ounce sells for $9 and a single 375ml sells for $4. Nikki is known for her wild music videos.
Popular Culture
Smart Phone Apps
Delectable. Upload a picture of a wine label and the app searches a database of 3.5 million wines and it returns a dossier with information on the wine in an average of 1.8 seconds. If it isn't in the database a person from the website will check it out and get back to you. Consumers that want the wine can be transferred directly to a retail site and order some for home delivery. Available in iOS and later this month for Android. Free at Delectable.com.
Untapped. An app that helps find beer at on-sale. It will list the most popular breweries and beer bars near the consumer's location. Finds where a beer is served, records the drinker's notes, and is integrated with Facebook and Twitter so the user can share the experience with friends. Available free for Android, Blackberry, iOS, and Windows at untapped.com.
Total Tiki. Has 230 recipes for tropical drinks stored inside. Written by grass shack aficionado Jeff "Beach Bum" Berry, this app will offer up recipes that can be made with a list of ingredients punched in. Missing a tough ingredient like Falernum or Orgeat, it will give you substitutes or recipes to make them. Available for iOS at beachbumberry.com. $10
Books
Native Grapes of Italy by Ian D'Agata, University of California Press, 640 pages $50. Catalogs hundreds of varieties native to Italy. Gives facts and anecdotes about the grapes, their names. Written by the foremost critic of Italian wines.
The Hills of Chianti by Piero Antinori, 230 pages, $26.95, Rizzoli International Publications. Antinori, the 25th man to run the family business writes his memoirs and family history. The winery has been making wines for more than 600 years and is the 10th oldest business in the world. At one point he thought he would have to sell the business because he fathered 3 daughters and no sons. Now his daughters run the business. Read about this and more in his fascinating book.
Wines of South America: The Essential Guide by Evan Goldstein, University of California Press, 312 pages, $39.95. Written by a sommelier who has spent 5 years researching and detailing the wines, vineyards, and producers of Argentina, Chile, Ecuador, and Paraguay.
Back Lane Wineries of Napa, Second Edition, 200 pages, paperback $19.95 and Back Lane Wineries of Sonoma, Second Edition, 200 pages, paperback $19.95 by Tilor Mazzeo, Ten Speed Press. Wine tourists trek through Napa and Sonoma visiting the big and popular wineries. Each of these books takes the reader to 70 small, boutique, family owned estates. Gives tips on buying and shipping wines, finding local restaurants and other local attractions.
Movies
Blood, Sweat, and Beer from filmmakers Chip Hiden and Alexis Irvin. This documentary features interviews with the Craft Brewing industry's top names. It takes you behind the scenes as these brewers struggle through the early years of entrepreneurship, building a business, and sometimes fighting legal battles to stay in business. The filmmakers themselves are fighting to get this story out. They need to raise $12,000 in funding on Kickstarter.com.
Heritage Steinbeck: Honoring Family, Cultivating Land, Touching Lives a 32 minute documentary from filmmaker Kathy Kelly shows the 7 generation history of a family that came to Paso Robles in 1880. Shifting from grape growing to barley, then cattle, and finally wine grapes, the family farmed the land and prospered as the Central Coast developed. The film also chronicles the history of the Paso Robles area.
Wine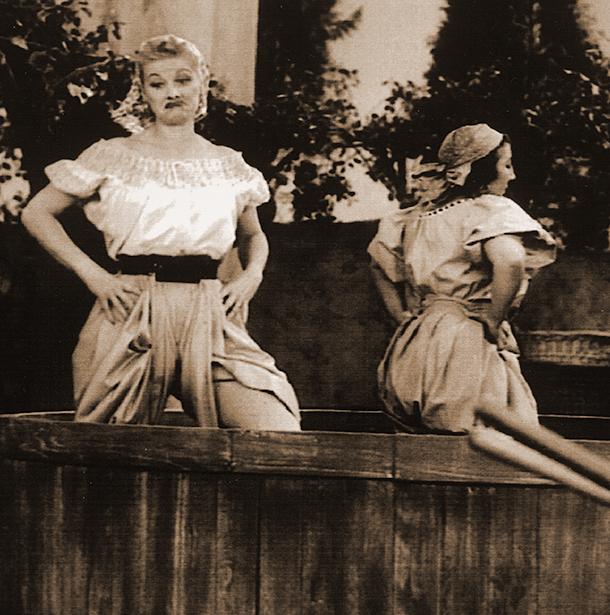 TV Laughs Celebrated
Lucille Ball's hometown, Jamestown, New York, held a record breaking grape stomp on October 11 to commemorate a famous "I Love Lucy" episode. The event covered a city block as 1,232 people crushed grapes simultaneously. There is no word on what variety was crushed or if the wine is available.
2014 Wines Intense in Flavor
The 2014 California vintage is shaping up to be one of the best ever. The cause: the drought. The grape berries are smaller, have a greater concentration of sugar and flavor, and have ripened early due the the continuous warm sunshine. The harvest started 3 to 4 weeks early and is ending before Fall rains can cause mold. The wines will be intense in flavor and should age well.
Wine Grape Prices Fall
Growers in the San Joaquin Valley are facing lower demand for wine grapes this year. Those that have existing delivery contracts with wineries are getting good prices for the crop. Those without contracts or contracts that expired are forced to sell on the spot market. The prices on currently available grapes were substantially lower after 2 years of big crops left wineries with lots of inventory. The 2014 harvest came in at average size or slightly less and very early. Farmers that had to sell were forced to accept what they could get and sometimes didn't even cover costs. The drought and heavy inventories were a double hit for some vineyards.
Vineyard Choppers
Yamaha has applied to the FAA for approval of small helicopter drones to be used over vineyards to spray and do other vine tending tasks. The drones have been tested for the past 2 years at a UC Davis test farm, Robert Mondavi, and Harlan Estates Wineries. The test Yamaha RMax copters are 9 feet long and weigh about 220 pounds, can carry a payload of 61 pounds and spray or apply seed, fertilizer, pest killer, or other materials from 2 tanks. They fly or hover over the vines at an altitude of 10 feet.
Political Wine Choices
Election time is here. Republicans are drinking Robert Mondavi and Democrats are drinking Smoking Loon. Do they make the right choices? You be the judge. Smoking Loon Wines are made by Don Sebastiani & Sons. Don Sebastiani Sr served in the California Senate as a Republican from 1980 to 1986. In 2012 both Don Sr & Don Jr donated to Ron Paul. Don Sr also gave to Rick Perry. Republicans drink more Robert Mondavi wine. Robert Mondavi Winery is owned by Constellation Brands. In 2013 Constellation's political action committee gave to both parties, but 3 times as much to Democrats as Republicans. The surveys were by National Media Research. What's in your glass?
Tesco Wine Buyer Suspended
We have been following the management crisis at Tesco for a couple of years. The company lost over $4 billion in its U.S. venture, there were CEO changes, then a retreat to the UK, and an audit searching for hundreds of millions of dollars. Now the company has suspended 3 executives. The Global Director of Wine Beer and Spirits, Dan Jago, is one of the suspended executives. As auditors examine the company's books looking for misstated earnings, Jago's departure from this massive retailer is certain to affect the world market for wine. Tesco's suppliers and employees face uncertainty as the company tries to determine its future while trying to run the business at the same time. As we went to press, we also learned that the misstated earnings were estimated at $423 million and Chairman Richard Broadbent will step down.
Wine Grape Future Uncertain
Rabobank predicts a decline of wine grape production for 2014 in every world area with the exception of France and New Zealand. US production is predicted to drop as much as 10%, Australia and Argentina down 7%, Spain and Italy down as much as 15%, and Chile off 22%. One Rioja exporter indicates that sales are hitting a steady pace and this years production may be allocated. Rabobank is a wholesale bank, serving more than 500 independent banks that deal in the agribusiness community.
Super Rhone Wine
Xavier Rolet, the CEO of the London Stock Exchange, and his wife Nicole have opted out of the appellation system to produce what they hope will become the first "Super Rhone Wine." Their wine is called Chene Bleu and is produced from a 30 hectare vineyard with southern exposure at 500 feet. The soil has unusual minerality, the days are warm and nights cool. By producing outside appellation controlee they are able to set their own standards and make a distinctive wine that is superior to other Rhones.
Prosecco Sales Grow
The Prosecco DOC Consortium has announced shipment figures for the first half of 2014 to the U.S. were up 33.5% over 2013. That was 18.5% of total Prosecco exports.
New CEO at Rothschild
Philippe de Rothschild has been named chairman of the company that controls Chateau Mouton Rothschild, Mouton Cadet, Clerc Milon, other French Vineyards, a partnership in Opus One in California, and Almaviva in Chile. He succeeds his mother who died August 22.
Beer
What Will AB/Inbev Buy Next?
AB/Inbev may have run out of beers to buy. The company has spent $90 billion over the last 10 years buying brewers. Rumors were that it was looking at SAB/Miller. Now insiders say possible targets may be Pepsico, Monster Beverage, or Keurig Green Mountain.
Heineken Sponsors U.S. Soccer
Starting in January 2015 Heineken will be the official beer of Major League Soccer. The beer will be partnering with the league and own content in a multi-year contract. Soccer has the third largest attendance of any sport in the U.S. Heineken is currently negotiating individual agreements with several soccer clubs.
Constellation Buys Bottle Plant
In August Constellation Brands found bits of glass in bottles of Corona Beer. The company immediately recalled the beer from retailers and wholesalers before it reached consumers. The recall cost the company $37 million. It also left retailers shelves empty of Corona during a peak selling period. Constellation is buying controlling interest in the AB/Inbev bottle plant in Mexico for $300 million, which will give it control over the production of more than 50% of its bottle source.
Scarce Beer
Pliny the Elder is a beer brewed at the Russian River Brewing Company in Santa Rosa. What makes it different is that it's super scarce. Co-Owner Natalie Cilurzo brews only a limited number of bottles that are sold at the brewery and in about 100 stores in Northern California. When a delivery hits a store it sells out in a matter of hours. Lines of customers form before the brewery opens on weekends. There are no plans to expand production or add other types. There is only one kind and it's reputed to be dry and hoppy, but we haven't had the pleasure of ever finding a bottle. The original Pliny the Elder was a Roman, who wrote Natural History, an encyclopedia of scientific matters that was the authority on science through the Middle Ages. He is credited with recording how to use hops in making beer.
Belgian Beer Pipeline
The city of Bruges in Belgium has approved a pipeline to carry beer from its largest brewery to a bottling plant 2 miles away. The pipeline will carry 1,500 gallons of beer an hour and eliminate 500 trucks driving through the cities quaint narrow streets each year. The purpose is to keep from disturbing the tourist trade that likes to view the streets as they were in the 19th century.
Spirits
World Series Drinks
The bar in Kansas City's Kaufman Stadium was serving a drink called "Loaded Hot Chocolate" for $14 for the World Series. If you watched on TV, you couldn't get one. So here's the recipe. It'll keep you warm this winter. (Read below for the Giants' drinks)
Loaded Hot Chocolate, 2 oz. Vodka, 4 oz. Hot Chocolate. Mix in a mug and top with mini-marshmallows, chocolate syrup, and sprinkles. The San Francisco Giants served Blueberry and chocolate mint smoothies for $6.50. The giants also have a center field pavilion selling $11.50 salads made with fresh kale, spinach, and oregano that are grown in a vegetable patch by the center field fence. One season ticket holder described it as "perfect for San Francisco. We're conscientious green-head liberals." Actually, the Giants did celebrate in traditional style with Mumm Napa. Mumm had 130 cases of Giants Brut Prestige bottled, labeled, and ready. The sparkling wine was cold in the club house at the end of game 7.
When is Vodka Handmade?
Tito's Handmade is defending a law suit in California about its "handmade" Vodka. Now a similar class action suit has been filed in Florida. Shalinus Pye and Raisha Licht filed in US District court in Tallahassee contending that the Vodka is made by a mechanized process and there are no human hands involved.
Distillers Sales Down
Sales and profits are down at the big liquor companies. Remy Cointreau reports sales down 13%. Sales declines in China are blamed for most of the loss. Diageo reported sales loss of 7.4% overall with a 20% decline in China. LVMH Moet Hennessy Luis Vuitton says sales are off and Pernod-Ricard is also is expected to report sales and profit declines.
Chinese Buy Cognac in California
Hawaii Supermarket at Valley Blvd and Del Mar Ave. in San Gabriel is known for selling lots of fresh produce and bottles of Cognac. It sells luxury Cognac at up to $60,000 per 750ml to Chinese tourists staying in the area. Counterfeiting is rampant in China. The appeal of this store is that by buying in the U.S. the Chinese can save up to 70% and be assured that the product is authentic.
Presidential Whiskey
DISCUS auctioned a bottle of Rye made at George Washington's Mount Vernon Distillery and signed by Bill Clinton for $32,000. A few years ago a similar bottle signed by George H. W. Bush drew a winning bid of $35,000. The proceeds went to charity. In pushing up the bid the auctioneer shouted "Come on. We need a rich Democrat here."
Other Foods and Beverages
Auburn Football Team Drinks Their Veggies
Auburn's football team had a miserable record of 3-9 in 2012. In 2013 it came back to win the Southeastern Conference. Amazingly, they beat Alabama 34-28 and for the SEC championship beat Missouri 59-42. In the BCS National Championship the team lost a cliff hanger to Florida State 34-31. What was their strategy for that amazing comeback? Beetroot juice concentrate! That's right! It seems Lawrence Mallinson, manager of James White Drinks has been pushing the drink on any athletic team that will listen. In 2007 physiologists discovered that beet-root juice concentrate has a heavy dose of nitrate that lowers the body's oxygen requirements during physical activity. The team drinks it before practice and during timeouts or half time. It gives them more stamina. Then they still have to block, tackle, pass, and run.
Soda Machines Fizzle
SodaStream International, the maker of home soda machines, seems to have run out of steam. Sales have been falling after only a 1% penetration into the U.S. market. The company has a 20% penetration in Europe. Sales for the third quarter are down to $125 million from $144 million last year. Profits are down from $18 million to $8.5 million. Prospects for competition loom ahead. Coca-Cola has invested in Keurig and plans to introduce counter top machines early next year. Pepsico and Dr. Pepper Group are rumored to have machines in the early stages of development.
Coca-Cola Sales Flat
Coca-Cola CEO, Muhtar Kent, is searching for a means of re-invigorating growth and putting the company on a positive track. Third quarter profits were down 14%, volume was less than target, and long term volume and profit goals were reduced. He blames the problems on lower soda consumption in the U.S. and China and general weaker consumer spending. In a defensive move the company will be aiming for savings of $1 billion by 2016, $2 billion by 2017, and $3 billion by 2019.
How Ebola Affects the Price of Cocoa
Just when you thought you were safe from the Ebola threat, there comes a new worry. The disease is driving up the price of Cocoa, which will be reflected in the shelf price of cocoa powder and chocolate bars. Almost 40% of the world's cocoa is exported by Ivory Coast. Ivory Coast has kept an Ebola epidemic from getting started, but the country borders Liberia and Guinea, where the disease is rampant. For the last 6 months ships have been avoiding putting in to all West African ports. Cocoa has been accumulating on the docks and the world price is skyrocketing.
The Changing Market
No More Cartoons
For the first time in 50 years, there are no Saturday Morning cartoon programs on Broadcast TV. This is the result of several factors. The stations are required to have a minimum number of hours of education, so they moved it to Saturday; competition from cable channels, and streaming on demand over the internet all took their toll.
Walmart, Amazon, Sears Losses
Walmart has announced that it plans to cut back on new Supercenters as sales in this format have stalled. The company plans to open 200 to 250 new Neighborhood Markets and invest in online sales this year. Amazon lost $437 million in the 3rd quarter. Sears will close at least 107 stores by year end. 30 Sears stores, 31 Sears Auto Centers, and 46 Kmart stores. 5500 employees will be terminated.
Home Shipping
In its pre-holiday season promotions Amazon is advertising that customers using its online stores will avoid overloaded parking lots, crowded stores, and long slow checkout lines. Both Walmart and Target will be offering free shipping on orders placed online. UPS will be introducing a new program that it hopes to make permanent; customers will be able to opt to pick up deliveries at a local dry cleaners instead of having home delivery. It will cut down on theft of packages left at the door and save UPS driver time. UPS saves $14.5 million for each minute of driver time saved company-wide. 8,000 dry cleaners are being recruited nationwide for the program.
Darden Board of Directors Out
Darden Restaurants stockholders replaced the entire 12 member board of directors at their annual meeting. This highly unusual move was caused by shareholder dissatisfaction with the sale of the Red Lobster chain for $2.1 billion last May without being consulted. At the time stockholder Starboard Value LLC objected saying that the real estate alone was worth more. Starboard only has 8.8% ownership, but led a revolution. Starboard issued a 293 page report detailing what it felt needed to be done to turn the company around. Changes at Olive Garden include simplifying the menu, reducing the number of bread sticks in the basket, and increasing emphasis on alcohol sales. Darden Restaurants include Olive Garden, Longhorn Steakhouse, Bahama Breeze, Seasons 52, The Capital Grille, Eddie V's, and Yard House.
Chicken Sales Grow
Pork producers have been trying to promote "the other white meat" and seafood and beef have been priced beyond what many consumers are willing to pay. Meanwhile chicken sales have been growing steadily. U.S. consumption of chicken is up 17%. Consumers were surveyed for the last 2 weeks of May. During that period 89% purchased chicken from a supermarket or foodservice 6.1 times. 24% said they were planning on eating chicken more in the future.
Chefs Win Green Cards
The U.S. Court of Appeals for the District of Columbia has overruled a policy of the Citizenship and Immigration Service. The law allows international companies to transfer employees with specialized knowledge to the U.S. in order to work here. The agency has ruled that culinary knowledge of chefs did not qualify. The Brazilian steakhouse chain Fogo de Chao, with 25 East Coast locations challenged the ruling and won. The chain wants to bring chefs trained in spit cooking on an open fire in the "Gaucho Way" here to cook as only they can.
Chipotle Profits Soar
Chipotle Restaurants warned investors not to expect growth to continue at the same rate. Profits were up 57% for the most recent quarter and volume was up 32%.
Recipes
Italian Margarita
c
Courtesy of Casamigos Tequila
Makes one cocktail (or as many as you like!)
1 part Casamigos Blanco Tequila
1 part Lemoncello
3/4 part fresh lime juice
1/2 part agave syrup
1/2 part Campari
Lime wedge for garnish
Goodnight Amigos
1 ½ parts Casamigos Reposado
1 ⅓ parts Cranberry Juice
3 to 4 drops of Angostura Bitters
½ an unpeeled lime, diced into small pieces
½ tbsp. Sugar
1 strip Cucumber Peel
1 slice of Fresh Ginger, peeled
sea salt to taste
Health
Red Wine Fights Acne
A study at UCLA has shown that resveratrol in red wine inhibits the growth of the bacteria that causes acne. The study was done by Dr. Emma Taylor and Dr. Jenny Kim. The compound didn't kill the bacteria but inhibited it over an extended period of time.
Red Wine Fights Tooth Decay
A new study published in the Journal of Agriculture and Food Chemistry showed that red wine fights the bacteria that causes gum disease, tooth decay, and tooth loss. The co-author, Victoria Moreno-Arribas, said "The effects were seen even from nonalcoholic wine, so they were mainly due to plant polyphenols from the grapes." Cabernet Sauvignon and Merlot provided some benefits, but the best results were with Pinot Noir, which is rich in polyphenols.
Hops in Beer Helps Memory
A study by Oregon State University shows that Xanthohumal, a chemical flavonoid, found only in hops can slow down loss of memory and brain power. The amount found in beer is too small to be effective in humans, but the study does suggest that concentrations of the chemical might be effective. The researchers said that in normal concentration it would take a daily diet of 5,636 bottles of beer. (That's too much, not even during Octoberfest! -Editor)
Tasting Notes
At the Mutual Trading Japanese Food and Restaurant Expo we had the opportunity to taste well over a hundred varieties of Sake, Shochu, Wine, and Beer. The range of Sake grades was overwhelming; including super premium Jizake Daiginjo, Junmai Ginjo, Junmai, and Honjozo. One of our favorites was Michinoku Onikoroshi Honjozo, 1.8L $18. Bright fresh flavors, will pair well with any Asian Foods. Among the beers we chose Orion from Okinawa; a smooth, flavorful, pilsner, with a light texture. We found the Frasco Iichiko Shochu elegant in character, 30% ABV, at the top of the price range at about $60 750ml. These and many others available through Mutual Trading (213) 626-9458.
The Youngs Market Fall Wine Tasting offered a vast array of wines from California and Europe. There were many good choices. We only mention a few here.
Houdini Cabernet Sauvignon and Merlot 2010, good color and nose, full bodied wines, can age well for at least 5 years. Sell at about $25. Contact Henry Weaver at hw@trinitywinesandspirits.com or (714) 963-6542.
Trinchero Family Estates showed about 40 wines, all good to very good. We found an outstanding value among them. Los Cardos Malbec 2012 from Argentina, $12.99. Good color and nose, deep flavors, soft, drink now or age for later. Contact John Tomanchek at jtomanchek@tfewines.com or (213) 200-4276.
The J W Morris Wines from Bronco Wine Company were a good value; Chardonnay, Cabernet Sauvignon, Merlot, White Zinfandel, Moscato, and Pinot Noir line priced at $6.99. Contact Youngs Market or Vince Zaninovich at vincent.zaninovich@broncowine.com or (949) 370-6341.
Taste Argentina offered many good, very good, and great wines. We found a red and white that we consider "Best Buys." This wine over delivers. Antigal Estimulo 2013 Tupungato, 100% Sauvignon Blanc, $9.99. Clear, clean, bright, and fresh; everything you look for in a Sauvignon Blanc 13.9% ABV. Antigal Uno 2011 Tupungato, $15 to $20, 100% Malbec, Good nose, Dark almost black in color, full bodied, 13.7% ABV, aged 6 months in oak. Available through Youngs Estates contact Gary Ramona at gramona@antigal.com or (707) 312-0585.
Industry Calendar
11/6-9 Paso Garagiste Festival – Paso Robles
11/10 SW&S – Mammoth Lakes
11/10 Spain's Great Match – LA
11/12 Stars of Cabernet – Beverly Hills
11/12 Cordon – Hollywood & Wine -LA
11/15 Pinot Days – LA
11/21-22 San Diego Wine and Food Festival – San Diego
11/27 Thanksgiving
12/17 -24 Chanukah
12/25 Christmas
12/31 New Years Eve
Legislation for 2015
Our industry has more laws controlling it than most industries. The State
Legislature and the ABC give us license privileges and can take them away. New alcoholic beverage laws were passed that will be effective in 2015. Many critical issues are pending. Do you know about them and are you prepared for the changes. Is your business safe? Members are encouraged to look through the Legislative Bulletin. If there is a new law that is a problem for your business, call the association office now. The CBRA is your voice in Sacramento. If you are not a member, join today. The CBRA is your only voice when it comes to new beverage laws.
Brands and Comments
The CBRA Newsletter has not accepted any payment from any of the brands mentioned
in this edition. The editor, Ron Ziff, welcomes comments at ron@cbraliquor.org
CBRA Membership Remains Open
Now, more than ever, access to your industry is important. The CBRA is California's
only statewide association of licensed retailers, and our membership continues to be
open for the first time in 20 years.
At CBRA we deal with licenses and regulations that affect the beverage business on a
daily basis. That's why CBRA offers practical solutions, unique products, services,
information, and timely advice for both large and small beverage businesses. With
reasonable fees, superior service, and associates that are easy to reach, CBRA helps you
to run your business better and easier. One of the most valuable services we offer is that
call to the ABC to ask your question. We can ask that question and keep you anonymous. That's something you just can't do yourself.
Join or renew your valuable membership today. You can't afford to delay.
California Beverage Retailers Association – California's Only Statewide Association of Licensees. We're #1!
If you would like to be removed from this email list, please email to
ron@cbraliquor.org with UNSUBSCRIBE in the subject line.