posted by
cbra
on
Tue, 02/09/2016 - 23:14
California Beverage Retailers Association
Beverage Bulletin
P.O. Box 56686
Sherman Oaks, CA 91413
(818) 693-5561
Ron Ziff, Editor
Ben Ziff, Publisher
November 2015
This Month's Stories Include:
Headline News Stories-Wine Country Talk Radio, New James Bond Movie, Molson/Coors to Buy Joint Venture for $12 Billion, Greek Financial Deal Shaken (Not Stirred), Comet Wine!, End of an Era
Drought Update-Fines, When Water Costs Too Much, End of Chinooks-Craft Brewers-Trees?, Legal Decision on Wells, Harvest Results Mixed
Celebrities in the Industry-Nancy Pelosi, Christi Coors Ficeli, Michael Lynne, John Legend
Popular Culture-Paint and Sip
Books-The Grapes of Wine, Wild Wines, The Wine Lover's Guide to Auctions, The Craft Beer Kitchen, Gone With The Gin, Tequila Mockingbird
Movies-To Fool A Thief
Politics-Marco Rubio, Lindsay Graham, John Boehner's, Donald Trump, Hillary Clinton Toasts Napa, Presidential Wine, What's in Your Glass?
Wine-Store Sued for Missing Wine, Spago Sommelier Honored, Police Tracking Wine Thief, Wine Thefts Increasing, Kurniawan Cars Sold, They Came Back for More, New Wine From Ancient Grapes, St Supry Sold, Chalone for Sale, Treasury Continues Restructuring, Oregon Vineyards in Demand, Great Cal Wine Bars,
No Waste Wine Production, Wine Production Up Worldwide
Beer-Beer Dictionary, Homebrewing System, AB/Inbev Sales Down, Beer Merger Pushes Diageo to #2, Guinness May Be Sold
Spirits-Interplanetary Whiskey?, Craft Distilling Grows, Brown-Forman Figures Mixed, Pernod Ricard Figures Mixed, Cognac Sales Hit New High, Spirits Continue Upward Sales Trend
Other Foods and Beverages-Print Your Food, Where and What They're Eating,
Hot Steaming Taxes
The Changing Market-Empty Supermarkets, Rite Aid Sold, High Hopes for Holiday Business, Shrink
Health-Red Wine Does It Again, Do It Without Red Wine
...and as always Tasting Notes, Industry Calendar, Promotion Calendar
Champagne's funny stuff. I'm used to whiskey. Whiskey is a slap on the back, and champagne's a heavy mist before my eyes.
Jimmy Stewart (from the movie The Philadelphia Story)
Headline News Stories
Wine Country Talk Radio
Our Editor, Ron Ziff, was interviewed on Wine Country Talk Radio on October 31. You can hear this awesome broadcast at https://soundcloud.com/wine-country-talk-radio1/10-31-2015a. Host, Leroy Guilford, puts on a great weekly radio show that brings Temecula Valley Wines to the Inland Empire. Outside the IE listeners can still access the show on the internet at https://soundcloud.com/wine-country-talk-radio1. Through the weekly hour broadcast he interviews industry veterans and pros, talks about wine, and plays wine music. If you do nothing else this week, be sure to hear Ron Ziff's interview on Wine Country Talk Radio.
New James Bond Movie
The new James Bond Movie, Spectre, serves up a cold Heineken. The movie is filled with spectacular action, but has also has scenes reminiscent of past Bond films. Heineken is a repeat sponsor. We won't give you any spoilers on the film. But we will serve you up a hot commercial on a cold beer. It does double duty tying in with scenes direct from the film. It will only take 90 seconds. It's worth watching at http://adsoftheworld.com/media/tv/heineken_the_chase .
What else does Bond drink? His Champagne remains unchanged; Bollinger. Bollinger Extra Brut R.D. 2002, that is. For the public's enjoyment, Bollinger has released Bollinger 2009 Limited Edition Spectre Cuvee, $229. Surely a great Champagne, but there's a little wine too. Notice in the scene aboard a train, there lurks a bottle of Chateau Angélus 2005. You might also notice Madeline Swann played by actress, Léa Seydoux.
Molson/Coors to Buy Joint Venture for $12 Billion
Miller/Coors, a joint venture 58% owned by SAB/Miller, is being purchased by Molson/Coors for $12 billion. The sale includes rights to sell Miller brands inside and outside the U.S. Other brands in the Miller portfolio will also go with the sale: Redd's Apple Ale, a flavored malt beverage; Peroni currently sold under license; Blue Moon; Leinenkugel's, Pilsner Urquell and Gambrinus, two brands owned by the same Czech government that has been fighting for the rights for the name "Budweiser; Keystone Light which sold 3.6 million barrels in 2014; Pabst which has no breweries and had its 2.7 million barrels in 2014 contract brewed by Miller/Coors; a group of other brands (some that are history) including Hamms, Icehouse, Saint Archer, Henry Weinhard, Mickey's, Milwaukee's Best, and Smith & Forge Cider. All of this will give AB/Inbev total control over SAB with its dominant penetration in Africa and Latin America.
Greek Financial Deal Shaken (Not Stirred)
The bailout and financial agreement negotiated by Greece and the European Union could be jeopardized by a popular drink. A distilled spirit called Tsipouro could bring down the whole deal. It was first made by Greek Orthodox monks in the 14th century. Tsipouro is a clear liquid distilled from wine and consumed without aging. This kind of liquor is sometimes referred to as "hot brandy." It is unregulated and can range from 72 to 90 proof. The problem comes from the Union's ruling that Tsipouro is a specialty liquor and should be taxed at double the rate of ordinary spirits. Previously Tsipouro was considered a traditional beverage and not taxed. The Greeks feel their government compromised on so many issues. Now this is just too much! Many farmers are only able to make a living by making Tsipouro out of wine that is not good enough. The government fears that the tax won't be paid anyway because the production may go underground and sales slip into the black market.
Comet Wine!
A team of French scientists led by Nicolas Biver has discovered that Comet Lovejoy is releasing alcohol and sugar in the luminous gases it releases as it travels around the sun. The alcohol is ethyl which is the same as we drink. The sugar is glycolaldehyde, a simple sugar. Biver says the quantity of alcohol released is equal to what would be in 550 bottles of wine a second. As a measure, total U.S. production is the equivalent of 134 bottles a second. To date no one has been able to put a bottling plant on the comet.
End of an Era
Dick Maugg, the actor that played Ed Jaymes, in Bartles and Jaymes commercials has died at 83. He deadpanned the camera and stoically stood through 110 commercials over the years. Originally, he was supposed to say "Hello there." But, his one line was cut before shooting the first commercial. Maugg was a successful contractor in Santa Rosa when his lifelong friend, Hal Riney, who was an ad executive asked him to do a one time ad. It turned into a second career for Maugg and a cash cow for both him and Riney. Maugg is on the left in the picture above.
Drought Update
Fines
Water fines by the State Water Resources Board: The cities of Beverly Hills, Indio and Redlands and the Coachella Valley Water District were issued fines at the end of October at the rate of $500 a day for four months. The fines total $61,000 for each of the offending districts. All water districts were given a goal of 25% cuts in usage. These four districts fell way short of the goal. If they don't come into compliance, they could be given Cease and Desist orders which carry fines of $10,000 a day for non-compliance. Statewide, savings in water usage were 28.1% for the four month period. The best performing water district was Menlo Park at 50%.
When Water Costs Too Much
The city of Newport Beach will refund $433,000 to two country clubs for recycled sewer water delivered to them for watering the fairways during the period of 2011 to 2014. State law prohibits a local agency from charging more for a service than it costs. The clubs sued to collect.
End of Chinooks?
This year's spawn of Winter Run or Chinook Salmon has ended in disaster. 95% of the salmon eggs and young hatched fish died because there wasn't enough cold water in the Sacramento River. The young fish can't survive in water over 56 degrees. The water was well above that because enough cold water wasn't released from Shasta Dam. The water was held back for Central Valley farmers. In 2005 there were 8.5 million juvenile salmon that hatched and headed to sea. This year it appears that a little more than 200,000 will live to make the trip. The species could be headed to extinction with only a few returning to spawn n three years.
End of Craft Brewers?
California has more Craft Brewers than any other state. More than 570 are already operating and 240 more are planning on opening. But there is no water for them. Some of the Craft Brewers have been ordered to cut their water use; a difficult task when it takes 7 gallons of water to make one gallon of beer. Among the choices: cutting water used for cleaning equipment, brewing less beer, moving out of state.
End of Trees?
The drought may have resulted in the decimation of California's forests. As many as 120 million trees may have died. Biologist, Greg Asner, says "California's drought parched landscape was poised for a radical transformation. Much of the low elevation forests ...were going to disappear."
Legal Decision on Wells
U.S. District Judge, Ketanji Brown Jackson in Washington D.C. has ruled that technical information on wells cannot be publicly disclosed by the Bureau of Reclamation, but the names and addresses of owners must be released. The ruling came as a result of a lawsuit brought by AquAlliance, an environmental group. The group made a Freedom of Information request in 2013. The purpose was to insure the hydrological health of Northern California. The request covered water transfers and test information on wells. At the time, the government released some data but not all.
Harvest Results Mixed
The wine grape harvest came in early and fast. It was mostly finished in four short weeks. After two years of massive harvests and this year's drought, the quantity was lighter. Yields varied. Some vineyards were almost normal and others had as little as 15% of a normal crop. But the quality was among the best. The flavors are concentrated and heavy.
For the year 1 million acres in the Central Valley went unplanted for lack of water. During the summer the figure rose to 2 million acres.
Celebrities in the Industry
Nancy Pelosi and her husband own a vineyard in Napa Valley. Financial disclosure filings show that some of the grapes are sold. Where the rest end up is not known. Is there a Pelosi Cellars Cab or Chateau Pelosi Merlot? This and other holdings make her the 4th richest member of Congress at $29 million.
Christi Coors Ficeli, great grand daughter of Adolf Coors, bought Goosecross Cellars in Yountville in 2013. After two years of extensive remodeling and adding new buildings, she has reopened the winery and tasting room. Her aim is to re-establish the brand and make it well known.
Michael Lynne, producer of the Lord of the Rings trilogy and The Wedding Crashers owns Bedell Cellars, a winery in North Fork, Long Island, New York and Corey Creek Vineyards in Southold, Long Island. He has a total of 80 acres under vines. But he didn't stop with winemaking. See Presidential Wine below.
Singer, John Legend, has a new wine label LVE (Legend Vineyard Exclusive). He teamed up with Jean Claude Boiset's Raymond Vineyards to bottle his 2013 Napa Cabernet Sauvignon. It sells for $85 on Raymond's website.
Popular Culture
Paint and Sip
Paint and Sip is a trend sweeping millenials, mostly female. The women gather for an evening of painting and drinking. The painting is guided by a professional art instructor and usually everyone paints a pre-chosen subject. The painters drink beer or wine and everyone has a good time participating. There is one hard and fast rule: No negativity, no matter what the painting looks like. There are several companies doing these events. Painting With a Twist is the biggest with over 200 locations; Pinot's Pallete has 100 locations, Wine and Design has 50. Most have permanent locations with a license. Painting With a Twist franchises at $100,000 a piece. Paint Nite operates on a different business model. They take over a bar on a slow night; charge the bar owner nothing; charge the painters a fee to spend the evening painting with the art pro; the thirsty painters fill the bar to spend an evening creating and quaffing.
Books
This month's book reviews include some that will make good holiday gifts.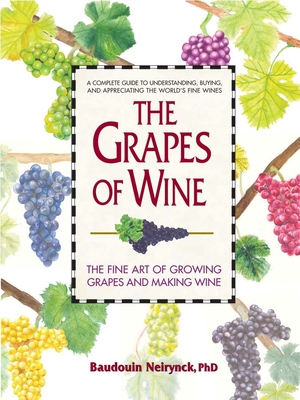 The Grapes of Wine by Baudouin Neirynck, Phd, Square One Publishers, 224 pages, $29.95. How and why wines reach greatness is told here. Tells how to grow grapes, make wine, how to use it with food, and more. This book is a different point of view by Neirynck, who currently teaches wine, food, and beverage courses at The Institute For Tourism Studies in Macau.
Wild Wines by Dawn Marie, Square One Publishers, 224 pages, $18.95. People enjoy wine as part of dining, but this book tells how to make wine at home with readily available ingredients. It examines the differences between commercial, organic, and wild wines. It goes on to tell how to choose fruits, flowers, roots, and leaves and gives 75 recipes. Dawn Marie is a naturalist that moved from Chicago to the rain forest of the Pacific Northwest.
The Wine Lover's Guide to Auctions by Ursula Hermacinski, Square One Publishers, 256 pages, $17.95. The author explains how wine auctions really work, so you can be successful. The book covers the history of wine auctions, how to choose the right auction house, and how to build your collection. The author has worked for Christie's in New York and was the first woman auctioneer at the Napa Valley Wine Auction. Food and Wine Magazine named her "Goddess of the Gavel."
The Craft Beer Kitchen: A Fresh and Creative Approach to Cooking with Beer by Cooper Brunk and Christopher Cina. Unfiltered Media Group, 144 pages paperback, $19.99. Celebrate your love of craft beer with an adventure in the kitchen and a delight for the palate. This extraordinary culinary collection includes 114 scrumptious craft-beer recipes for cooking with craft beer, beautiful photography of every dish, beer pairing and serving guide, and so much more!
Gone With The Gin: Cocktails with a Hollywood Twist by Tim Federle, Running Press, 152 pages, $15.00. Here's drinking with you kid. Includes 50 cocktail recipes, a commentary on quotable films, movie themed munchies and games.
Tequila Mockingbird by Tim Federle. Running Press, 160 pages, $15.00. The ultimate cocktail book for those with a literary obsession. Includes comments on many of the most popular novels of all time and book themed drinking games. Drink recipes include The pitcher of Dorian Grey Goose, The Last of the Mojitos, Romeo and Julep, A Rum of One's Own, and Vermouth the Bell Tolls.
Movies
To Fool A Thief (English title) 2013, 93 minutes, an Argentine thriller. The original title in Spanish is Vino Para Robar. Which translates as Wine to Steal. Dialog is sometimes in English, and sometimes in Spanish with English subtitles available though Netflix closed caption. This movie is a delightful comedy, mystery, thriller set in Argentina's Mendoza. Two thieves slip in and out of museums, banks, and wine cellars looking to steal the best from impossible keeps and each other. Among the prizes are an ancient solid gold mask and a bottle of Chateau Verdoux 1845 (Don't bother looking it up. It is a fictitious chateau) that once belonged to Napoleon III. Which is more valuable? And how good was Napoleon III's taste? Now playing on Netflix as To Fool a Thief.
Politics … In past issues
In past issues we wrote about industry connections and history with politics. Marco Rubio's father supported the family by tending a hotel portable bar; and Lindsay Graham, was raised in a single room behind a liquor store run by his family in South Carolina. John Boehner's father was a bar tender and Donald Trump owns Trump Vineyards. For the next year the run up to the Presidential election is going to require a lot of beverages. We'll do our best to keep track of what's being poured.
Hillary Clinton Toasts Napa
Hillary Clinton held a fundraiser at Hall Winery in St Helena, Napa Valley on November 5. The winery and the campaign headquarters have dodged all questions about the event except to say that it was closed to the media. A $2,700 ticket included a photo with the candidate, and a $1,000 ticket entitled the bearer to a VIP wine reception, a $50,000 ticket put the donor's name on the program as a host. What wine was poured? Hall Cabernet Sauvignon, one of several vintages and vineyards that range from $55 to $225 a bottle and Hall Sauvignon Blanc $35. Owner, Kathryn Hall was appointed Ambassador to Austria 18 years ago by Bill Clinton.
Presidential Wine
Movie producer, Michael Lynne's Bedell Merlot was poured at the luncheon honoring President Obama's second inaugural in 2013. This is a first for New York wines.
What's in Your Glass?
Dan Schnur, a former spokesman for Republicans Pete Wilson and John McCain now runs the Jesse M. Unruh Institute of Politics at USC analyzes the Democrats in terms we can understand, "For years, they used to talk about the tension in the Democratic Party between 'beer drinkers' and 'wine drinkers.' But now the wine drinkers are ascendant."
Wine
Store Sued for Missing Wine
Seven customers have sued Berkeley liquor store, Premier Cru. Most of the customers
are in Asia. They claim they paid the store over $3 million for French wine futures to be delivered after bottling. The lawsuit claims the wines were never delivered. Owner, John E. Fox says the customers are just not used to the extended delivery time for wines bought in the barrel. The store and property is being offered for sale at $7.5 million. The store is currently offering a 3 liter bottle of Mouton Rothschild at $3,615 pre-arrival. Wine investor, Lawrence Wai-Mun Hai says he bought 1,591 bottles vintage 2009-12 for $981,000. The wines include Haut Brion, Cheval Blanc, Mouton Rothschild, Margaux, and Petrus. He claims he has received less than 10 bottles. Another investor, Chan Yu, paid $288,798 in 2011 to be delivered in 2013. The wine never came. He asked for and got a refund, but the check bounced.
Spago Sommelier Honored
Philip Dunn, sommelier at Spago Beverly Hills, has won the 2015 Prix le Montrachet Award for his wine list of White Burgundies. The award has been given annually since 1988 by an association of growers in Puligny-Montrachet, Chassagne-Montrachet, Meursault, and Saint-Aubin. Each year the group searches for an outstanding white burgundy wine list in a different region. This year the Los Angeles area was the focus and Dunn was the hands down winner.
Police Tracking Wine Thief
Police in Groton Connecticut are looking for a 25 year old man identified as Scott Deluca of New York. His picture (above) was recorded on a video surveillance camera. Earlier he spoke with the management of the Octagon Restaurant in the Mystic Marriott about holding a dinner party and buying their $4,800 bottle of Chateau Petrus 1990. The man in the picture is suspected in several thefts of fine wine across the Northeast. Warrants have been issued for his arrest in New York, New Jersey, Connecticut, and Rhode Island.
Wine Thefts Increasing
According to Frank Martell with Heritage Auctions thefts of fine wines are on the rise. The reason is that the values have escalated over the past few years. The value of recent thefts have run from hundreds of dollars to several million. He says most have the hallmarks of inside jobs. The thieves know which are the most valuable items and where to find them quickly once inside. They have knowledge of the products, the industry, and where they can sell them. Stolen fine wines are difficult to move because the industry knows what was stolen and who is looking for it. It isn't possible to just sell the goods to a wholesaler, or collector. They have to have a destination or a ready fence. The goods are hot potatoes. When the French Laundry was hit last year, Brian Walker, a lawyer in Greensboro, North Carolina, got a call "from a very scared client who didn't know what to do." The client bought the wines before anyone knew they were stolen. The wines were turned over to the authorities and returned to California. Now he is out a lot of money.
Kurniawan Cars Sold
Three cars that belonged to convicted wine counterfeiter, Rudy Kurniawan, were auctioned to settle debts. Included was a Lamborghini Murcielago with only 938 miles on it. The $300,000 car was sold for $195,000.
They Came Back for More
Thieves hit a Portland, Oregon Winery and warehouse for the fifth time in six months. They have stolen an assortment of barrels and winemaking equipment. The Southeast Wine Collective and Division Wine Making Company reported that they had recently added a barbed wire fence and enhanced security systems which the thieves managed to defeat. However, the thieves and their vehicles were caught on security cameras. Police are actively investigating the thefts.
New Wine From Ancient Grapes
Recanati Winery in Israel has released the first modern vintage of wine made from native grapes in modern times. The variety is Marawi, one of two varieties that are not related to any other grapes. The other is Jandali . Dr. Shibi Drori has identified 120 varieties of grapes native to Israel. Twenty of them are suitable for winemaking. Recanati Marawi 2014 is a white wine. The wine sells for 120 Shekels or about $31.
St Supry Sold
St Supery Vineyards has been sold by Robert Skalli and his family to Chanel, Inc. The vineyard was founded in 1982 and has been developed and managed by him since. The vineyard has a total of 1582 acres in Rutherford and other Napa areas, of which about 500 acres are planted mostly with Sauvignon Blanc and Cabernet Sauvignon. The vineyard is sustainably farmed and rated as Napa Green. No management changes or operational changes are anticipated. The sale was completed as of the end of October.
Chalone for Sale
Diageo is offering Chalone for sale. This comes after selling most of its wine assets to Treasury Wine Estates. Chalone was purchased in 2004. At the time it was selling about 30,000 cases a year. Sales peaked at 200,000 about 2009. By 2014 sales has fallen to 120,000 cases a year. About 50% of sales are Chardonnay. Diageo also announced the sale of its wine holdings in Argentina to Grupo Piňaflor. The sale included Navarro Correas and San Telmo.
Treasury Continues Restructuring
Last month we reported Treasury Wine Estates buying most of Diageo's wine portfolio and shedding some of its own lower end wines. As it continues restructuring, Treasury is closing its Great Western Winery in Australia and offering it for sale. The plant has been making Seppelt Wines which will be moved to another plant. It will also be consolidating two plants in New Zealand.
Oregon Vineyards in Demand
Demand for vineyard land has exploded in Oregon. There are a number of advantages over California. First and foremost, there is water. The best acreage for Pinot Noir is $45,000 to $65,000 an acre. In Sonoma an acre can cost $125,000. Most of the buyers are coming from California. The price for good Pinot Noir grapes is way up. There are currently 676 wineries in Oregon. 71 have opened in the last year alone.
Great Cal Wine Bars
Vinepair has named the top wine bars in major cities around the country. Their pick in San Diego is Vin de Syrah. It's very tasteful and laid back with a party atmosphere that grows through the evening. In San Francisco it's The Hidden Vine, located in an alley in the financial district with a wine list with 800 choices and a Bocce ball court to enjoy between sips. In LA the choice is Bar Covell. There is no wine list at all. You have a conversation with the staff and they choose what you will like. This is rated among the best in the country.
No Waste Wine Production
Lorenzo Bertin of the University of Bologna, Italy developed a program to completely use the waste from wine production. The waste is called pomace and is sometimes distilled to make Grappa. The EU has reduced the subsidy given to winemakers in an attempt to encourage other uses for it. Bertin's system produces polyphenols which are used in cosmetics, sugars, fatty acids, and uses the remaining waste to ferment into methane gas. The total process produces so many useful products that it will be economically feasible. Worldwide production of wine is 28 billion liters of wine a year. The waste amounts to about 5 million tons.
Wine Production Up Worldwide
The International Organisation of Vine and Wine estimates global wine production increased 2% in 2015. Italy, the world's largest producer had a 10% increase in 2015.
Beer
Beer Dictionary
Beverage Dynamics has published a dictionary of beer terms. Access it at Beer Guide (Complete List)
Homebrewing System
PicoBrew Inc. has launched sales on PicoBrew Pico, a homebrewing appliance. The Pico makes 5 liters of fresh beer. It's only 12 inches wide and weighs 31 pounds. The company has is also launching the PicoPak system with prepackaged ingredients from craft brewers. Homebrewers can then adjust the flavors and alcohol content to personalize the results. PicoPaks from over 50 brewers are available including Dogfish Head, Rogue, Dieu du Ciel from Canada, and Cerveceria Barbarian from Peru. The appliance works in much the same way as a Keurig coffee maker.
AB/Inbev Sales Down
AB/Inbev's sales of its top brands fell 1.2% in the U.S. as consumer tastes shift toward Craft Beers and Constellation's Corona. Overall revenue was off 7.1% due to currency fluctuations. Profits fell to $1.38 billion reflecting a loss of $585 million due to the effect of currency fluctuations on financing.
Beer Merger Pushes Diageo to #2
Jorge Lopes, Diageo's Director for Northern Ireland expressed concern about the AB/Inbev SAB/Miller merger in an interview with Belfast Telegraph. He said it's a concern for the entire industry. The new beer company will be the biggest alcoholic beverage company in the world, moving Diageo back to #2. His responsibilities include Diageo's Guinness, Harp, and Hop House 13. He said he is not concerned about Northern Ireland where his brews are "well insulated." He feels Heineken, Carlsburg, and others will have to find a way to compete.
Guinness May Be Sold
Diageo may be looking at selling its beer business like the sale of its wines. Recently it sold a controlling interest in Red Stripe and Guinness Asian operations to Heineken. Heineken could be interested in buying the rest of Diageo's Beers.
Spirits
Interplanetary Whiskey?
Suntory will be sending samples of its whiskey to The International Space Station to assess the effects of zero gravity and space on the liquor. Previous experiments in space have shown that liquids can't be sent in cans or bottles, but must be packed in flexible plastic containers. Paul Masson Rare Cream Sherry has been in space before. What was determined is that when a container of alcohol is opened in zero gravity, the bouquet immediately fills the cabin.
Craft Distilling Grows
Craft distillers are starting to have an effect of the distilled spirits industry similar to the craft brewer effect on the beer industry. According to the American Distilling Institute, the number of craft distillers has increased from 51 in 2005 to 588 in 2015. Their total market share is 1% but is predicted to rise to 8%. A craft distiller is defined as producing less than 100,000 proof gallons a year and products are made hands-on. Craft beers had a 3% share in 2003. By 2014 crafts held a 9% share.
Brown-Forman Figures Mixed
Brown-Forman had an increase of profits with declining sales. Jack Daniels dollar volume was down 3% due to currency fluctuations; while gallons sold were up 6%. Jack Daniels ready to drink products were down 16% in sales due to competition with other brands and other beverages. In Russia, a weak economy and devalued ruble caused a 36% decline. Much of the global decline was offset by an 8% increase in the U.S. which still accounts for 43% of the company's total revenue.
Pernod Ricard Figures Mixed
Pernod Ricard had a mixed year with profits dropping 15%. The biggest drag was a write down of €652 million on Absolut Vodka due to declining sales in the U.S. The brand hasn't performed as well as was originally expected when Pernod Ricard bought it in 2008. Other brands had increases. Martell Cognac was up 8%.
Cognac Sales Hit New High
Cognac sales re bounded from its 2008-9 sales bottom to just under 4 million cases. Impact Databank predicts that depletions will reach 4.3 million cases for the first time. U.S. Cognac sales account for 36% of total global sales. Hennessy has a 64% share of U.S. Cognac sales with 2.45 million cases.
Spirits Continue Upward Sales Trend
Impact DataBank estimates that spirits will show an increase in 2015 for the 20th straight year. The increase is expected to be 1.3% in volume. Wine is expected to to increase only .2%. Beer will decline .5%. The growth in spirits will be in Flavored Whiskey, Bourbon, Cognac, Irish, Super Premium Tequila, and Single Malt Scotch. Other American Whiskies are expected to increase, including Rye, Tennessee, and Moonshine. Declines are expected in Blended Whiskey, Gin, Rum, Imported Vodka, and Pre-Mixed Cocktails.
Other Foods and Beverages
Print Your Food
3D Systems, a Los Angeles Company, has debuted its food appliance at its 3DS Culinary Lab. The unit, called ChefJet Pro 3D Printer, wowed reporters by making onion soup, a pumpkin and maple flavored waffle, and cocktails with 3D printed ingredients.
Where and What They're Eating
Hartman Food and Beverage Compass for 2012-2014 reports that 88% of premium eating occasions are in quick serve restaurants and only 12% are in full service restaurants.
The National Restaurant Association reports that 80% of Americans eat at least one ethnic meal every month. Most of those are at table service restaurants.
Hot Drinks
Starbucks reports revenue up 18% for the last quarter at $4.9 billion. The same period last year sales were $4.2 billion. In a separate situation, the European Union audited Starbucks tax payments and questioned a London business subsidiary. Starbucks subsidiaries in various countries were paying royalties to the London company for a coffee roasting recipe. It appeared the primary function of the recipe was to save on taxes. When the EU made its concerns public, Starbucks dissolved the company. In October the EU ordered Starbucks to pay $34 million in back taxes to the Dutch government.
The Changing Market
Empty Supermarkets
There was a time only a few years ago that a supermarket locations was worth several million dollars. That time is past. Haagen bought 146 stores from the Safeway/Albertsons merger. The company is in bankruptcy less than a year later. Some stores have been sold but but more than 100 remain unsold. Those stores could be handed back to Albertsons where they might have to be sold again to satisfy anti-trust authorities. Fresh and Easy, Tesco's U.S. fiasco, is in its second bankruptcy in two years. Will anyone buy the stores? For an answer we can look at the A&P situation on the east coast. A&P, once the nation's largest chain grocer, is in its second bankruptcy in 5 years. An attempt was made to sell the stores. Some were sold, but more than 100 remain and will be closed and abandoned after Thanksgiving. The reason: bad locations and unfavorable leases. Haagen and Fresh & Easy have the same problem. The results remain to be seen.
Rite Aid Sold
Walgreens has reached an agreement to purchase Rite Aid for $17.2 billion. Rite Aid has 4600 stores and Walgreens has over 8,000 stores. The combined company will have nearly 13,000 stores. Rite Aid is the largest California licensed retailer with more than 500 stores. Rite Aid's stores are nearly all licensed with type 21 General Licenses which allow the sale of Wine, Beer, and Spirits. Walgreens has a limited number of stores with type 20 Beer and Wine licenses. Walgreens may have to divest as many as 1,000 stores nationally to gain approval for the deal.
High Hopes for Holiday Business
Fedex is adding 55,000 employees for the holiday season. The company says it expects at least a 12% increase in business over 2014.
Shrink
Checkpoint Systems reports that the U.S. leads the world in the worst retail statistic; retail shrink. Retail shrink is the loss suffered from theft by dishonest employees and shoplifters. The U.S. rate of retail shrink was 1.97% of sales during 2014-15 up from 1.28% in 2013-14. The global rate for the same period was 1.42%. The reason given for the increase appears to be cutbacks by retailers in loss prevention programs. According to the report, retailers passed the cost to shoppers at an average of $615 per household.
Health
Red Wine Does It Again
Iris Shai a professor of nutrition and epidemiology at Ben Gurion University of Negev in Israel led a team that did research on the total effect of wine in diabetic patients. The study followed 224 patients age 40 to 75 over a two year period. All ate a Mediterranean diet. They were divided into three groups. One group drank 150 ml water with dinner, a second group drank 150 ml red wine, the third group drank 150 ml white wine. The wine drinkers had significant health benefits over the water drinkers. However, the results were surprisingly different. The red wine drinkers had higher HDL levels. The white wine drinkers had better blood sugar levels.
Do It Without Red Wine
Resveratrol from grapes has been found to aid in treating heart disease, preventing cancer, and help with a multitude of other health benefits. There appeared a promising future for vineyards in making it. Now scientists have found a natural way to produce industrial quantities of resveratrol without using grapes. A team of researchers at John Innes Center in the UK led by Dr. Yang Zhang. By introducing the protein AtMYB12 into a tomato plant, a single tomato contains the quantity of resveratrol found in 50 bottles of red wine. The amount, 80 mg per gram of dry weight, shows that large scale production is possible.
Tasting Notes
Each month we are out there looking for wines that "over deliver"; wines that offer more than others in their category and price level. We search out the wines that you can buy to help build your business; wines that make customers happy and keep them coming back. These are wines we rate as good buys and best buys. Check our notes. The opinions in the reviews are our own and unsolicited. We receive no compensation from wineries or brokers. This month there were several wine tastings that showed some very nice wines available at reasonable prices. The prices shown are approximate retails.
The Youngs Market Fall Tasting was an overwhelming experience. There was a seemingly endless array of wines to be tested at all price levels. We list a few below. For all contact your Youngs rep or the winery rep.
From Guarachi Wine Partners Norton Reserve Malbec 2012. Good color and nose, full body, soft and mellow, sets the standard for Argentine Malbes. $21. rep Andre LaMon alamon@guarachiwinepartners.com or (562) 852-5261.
Fetzer Thousand Stories Bourbon Aged Zinfandel 2013. Aged 13 months in oak and 6 months in a bourbon barre. Good color and nose, full body, unique deep flavors. $25. Kristal Anderson kristal.anderson@fetzer.com or (818) 397-4798.
From Esprit Du Vin, Trimbach Gewurtztraminer 2012. Lots of fruit, semi-sweet, good acid balance. $26.
From Bronco Wine, Crespi Ranch Pinot Noir 2013 Santa Lucia Highlands. Good color and nose, smooth, good character, this one won a double gold. $24. Rep Vince Zaninovich vincent.zaninovich@broncowine.com or (949) 370-6341.
From Straight-Up Spirits, Lucky Star Wines. These three wines are excellent food wines, fruit forward, and will pair well with restaurant menu meals. Makes a good choice for a house wine to be served by the glass. Restaurateurs check for special pricing for house wine. Cabernet Sauvignon, Lodi 2013. Chardonnay 2013 bright and clean. Pinot Noir 2013, soft, a blend of Santa Barbara and Monterey 100% Pinot Noir. Winery rep John Apodaca (562) 773-2293 or Sales Director John Milstead (714) 925-7578. StraightUpSpirits@gmail.com.
The Rhone Rangers Tasting is one that we look forward to each year. The wines are a delight and are always good quality. We picked a few to review, but there were many other good ton grat wines and far too many to taste them all.
Eberle Winery Rose' of Syrah 2014, Good deep pink color and good nose, light body, meaty flavor, $18. Syrah 2013 Steinbeck Vineyard, 100% Syrah, deep color, good nose, good body, $26. Contact Chris Eberle chris@eberlewinery.com or (805) 238-9607 ext 206.
Fess Parker Syrah 2012. 100% Syrah, good color and nose, good body, $28. Syrah 2012 Rodney's Vineyard. This is a big wine. Good color and heavy nose, full body, $49. Contact Chris O'Hearn cohearn@fessparker.com or (415) 858-4068.
Lightning Wines Grenache Blanc 2014. A field blend, clean and clear, good character, delicious, good paired with seafood, $27. Contact Randy Hester at (832) 524-6553 or lightningwinefarm@gmail.com
Mounts Family Winery Carignan 2012. Vines were planted in 1958. Good color and nose, full body, $28. Contact Lana Mounts lana@mountswinery.com or (707) 292-8148.
Vina Robles Petite Sirah, Estate 2012. Deep color, very full body, good dark color, $17. We rate this as a best buy. Contact Mark Plasch m.plasch@vinarobles.com or (805) 227-4812.
Industry Calendar
11/1 Daylight Savings Ends
11/1 Mexican Day of the Dead
11/7 Rhone Rangers – LA
11/8 Harvest Celebration - Temecula
11/11 Veterans Day
11/21 Pinot Days - LA
11/18-21 SommCom- San Diego
11/21 San Diego Wine & Food – San Diego
11/26 Thanksgiving
11/27 Black Friday
12/3 North Coast Wine Industry Expo – Santa Rosa
12/6 Hannukah Begins at Sundown
12/14 Hannukah Ends at Sundown
12/16-24 Las Posadas
12/25 Christmas
12/26 Kwanzaa Begins
12/31 New Years Eve
Promotion Calendar
11/18 National Apple Cider Day
12/1-31 National Egg Nog Month
12/1 National Rhubarb Vodka Day
12/20 National Sangria Day
12/31 National Champagne Day
New Legislation for 2016
Our industry has more laws controlling it than most industries. The State
Legislature and the ABC give us license privileges and can take them away. New alcoholic beverage laws were passed that will be effective in 2015. Many critical issues are pending. Do you know about them and are you prepared for the changes. Is your business safe? Members are encouraged to look through the Legislative Bulletin. If there is a new law that is a problem for your business, call the association office now. The CBRA is your voice in Sacramento. If you are not a member, join today. The CBRA is your only voice when it comes to new beverage laws.
Brands and Comments
The CBRA Newsletter has not accepted any payment from any of the brands mentioned
in this edition. The editor, Ron Ziff, welcomes comments at ron@cbraliquor.org
CBRA Membership Remains Open
Now, more than ever, access to your industry is important. The CBRA is California's
only statewide association of licensed retailers, and our membership continues to be
open for the first time in 20 years.
At CBRA we deal with licenses and regulations that affect the beverage business on a
daily basis. That's why CBRA offers practical solutions, unique products, services,
information, and timely advice for both large and small beverage businesses. With
reasonable fees, superior service, and associates that are easy to reach, CBRA helps you
to run your business better and easier. One of the most valuable services we offer is that
call to the ABC to ask your question. We can ask that question and keep you anonymous. That's something you just can't do yourself.
Join or renew your valuable membership today. You can't afford to delay.
California Beverage Retailers Association – California's Only Statewide Association of Licensees. We're #1!
If you would like to be removed from this email list, please email to
ron@cbraliquor.org with UNSUBSCRIBE in the subject line.