posted by
cbra
on
Mon, 11/27/2017 - 16:36
California Beverage Retailers Association
Beverage Bulletin
P.O. Box 56686
Sherman Oaks, CA 91413
(818) 693-5561
Ron Ziff, Editor
Ben Ziff, Assistant Editor & Publisher
November/December 2017
"Hold summer in your hand, pour summer in a glass, a tiny glass of course, the smallest tingling sip for children; change the season in your veins by raising glass to lip and tilting summer in" - Ray Bradbury in Dandelion Wine
In this month's edition:
Headline News Stories - Amazon Wine Closes, California Grape Harvest in Ahead of Fires
Celebrities in the Industry - Charles Barkley, Scott Pruett, Fergie
Books - Ancient Brews: Rediscovered and Recreated, A Case of Syrah, Syrah: A Wine Country Mystery, The Wines of Gala, Great Wine Made Simple, The Art in Whiskey
TV & Movies - The Legend of the Red Hand
Popular Culture - Travel Oregon: The Game, Zombies!
Politics - World Series Bets, Federal Grant, Wine Statement
Wine
Northern California Fire News - Wine Aid 2017, Naked Angels, Mayacamas Harvest Lost, Heather Irwin and Guy Fieri, Wine Institute: Most Wineries Not Affected by Fire
Other Wine News - World Series Sparkler, Rooftop Red, Spoils of War, Champagne Grapes, Central Coast Mystery Burglar, Swiss Grapes Stolen, New York Pulls Winery License, Sour Wine Investments, Counterfeit Penfold's, Counterfeit Chateauneuf du Pape, Scientists Trace the History of Grapes, Rare Grape Brick in Museum, Largest Burgundy Property Sold, Pre-Phyloxera Wine to be Sold, Faulty Corks, Going to the Dogs, Low Calorie Wine, Most Expensive Bottle of Wine, Wine Glass Record, Once in a Lifetime, Only in France
Beer - Rare Sam Adams Brew, Just Like Old Times, Pub Sales Decline, Times a'Changing, Beer Paper, Beer Automat, Cubs Lose in the Playoffs, Send Beer: The Troops are Getting Restless, In the Cooler
Spirits - Smuggling Investigation, Whiskey Burglary, Mail Order, Bourbon Lexicon, Black Bart's Rum, Welsh Smugglers, Moet Hennessy Buys American Whiskey Distiller, Whiskey and Candy Pairing
Other Foods and Beverages - FDA Publishes Menu Rules, Jose Andres to the Rescue, What to Pair with Chicken Wings, Vegan Automat, Breakfast at Tiffany's,
Best Burgers in the U.S., World's Most Expensive Coffee, When Nothing Does it Better
The Changing Market - Online Sales to Top In-Store, Retail Meltdown?, Private Label Sales Peak in Economy, Alcohol Ads Dropped in New York
Recipes – French 75
Health - Milk or Beer for This Lady, Wine for This Lady, Moderate Drinking for a Longer Life, Whiskey Deodorant, Red Wine for Better Sex
...and as always Tasting Notes and the Industry Calendar
Headline News Stories
Amazon Wine Closes
Amazon will be closing Amazon Wine on December 31. The company sent out notices to its winery partners the last week of October telling them of the impending change. The 5 year old operation has been a success. The issue is that Amazon's ownership of retail licenses through its purchase of Whole Foods prohibits it from accepting payments from wineries and wholesalers under many state's laws.
California Grape Harvest in Ahead of Fires
The Wine Institute reports that California's 2017 harvest wrapped up early this fall following summer heat spurts and a growing season that saw significant rain throughout the state ending a five-year drought. While October wildfires in North Coast wine communities made international headlines, the state's vineyards and wineries were not significantly affected. Napa, Sonoma and Mendocino counties, the regions most impacted, grow 12 percent of California's wine grapes, and 90% percent of the harvest in Napa and Sonoma and 85% in Mendocino were already picked and in production at wineries before the fires.
"The vast majority of California's 2017 winegrape harvest was unaffected by the wildfires and the vintage promises to be of excellent quality," said Robert P. (Bobby) Koch, president and CEO of Wine Institute. "The outpouring of support locally and from around the world for people in the impacted communities has been phenomenal. We are saddened by the loss of lives and homes and this will truly be remembered as a harvest of the heart. Wineries are at work making their 2017 wines and welcoming visitors during this beautiful late fall/early winter season." See Northern California Fire News in Wine below and The Effects of Northern California Fires in The Changing Market below.
Celebrities in the Industry
Charles Barkley
Retired NBA star, Charles Barkley, has partnered with a California winery to produce Charles Barkley Selections. The wines are CB Vineyards 2014 Red Blend, CB Vineyards 2015 Chardonnay, and CB Vineyards The Analyst 2014 Reserve Red Blend. All proceeds will go to charity.
Scott Pruett
Hall of Fame race car driver, Scott Pruett, makes wine from Syrah grapes he grows at his Pruett Vineyard Winery in Auburn. The winery is located in what used to be his garage. Pruett says "I started a garage winery that makes world-class wines."
Fergie
Fergie and her father make Ferguson Crest Wines. From Santa Ynez Valley; Viognier $30, Syrah $30, Cabernet Sauvignon $40, Fergalicious Red Blend $35.
Books
On Beer
Ancient Brews: Rediscovered and Recreated, by Dr Patrick McGovern, W.W. Norton & Company, 336 pages, $26.95. Explores the culture of the very earliest origins of wine and beer and the scientific techniques by which they can be traced even after many thousands of years. As well as exploring some of the ancient recipes he has resurrected over the years, McGovern goes over a theme he has touched upon before in his writing – that alcohol has been key to human development and civilization. He suggests that Paleolithic man's desire to create alcohol may have underpinned domestication and led, as a consequence, to more sophisticated agriculture and even contributed to language, music, art and religion.
Wine Fiction
A Case of Syrah, Syrah: A Wine Country Mystery by Nancy J. Parra, Crooked Lane, 320 pages, $26.99. Taylor O'Brian returns to Sonoma; goes into business guiding wine tours; is accused of murder with a corkscrew; and ultimately has a romance with the sheriff. First in a series.
Art & Wine
The Wines of Gala by Salvador Dali, Taschen Publishing, 296 pages, $59.99. Updated and rebound from the original 1976 edition. Dalí believed that "a real connoisseur does not drink wine but tastes of its secrets", and ordered the wines in his book "according to the sensations they create in our very depths". An acrostic poem by Philippe de Rothschild called Le Cave drips down the opening pages. The book features over 140 Surrealist artworks by Dalí including a re-imagining of The Last Supper; his muse Gala holding up a bunch of red grapes; and a quirky image of a fluffy white cat weeping red wine tears into silver goblets. Penned by the artist's longtime friend, Max Gérard, the first section is dedicated to 'Ten Divine Dalí Wines', and offers an overview of 10 important grape growing regions including California and Bordeaux. The latter half meanwhile, written by viticulturist Louis Orizet, groups wines by their "emotional resonance". In true Dalí style, the book doesn't stick to any kind of script but instead shows the workings of Dalí's vivid imagination via a multi-sensory journey of flavors and tastes.
On Wine
Great Wine Made Simple by Andrea Immer Robinson, Clarkson Potter, 326 pages, $30. Robinson shares her experiences and insights as the sommelier of New York's Windows on the World's 50,000 bottle wine cellar. Emphasis is on the big six: Riesling, Sauvignon Blanc, Chardonnay, Merlot, Pinot Noir, and Cabernet Sauvignon.
On Whiskey
The Art in Whisky exclusive photos by photographer Jon Purcell, Spiorad Publishing, 256 pages black & white mat finish, $1,625 each. The ultimate Whiskey coffee table book. It is a photo collection showing the history, traditions, and production of these spirits from the British Isles to the U.S., Japan, and Australia. Only 250 hand numbered copies will be sold.
TV & Movies
The Legend of the Red Hand
This year's edition of Campari Red Diaries will star actress, Zoe Saldana in the leading role. The film follows Mia Parc in pursuit of the perfect cocktail. Her love interest, Davide, is played by Italian actor, Adriano Giannini. The film, The Legend of the Red Hand, is set in Milan. Director, Stafano Sollima, said "The story creates .. a world of mystery." Previous editions of the Campari Diaries have starred Clive Owen, Kate Hudson, Eva Green, and Uma Thurman.
Popular Culture
Travel Oregon: The Game
Travel Oregon, Oregon's tourism commission has taken the computer game, Oregon Trail, and created a new version called Travel Oregon: The Game. In the game you can choose to travel as a yoga teacher, apple farmer, ski instructor, rancher, fly fisherman, winemaker, or surfer. This version includes a trip to the Willamette Valley where you have to answer wine questions and a stop in Portland to identify Craft Breweries. You score points by buying artisan coffee, kombucha, or Craft Beer. Download the game free at https://traveloregon.com/thegame/. Time Magazine has ranked the original game #9 in The 50 Games You Must Play Before You Die.
Zombies!
AMC TV network is releasing The Walking Dead Wine Collection to pair with their TV show of the same name about zombies. The wines are Rick Grimes 2016 Petite Sirah, Daryl Dixon 2016 Cabernet Sauvignon, and Negan California Boubon Barrel Aged Red Blend made from 73% Merlot, 18% Zinfandel, and 9% Petite Sirah. The wines are line priced at $22.
Politics
World Series Bets
Governor Jerry Brown bet on the World Series against Texas Governor Greg Abbott. It was California Wine and lunch against Texas Beer and lunch. Brown said "While we don't expect to have to send any vino to Texas, we hope travelers from all over the world – yes, even the Lone Star State – will continue to visit California." Brown lost.
Los Angeles Mayor, Eric Garcetti, bet a "uniquely Los Angeles meal" on the Dodgers winning the World Series against the Houston Mayor Sylvester Turner. The meal included Kogi BBQ and Golden Road Brewing Beer. The local Craft Beer industry was quite upset because Golden Road is owned by AB/Inbev. Locals questioned whether Golden Road is really a Craft Beer. Garcetti lost.
Federal Grant
The federal government has provided a $6.5 million grant to study the genetics of wine grapes. The first results have been released by Cornell University in its VitisGen program. Bruce Reich leads 25 scientists at 11 institutions which have already identified 75 genes responsible for fruit quality, low temperature tolerance, and resistance to disease.
Wine Statement
Nic Peterkin is making wines in the Margaret River region of Australia. Nic has a political point to make. The label has a silhouette of Donald Trump. The brand name is F*** Him. He says his Chardonnay is the best he's made from "vines imported from France under Israeli irrigation, tended to by an Italian tractor, with grapes picked by a group of Irish, Germans, Estonians, and Koreans under the supervision of a South African. We pressed the grapes using a Swiss press, and a Mexican winemaker and Dutch girl transferred the wine into French oak. It was then sealed with a cork from Portugal, with wax from the Czech Republic. The wine was bottled with the help of a lesbian, and put into boxes made in Indonesia."
Wine
Northern California Fire News
Wine Aid 2017
23 San Diego area wineries and restaurants are putting on a tasting this month. 100% of the proceeds will go to relief for winery employees who lost their homes in the Northern California fires.
Naked Angels
Naked Wines set up a crowdfunding platform to raise money for victims of the Northern California fires. The effort has so far raised $500,000 from the U.S., UK, and Australia.
Mayacamas Harvest Lost
Mayacamas Vineyards may have lost its entire 2017 vintage due to the fires. The grapes had already been harvested, but were sitting in open air fermenting tanks when the fires hit. The open tanks were exposed to the smoke and ash for four days.
Heather Irwin and Guy Fieri
Heather Irwin, a food writer for the Sonoma Press Democrat tapped the area's best chefs to provide a steady stream of meals to firefighters and people who lost their homes to the fires. The writer, Food Network chef Guy Fieri, who had to evacuate his Santa Rosa home, and the Salvation Army organized a team of volunteers and within hours began serving Pork Loin and Mashed Potatoes.
Wine Institute: Most Wineries Not Affected by Fire
The fires had only a minimal effect on the area's wineries, according to the Wine Institute. Of the 1,200 wineries in Sonoma, Napa and Mendocino, 10 were destroyed or heavily damaged, and 90% of this year's harvest already was complete. Most vineyards were spared because of the high moisture from irrigation and some even protected surrounding buildings by acting as fire breaks. Many operators are still feeling the effects of being closed for two weeks at the end of the tourist season, assessing damage, preparing for winter flooding that will follow, and persuading tourists to return after hearing weeks of news coverage. Visit California will be spending $2 million on ads to lure tourists back to the California Wine Country.
Other Wine News
World Series Sparkler
Wine by Design will be issuing a limited edition World Series Houston Astros Championship Brut Sparkling Wine. Wine by Design is licensed by MLB. The sparkling wine is made by Rack & Riddle. 13.1% ABV, dosage 1.25%. Available for $24.99 at mlb.com/wine.
Rooftop Red
Devin Shomaker has a vineyard on the roof of a building in the Brooklyn Navy Yard, a 300 acre industrial park. His roof top vineyard is 14,800 square feet with 42 planters holding 168 vines. Varieties are Merlot, Cabernet Sauvignon, Cabernet Franc, Petite Verdot, and Malbec. The wines produced will be a blend under the name Rooftop Red and will sell for $1,000 a bottle.
Spoils of War
Did alcohol cause the Germans to lose World War I? Some say the Germans captured too much of the Allies alcoholic beverages. On the Italian front during 1917 the Germans captured 5 million liters of Wine and 1,600 liters of Brandy and sent it home. That doesn't include what the army captured, consumed immediately, and never reported. In some cases the army advanced and had to wait for military supplies to catch up to them. During those times, the soldiers only recreation was drinking parties. General Erwin Rommel later said: "The contents of the various vehicles offered us starved warriors unexpected delicacies. Chocolate, eggs, preserves, grapes, wine and white bread. Morale behind the enemy front was wonderful!" On the Western Front the Germans also captured large quantities of Rum from the British.
Champagne Grapes
Chardonnay will surpass Meunier as the most planted grape in Champagne in the near future. The Champagne region has 34,000 hectares and is fully planted. Growers are replacing older vines at a steady pace. The appeal of Chardonnay is that it provides a dependable crop and has become more popular with consumers.
Central Coast Mystery Burglar
There has been a string of burglaries of tasting rooms in Paso Robles and Templeton. Security cameras have recorded pictures of the burglar. The burglar appears to be 5 foot 6 inches tall, male or female, and wears a gray hoodie and gloves. No fingerprints have been found. The burglar appears to be familiar with the security systems and the facilities. Fences have been climbed, windows pried open, and offices searched. No wine has been taken; only cash. Because the tasting rooms do most of their business with credit cards. Less than $2,000 total has been taken in several burglaries.
Swiss Grapes Stolen
Thieves picked 300 kilos of Pinot Noir and 400 kilos of Chasselas grapes from the Hammerli Vineyards in Switzerland. They worked overnight just ahead of harvest and took only from the vines closest to the road.
New York Pulls Winery License
The New York State Liquor Authority issued an emergency suspension of the winery license of Vineyard 48 in Long Island. The suspension and revocation was the result of wild parties and a drunken brawl of 400 people that resulted in 911 calls to the Southold Police Department.
Sour Wine Investments
Crimson Fine Wines, a company that was headquartered in London and operated in Canada, was declared insolvent by a UK government agency. The agency found that the company had used customers funds for the personal accounts of its officers. Craig Cooper of Kent, UK and Jefferey Kushner of Ontario, Canada were banned from the investment industry for 11 years and 9 years respectively. They had cold called clients and offered good returns for 5 year investments. The customers money was then moved to their personal accounts.
Counterfeit Penfold's
Chinese police arrested 14 people and confiscated 14,000 bottles of counterfeit Penfold's Wine and thousands of fake labels. The arrests came as the result of a 3 month investigation after complaints from brand owner, Treasury Wines Estates. The bottles were destined to be sold through Alibaba, China's web service that operates like eBay. The wines were selling online at 200 yuan ($40 U.S.) compared to the real thing that sells for 3,000 yuan ($595 U.S.).
Counterfeit Chateauneuf du Pape
French police in Marseille have charged Guillaume Ryckwaert and several company managers at the bulk wine company, Raphael Michel, of fraud, deception, violation of consumer code, and tax fraud. They are accused of selling 4 million cases of table wine falsely labeled a premium Cotes du Rhone and Chateauneuf du Pape. The wines were sold between October 2013 and March 2017.
Scientists Trace the History of Grapes
Researchers at the University of California at Irvine have studied the genome of grapes and found that humans probably started eating wild grapes about 15,000 to 20,000 years ago. Over time two things happened: those wild grapes mutated and humans started agriculture. Organized grape growing appeared to have started about 7,000 years ago as humans began making wine as an occupation.
Rare Grape Brick in Museum
A Prohibition era grape brick is on display at the Ontario Museum of History and Art. The brick is made of dehydrated grape juice and dates to about 1930. Grape bricks were sold during Prohibition and used to make wine at home. Home winemakers added water and fermented the reconstituted juice into wine. During Prohibition some wineries survived by selling wine bricks. The brick is one of the last in existence. The museum is located at 225 Euclid Street, Ontario, California 91762. Open Thursday through Sunday Noon- 4PM, closed some holidays.
Largest Burgundy Property Sold
Clos de Tart, one of the top Burgundy domaines, was sold to the owners of Ch. Latour. The property is about 7 1/2 hectares in Morey St Denis, part of Burgundy's Cote de Nuis. The purchase price was not disclosed, but is estimated to be in the neighborhood of 250 million Euros. Burgundy wine properties are the most expensive in the world. Francois Pinault and his family announced in late October that they had made the purchase. Clos de Tart is the largest monopole vineyard in Burgundy that has never been broken up by local inheritance laws. The law requires estates to divide vineyards equally among the survivors. Vineyards have been divided and re-divided over the years leaving some with only part of a row of grapes. Clos de Tart has been in corporate ownership and did not come under the law. The vineyard was founded by Cistercian Nuns from les Bernardines de Tart in 1141. It remained in their hands until the French Revolution. In 1791 the property was confiscated by the government and auctioned. The estate has been in the hands of private owners ever since.
Pre-Phyloxera Wine to be Sold
Spanish Sherry producer, Gonzalez Byass will be releasing a limited bottling of Moscatel Pio X. The wine was produced in the 1850's and 1860's and the barrel dedicated to Pope Pius X when he was elected to the Holy See in 1903. The wine was never fortified and is definitely pre-phyloxera. The phyloxera epidemic hit Jerez in the 1890's. Only 100 bottles will be sold at $1,320 each.
Faulty Corks
Cayuse Vineyards in Washington was forced to destroy nearly 3,000 cases of wine due to faulty corks. After bottling, paraffin particles were found floating in the wine. The wines involved were 2015 vintage Syrah, Tempranillo, and Cabernet Sauvignon. The loss is estimated at $3 million.
Going to the Dogs
Calistoga Ranch will host a 3 day weekend for dog loving wine drinkers starting December 13. The event will feature a smoked bacon scavenger hunt in the vineyards; a Run & Sniff Hike on 157 acres of private woodlands; and culminates in a Holiday Howl. $2,235 plus taxes & fees.
Low Calorie Wine
Weight Watchers is partnering with Truett-Hurst to market low calorie wines. 2016 Cense New Zealand Sauvignon Blanc; a 5 ounce pour is only 85 calories. The wine achieves its low calorie status through low sugar and alcohol. 9.6% ABV, $13.99.
Most Expensive Bottle of Wine
A bottle of Setting Wines Alexander Valley Cabernet Sauvignon became the most expensive bottle ever sold at $350,000. The sale took place at Emeril Lagasse's charity auction in New Orleans. The wine had been bottled for Hollywood agent, Shep Gordon, by winemaker, Jesse Katz. Katz is known as "Winemaker to the Stars" and has also created wines for NFL great, Von Miller, and for the wedding of Justin Timberlake and Jessica Biel.
Wine Glass Record
The world record for the most wine glasses held in one hand was set by Reymond Adina, a native of the Philippines at the Quatre-Gats restaurant in Barcelona, Spain on October 24, 2007 with 39 glasses in his left hand. This is a record that may never be broken.
Once in a Lifetime
...and finally. Tinwood Estate in Chichester, UK offers city bound people a chance to de-stress and get back to nature. For only $69 guests are given "a once in a lifetime experience." They are taught how to pick grapes. Then they are sent to the vineyard where they work for two hours alongside paid workers picking Chardonnay, Pinot Noir, and Pinot Meunier grapes. Following that they enjoy a 3 course lunch accompanied by 3 glasses of wine. According to The Daily Mail customers de-stress, sleep better, and connect with the land.
Only in France
...and really finally. A group of naturists joined the harvest in France and picked grapes in the nude. The seven men and one woman gathered grapes in Puy-de-Dome as nature intended; without clothes. Local law allows the practice in a remote vineyard where they cannot be seen by the public. Some did wear clear plastic ponchos to protect themselves from rain and mud. "We have wanted to harvest this way for a long time," said Thierry Guillot. "We chose a vineyard that we know and like. Naturism is a mindset. We are very close to nature, and being able to move without fabric; without a polluting barrier, is such a pleasure. Naturism is about tolerance. We never judge each other; it's one big family. When you have tasted naturism, you cannot go back to fabric."
Beer
Rare Sam Adams Brew
Samuel Adams Brewing will release Samuel Adams Utopia this month. This beer is not carbonated and more like a fine liquor, with a sweetness like a port or cognac and a smooth, almost buttery, malt-filled finish. It clocks in at 28% ABV and only 13,000 bottles were made. SA Utopia is only made once every two years.
Just Like Old Times
Earlier this year Wimbledon Brewery was given a copy of an ad the brewery had run in a London newspaper in 1889. The ad listing different styles of brews sold in the 19th century piqued the interest of Mark Gordon, the current owner. The ad offered beer and ale as X, XX, XXX, and XXXK. The designations indicated the strength of the beer. X meant "mild", XX "stronger", and XXX the strongest or "barleywine." XXXK meant stronger and a "keeper"; it could be kept and aged. The brewery set about making beers by the old recipes to duplicate the 19 century offerings. The first to be released is XK Autumn Ale at 3.5%. The beer was limited in production and only 90 firkins will be available. (That's right – firkins. A firkin is a measure used since 1688 meaning a quarter barrel of beer. The measure was standardized in 1824 at 9 Imperial Gallons. A pub can pour 72 pints from a firkin.) Later this year XXK Winter Ale (4.8%) will be released; followed by XXXK Barley Wine (10%) to be released in time for Christmas.
Pub Sales Decline
Beer sales in the UK continue their decline of the past 5 years as more pubs close. Sales for 2017 are down 3.6% from the year earlier. The decline means Brits drank 35 million fewer pints this year.
Times a'Changing
Americans have fallen out of love with Budweiser. The beer is currently selling at a rate of 14.4 million barrels a year; down 60% from its peak of 35.2 million barrels in 1988. Beer Marketer's Insights notes that Budweiser sales first eroded as drinkers shifted to lighter beers. Now light beers have stalled and Bud's sales continue to fall as drinkers shift to Imports and Craft Beers.
Beer Paper
Professor Kurt Haunreiter at the University of Washington's Paper and Bioresource Science Center has found a way to use spent grain from brewing to make paper. With 20% of the wood fiber replaced with grain fiber, the paper makes good sheets to use in ink jet printers. By using a mix with more grain fiber a card stock suitable for business cards can be made. The surprising thing about the paper is that it has a bouquet. It smells like bread; not beer.
Beer Automat
Innovative Tap Solutions is putting automated beer taps into bars so patrons don't have to wait for bartenders and waiters. The taps are automated and charge the customer by computer. CEO, Josh Goodman, says the system is already installed in 122 locations. The system sells for $1,700 and requires $500 a year for service.
Cubs Lose in the Playoffs
Why didn't the Chicago Cubs go on to the World Series this year? It could be the price of beer. For the post season the price of a 12 ounce plastic cup of Budweiser was raised to $10.50, up from $9.75 during the regular season.
Send Beer: The Troops are Getting Restless
Archeologists have found hundreds of wooden tablets carrying messages between the soldiers guarding the northern border of the Roman Empire between Britain and Scotland. The troops were stationed at a fort called Vindolandia. The ruins are pictured above. In one message, Masculus, an officer leading a patrol "at the crossroads" wrote to Prefect Cerialis for supplies. He requested socks and concluded with the plea "I ask you order beer, which the soldiers don't have, to be sent." Beer and Wine were an important part of the Roman soldiers rations. Apparently, the patrol had used up their rations sooner than expected.
In the Cooler
...and finally. Jeremy Van Ert entered the walk-in beer fridge at the Kwik Trip store in Marshfield, Wisconsin just before midnight. At the stroke of 12 the door's automatic time clock locked the cooler to comply with the law. At that point Van Ert could have knocked on the glass door to attract employees and get out. Instead, he decided to stay and enjoy a few beers. He was spotted at 6AM when the time clock was set to re-open the cooler. By that time Van Ert was responsible for the demise of 3 1/2 cases of beer. When the door was opened, he walked out without paying. According to Police Chief, Rick Gramza, he gave "no explanation" as to why he just decided to wait out the clock. Van Ert was charged with retail theft and then spent time in "the cooler." This time the Wood County Jail.
Spirits
Smuggling Investigation
Hyon Ki-yong, the North Korean ambassador to Pakistan is being investigated for smuggling after he reported a burglary to the police. He told authorities that he was missing 1,000 bottles of Johnnie Walker Black, 200 cases of Wine, 60 cases of Beer, 10 cases of Tequila, and thousands of U.S. dollars in cash. The theft was estimated at $150,000, Three Pakistani policemen were arrested on suspicion of being involved. Pakistan is a Muslim country and only foreigners are allowed alcohol, and even that is a limited monthly ration. Mr. Ki-yong had no explanation for having the huge quantity that was stolen. The quarterly allowance for the entire embassy staff is 120 liters of Spirits, 18 liters of Wine, and 240 liters of Beer.
Whiskey Burglary
Burglars broke into the renowned specialist 'La Maison du Whisky' shop on Rue d'Anjou in Paris's upmarket VIII Arrondissement in the early hours of November 13. They knew just what they wanted. They broke down the metal gate and went straight to some of the most expensive things in the shop, making off with 69 bottles of rare Whiskey in total worth €673,000; including one bottle alone worth €195,000 according to Le Parisien.
Mail Order
Congresswoman Jackie Speier (D-CA) has introduced HR 4024 which would allow the US Postal Service to deliver Wine, Beer, and Spirits from producers and retailers directly to 21 year old consumers. The deliveries would have to comply with state laws. The bill currently has 22 co-sponsors. Ms. Speier says the current ban is antiquated and puts the Postal Service at a disadvantage against UPS and Fedex.
Bourbon Lexicon
These are terms used to describe Bourbon
Bourbon – A whiskey made from a minimum of 51% corn. It must be aged in new charred oak barrels, distilled at no more than 80% ABV, aged at no more than 62.5% ABV, and bottled at no less than 40% ABV.
Age Statement – The age of the youngest whiskey in the bottle. The including the age statement on the label is optional if the Bourbon is at least 4 years old.
Cask Strength – The strength of the whiskey if it is bottled undiluted. Cask Strength will vary with each barrel.
Bottling Proof – the proof at which the Bourbon is bottled. Bourbon must be at least 80 proof, but could be higher.
Straight Bourbon – Bourbon with nothing added. No coloring or flavors. Straight Bourbon must be at least 2 years old. If it is less than 4 years old it must be labeled with an age statement.
Mash Bill – The list of ingredients. Bourbon is at least 51% corn. The rest could be corn, rye, wheat, barley, or other grains.
High Rye – A bourbon with rye as the second ingredient.
Wheater - A bourbon with wheat as the second ingredient.
Sour Mash – A portion of previously used mash is added to the fermentation as a starter.
Sweet Mash – Only fresh yeast is used in the fermentation.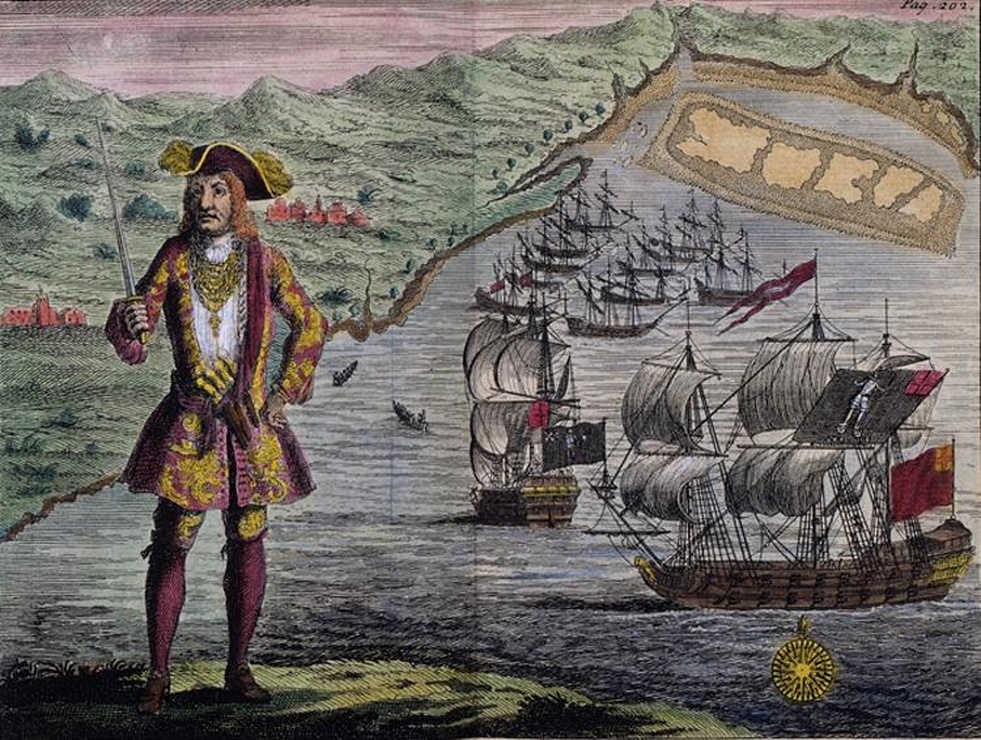 Black Bart's Rum
Pembrokeshire Beach Food Company in Wales is producing Rum Ddu Barti. Ddu Barti is Welsh for Black Bart, one of the most successful pirates of the early 18th century. Black Bart sailed out of Casnewydd Bach in Pembrookeshire to capture nearly 500 ships during his career. Black Bart's real name was John Roberts. He died in a battle with the British Navy in 1722. The Rum is formulated from an unaged Caribbean Rum infused with laver seaweed, lemon, orange, vanilla, clove, ginger, and cinnamon to produce a dark heavily spiced Rum.
Welsh Smugglers
Last month British Customs and North Wales Police raided 59 retailers and storage units in Wales and seized 2,700 liters of smuggled alcohol from 11 premises. Along with the liquor they seized 450,000 cigarettes, a Samarai Sword, and the vehicle used to transport the alcohol.
Moet Hennessy Buys American Whiskey Distiller
Moet Hennessy has purchased the Woodinville Distillery in Washington state. The purchase price was not disclosed. Woodinville Distillery produces Craft Whiskey and Rye. This will be Moet Hennessy's first American Whiskey. Founders Orlin Sorensen and Brett Carlile will stay on to manage the company. Moet Hennessy is a wholly owned subsidiary of LVMH.
Whiskey and Candy Pairing
...and finally. Did the kids collect too much candy on Halloween? Maybe you should help them out by eating some. But don't forget you're an adult. Here are some Whiskey and Candy pairings:
Peanut Butter Cups – Unpeated Single Malt Scotch
Butterfingers – Peaty Scotch
Twix – Bourbon
Skittles – Japanese Whiskey
Peppermint Patties – Rye
Sour Apple – Irish Whiskey
Raisinets – Canadian Whiskey
Other Foods and Beverages
FDA Publishes Menu Rules
Calorie count menu labeling rules have twice been delayed by the FDA, but in a publication on November 8 the agency says restaurants and grocery store delis with 20 or more locations have until May to put calorie counts on their menus. The rules were originally scheduled to go into effect in 2015.
Jose Andrés to the Rescue
Chef and restaurateur, Jose Andrés hit the ground five days after Hurricane Maria devastated the island of Puerto Rico on Sept. 20. He has built a network of kitchens, supply chains and delivery services that have served more than 2.2 million warm meals and sandwiches. No other single agency; not the Red Cross, the Salvation Army, nor any government entity; has fed more people freshly cooked food since the hurricane, or done it in such a nurturing way. Mr. Andrés's effort, is the largest emergency feeding program ever set up by a group of chefs. Now it is winding down. But it illustrates how the rise of celebrity chefs has made them valuable players in efforts traditionally left to more-established aid organizations.
What to Pair with Chicken Wings
What to pair with chicken wings? It all depends on the sauce.
Buffalo Wings – A beer with heavy flavor like an IPA.
BBQ (Sweet & Spicy) – German Doublebock is sweet and heavy ad works with BBQ.
Apricot or Orange Glazed – White semi-dry wines like Chenin Blanc or Pinot Gris.
Asian Style with Fish Sauce – Riesling.
 
Vegan Automat
Do you remember New York's Automats? Well now two chains, leCupboard and Eatsa are doing the same thing in San Francisco. The difference is that all the food in those little cubbies is Vegan.
 
Breakfast at Tiffany's
Now you too can enjoy breakfast at Tiffany's. The famed jewelry store has added a cafe'. No, there is no chance you'll see Audrey Hepburn there.
Best Burgers in the U.S.
Food & Wine Magazine lists the 28 best burgers in the U.S. Seven can be found right here in California. Two are in the Wine Country!
Mission Bowling Club -SFO- The Mission Burger, topped with Monterey Jack cheese and caramelized onions on an Acme Bread bun.
The A Frame – LA- Double Cheeseburger by Roy Choi. With mayo, sesame seeds, shiso leaves, lettuce, tomato confit, pickled red onions, hot sauce, and sharp cheddar cheese on a buttered brioche bun.
In-and-Out Burger – All over SoCal (This one makes everybone's list.)– Fresh ground beef served with hand cut fries. The best is animal style with extra sauce and chopped grilled onions.
Zuni Cafe' – SFO – House ground hamburger, accented with cider pickled zucchini strips, mustard seeds and turmeric on a rosemary focaccia.
Gott's Roadside – Napa- Ahi Burger – A seared Ahi Tuna burger with ginger-wasabi mayonnaise Asian slaw, served on a toasted egg bun.
Father's Office - LA – The Office Burger. Dry aged beef patty, topped with gruyere cheese, Maytag blue cheese, arugula, and applewood-bacon compote. There is a strict no-ketchup policy.
Healdsburg Bar & Grill – Healdsburg – HBG Burger. Natural Angus beef burger with Alexander Valley Gourmet Pickles, Costeaux Bakery sourdough bun, roasted garlic mayo.
World's Most Expensive Coffee
The world's most expensive coffee is Esmeralda Geisha 601. You can buy it by the pound at $601 or by the cup at $55. It is only available in 3 places: China, Dubai, and in the U.S. at Klatch Coffee in Rancho Cucamonga, California.
When Nothing Does it Better
...And finally. The O'naturel restaurant has opened in Paris. The restaurant serves all the expected cuisine: escargot, foie gras, braised chicken with truffles, and crème brulee. Prices are not cheap. A la carte entrés start at about $50. What's different is that it's a nudist restaurant and diners strip in a changing room before seating. The restaurant's owners are twin brothers Mike and Stephane Saada. They hope to cash in on France's 2.6 million nudists.
The Changing Market
Online Sales to Top In-Store
Deloitte's 32nd Annual Survey indicates that online spending for the Holiday Season will surpass in-store spending for the first time. The prediction is that 51% of sales will be online and 42% in brick & mortar stores. Households earning $100,000 or more will spend 57% online and 39% in stores. Most importantly, consumers seem to be making pre-purchase decisions as early as the first week of November.
Retail Meltdown?
The future looks grim for the retail industry. Amazon sold 51% of all new online business during the 2016 holiday season. All other companies combined did 49% of the new online business. The experts predict this year more business will take place online than in retail stores for the first time. In addition numbers from Bloomberg show retail borrowings of $1.9 billion will come due in 2018 and with an average of $5 billion coming due each year through 2025. Retail high yield bonds are now at $35 billion and leveraged loans at $152 billion. All this is against a backdrop of retailers operating in the red or, at best, breaking even. Both high yield bonds and leveraged loans are risky to lender and borrower. The total situation would be normal in a recession, but there is no recession. Consumer confidence is high, unemployment is low, and the economy is growing. Some experts say retail could be headed for a meltdown.
The Effects of Northern California Fires
The effects of the Northern California fires are continuing. 8,400 homes were burned. The city of Santa Rosa has long been an affordable bedroom community in driving distance from the Bay Area. Residents were doctors, teachers, engineers, and other white collar professionals. The sudden housing shortage there has pushed rents to as much as $13,000 a month. Displaced residents can't find or afford to live there now and probably won't be able to move back after rebuilding takes place.
Displaced residents have moved in with friends and relatives in other communities. In some cases families are split up and staying in a variety of temporary homes. Many face deep psychological scars.
Hundreds of pets became lost and are searching for their families. The Sonoma County Shelter is housing more than 400 lost dogs and cats. An ad hoc group, Sonoma and Napa Fires Missing and Found Pets is trying to unite 95 cats and 82 dogs with their owners.
Private Label Sales Peak in Economy
IRI Consumer Connect reports that 31% of American households are struggling to afford groceries despite a healthy economy. Because of this, lower income and millennial consumers are turning to private label. 89% of lower income shoppers and 90% of millennials are buying private label to save money. When surveyed, these private label buyers cite lower cost, quality equal or better than national brands, and better value for the money. 7 out of 10 millennials will seek out a store that has a better selection of private label products. Two examples from major retailers: 1) Costco's private label accounts for 25% of the company's total sales, 2) Amazon's sales will include $4 billion of private label this year including $700 million from Whole Foods.
Alcohol Ads Dropped in New York
The New York Metropolitan Transportation Authority no longer accepts advertising for Wine, Beer, or Spirits in the city's subway system. Existing ad contracts will be allowed to complete through the end of the year. According to Joseph Lhota, MTA's Chairman, alcohol ads only account for $2.3 million a year of the total $159 million ad revenue.
Recipes
French 75
Ingredients:
2oz. Dry Gin
1 teaspoon Superfine Sugar
1/2 oz. Lemon Juice
5 oz. Brut Champagne
Shake Gin, Lemon Juice, and Sugar with cracked ice in a cocktail shaker. Strain into a Collins glass half full of cracked ice and top with Champagne.
Health
Milk or Beer for This Lady
Lucy Treccasse was born in 1905 and is 112 years old. She lives in a nursing home in Cabot, PA. As the 8th oldest person in the United States she has advice for all of us. "I drink milk." When she wants to splurge, Lucy, splits a can of Beer with a friend. She got her taste for Beer during Prohibition. Her family brewed Beer in 5 gallon crocks to sell to friends.
Wine for This Lady
Florence Bearse of Bangor, Maine just celebrated her 100th birthday. She says she owes her age to "a no nonsense attitude, a sense of humor, and drinking plenty of wine."
Moderate Drinking for a Longer Life
Longevity is a priority when it comes to health and wellness research. A study published in the Journal of Alzheimer's Disease found evidence that adults who drink moderately and regularly have a higher chance of not only living longer and doing so without developing dementia or other cognitive impairment. "Previous studies have looked at both mortality and cognitive function in relation to alcohol intake, but we really wanted to look at both of those together, because people want to live longer, but they also want to live longer in good cognitive health," said Erin Richard, a graduate student in University of California San Diego-San Diego State University's joint doctoral program and the study's primary author. "We wanted to look at the chances of living to age 85—which was kind of an arbitrary number, but at the same time, that's kind of what we'd all like to do—in good cognitive health." The study followed 1,344 adults who self-reported their alcohol use as part of the Rancho Bernardo Study, an ongoing survey of residents of the San Diego suburb Rancho Bernardo launched in 1972. Beginning in 1988, the participants were tested on their cognitive function in approximate four-year intervals until 2009 using the Mini-Mental State Examination, a questionnaire commonly used to screen for dementia.
Whiskey Deodorant
Jason and Erica Feucht from Loveland, Colorado are starting a new company to produce their Pit Liquor Deodorant. The deodorant is whiskey based and comes in lavender, vanilla, and black pepper formulations.
Red Wine for Better Sex
...And finally. A study at the Norwich Medical School in the UK has found that drinking Red Wine can lead to better sex. Specifically, the wine increases testosterone and reduces erectile dysfunction by relaxing the vascular system. The study by Aedin Cassidy, Mary Franz, and Eric Rimm covered the consumption of flavonoids in Red Wine by 25,000 men over a 10 year period and found a 14% reduction in the problem.
Tasting Notes
Each month we are out there looking for wines that "over deliver"; wines that offer more than others in their category and price level. We search out the wines that you can buy to help build your business; wines that make customers happy and keep them coming back. These are wines we rate as good buys and best buys. Check our notes. The opinions in the reviews are our own and unsolicited. We receive no compensation from wineries or brokers. This month there were several wine tastings that showed some very nice wines available at reasonable prices. The prices shown are approximate retails.
New Zealand in a Glass
New Zealand in a Glass provided an opportunity to taste a wide range of very good wines. These vintners have come a long way in just a few years. The tasting was preceded by a very entertaining performance by a group of Mauri dancers. Many good to excellent wines. Our picks are below.
Greywacke Sauvignon Blanc Marlborough 2016, bright, clear, good nose, full fruit flavor, medium dry, 13.5% ABV, $23. Contact info@greywacke.com.
Loveblock Sauvignon Blanc Marlborough 2017, clean, clear, good nose, dry, 13.0% ABV, $21.99. Loveblock Pinot Gris Marlborough 2014, bright, fresh, fruity character, good nose, medium dry, 12.5% ABV , $21.99. These wines were outstanding. Contact David Jankow jankowd@terlatowines.com.
Mahana Sauvignon Blanc Nelson 2015, bright, fresh, good nose, Sancerre style , 2/3 aged in neutral oak, 1/3 aged in stainless, 12.5% ABV, $30. Cornelia's Nine and Woolly's Corner Pinot Noir Nelson 2014, dark ruby, good nose, full body, tannic, will age for years, 14% ABV, $65. The Mahana Wine Estate is 100% organic. Good solid wines and a good buy. Contact Chandler Parker chandler@mahana.nz or Kateland Carr kateland@mahana.nz.
Toi Toi Sara's Rose Marlborough 2017, very light pink, good nose, dry, will be good with food or can stand alone, 13.0% ABV, a best buy at $12.99. Toi Toi Pinot Noir Clutha Central Otago 2014, ruby, good nose, light body, will be good with food, 13.)% ABV, $22.99. Contact Kevin Joyce kevin@toitoiwines.co.nz.
Villa Maria Private Bin Lightly Sparkling Sauvignon Blanc Marlborough 2015, dry, good nose, semi-dry, grassy notes, 13.0% ABV, good buy $15. Villa Maria Private Bin Pinot Noir Marlborough 2015, fresh, medium body, good nose, will pair well with food, 13.0% ABV, a good buy $18. Contact Maria Bonavita (203) 313-4668 or mariab@villamaria.us
Craggy Range Sophia Gimblett Gravels Vineyard Merlot Hawke's Bay 2014, deep dark ruby, good nose, full body, 73% Merlot, 14% Cabernet Sauvignon, 13% Cabernet Franc. This wine is Bordeaux style, beautiful, flawless, will age well, $80. Contact info@craggy range.com.
The San Francisco Competition Double Gold Tour
The wines at this tasting were all chosen as best in their class by more than one panel of experts and buyers. It was a rare opportunity to taste the best and then be able to pick favorites. The wines listed below are definitely the best of the best.
J Lohr Vineyards Signature 2013 Cabernet Sauvignon, Paso Robles, dry, very dark ruby, good nose, soft, full body, 79% Cabernet Sauvignon, 18% Merlot, 3% Petit Verdot, will age well, $100. 2013 Premium Bordeaux Blend, very dark ruby, good nose, full body, 63% Cabernet Franc, 25% Cabernet Sauvignon, 8% Merlot, 4% Malbec,14% ABV, $50. Contact (408) 918-2160 or marketing@jlohr.com, distributed by Wine Warehouse.
Burrowing Owl Estate Winery 2013 Cabernet Sauvignon, Okanagan Valley, Canada. Dark ruby, good nose, soft and round, good structure, $39. Contact Shantelle Cloutier (205) 498-0620 or scloutier@burrowingowlwine.ca. Distributed by Wine VIP, Holly Reynolds holly@winevip.com or (250) 498-0620.
Poplar Grove 2013 Premium Bordeaux Blend, Okanagan Valley, Canada, very dark ruby, good nose, round and balanced, 44% Cabernet Sauvignon, 27% Cabernet Franc, 13% Merlot, 13% Malbec, 13% Petit Verdot, will age well, $25. Distributed by VinAccess, contact Barry Gilbert, bgilbert@gmail.com or (415) 500-5312.
District 7 Chardonnay 2015, Estate Grown, Monterey, pale straw, good nose, aged in oak, hints of vanilla, orange blossom, and apple, $18. Distributed by Epic Wines, contact Aaron Hernandez info@epic-winesandspirits.com (844) 824-0420.
Cakebread Cellars Chardonnay Reserve 2014, light straw, good nose, full bodied, round, flavors of apple, melon, and citrus, will age well for another 5 years, $56. Contact Jennifer LaBranche jennifer@cakebread.com or (707) 963-5221 ext 1441.
Cass Winery Roussanne Estate 2016, Beautiful honey like aroma, round, flavors of citrus and nutmeg, $26. Contact Meegan Hunt meegan@casswines.com or (805) 239-1730 ext 104.
Longford Estate Pinot Noir Reserve 2015, Monterey County, good nose, deep ruby, round, soft, true Pinot flavors, $14. We rate this as a "best buy." Contact contact@longfordestatewines.com or (888) 772-4343. Distributed by Epic Wines.
Cellardoor Winery 2013 Premium Red Blend. 51% Sangiovese, 37% Cabernet Sauvignon, 12% Petite Sirah. Dark ruby, good nose, well balanced blend, will age well, good food wine, $26. Contact Aaron Peet aaron@mainewine.com or (207) 763-4479.
Theopolis Vineyards Petite Sirah 2013, Estate grown, dark ruby, good nose, full bodied, round, $38. Contact Theodora Lee tlee@littler.com or (510) 604-5015.
Gloria Ferrer Caves & Vineyards 2008 Royal Cuvee, first pressing, late disgorged, straw colored, good nose, aged with lots of character, good bubble structure, toasty yeast flavor, 67% Pinot Noir, 33% Chardonnay, $37. Sold only at the winery, Lauren Vigil lauren.vigil@gloriaferrer.com (707) 933-1909.
Industry Calendar
11/9 Bordeaux Wine Council – SFO
11/10 Chambers Iberian – SFO
11/13 Austrian Red Wines – SFO
11/14 Bordeaux Wine Council - LA
11/13 Chambers Iberian – LA
11/15 Soil Expedition Co - LA
11/16 Lebanese Ministry of Agriculture – SFO
11/20 Lebanese Ministry of Agriculture – LA
Promotional Calendar
November 7 National Gin Day
November 8 National Harvey Wallbanger Day
November 8 National Shot Day
November 12 National Happy Hour Day
November 18 National Apple Cider Day
November 23 Thanksgiving Day
November 24 Black Friday
November 27 Cider Monday
December National Egg Nog Month
2nd Week Lager Beer Week
December 2 Bartender Appreciation Day
December 2 National Rhubarb Vodka Day
December 5 Repeal of Prohibition Day
December 10 National Lager Day
December 13-20 Hannukah
December 14 National Screwdriver Day
December 20 National Sangria Day
December 24 National Egg Nog Day
December 24 Christmas Eve
December 25 Christmas Day
December 26-Jan 1 Kwanzaa
December 31 National Champagne Day
December 31 New Year's Eve
January 1 National Bloody Mary Day
January 1 New Year's Day
New Legislation for 2018
Our industry has more laws controlling it than most industries. The State
Legislature and the ABC give us license privileges and can take them away. New alcoholic beverage laws were passed that will be effective in 2018. Many critical issues are pending. Do you know about them and are you prepared for the changes. Is your business safe? Members are encouraged to look through the Legislative Bulletin. If there is a new law that is a problem for your business, call the association office now. The CBRA is your voice in Sacramento. If you are not a member, join today. The CBRA is your only voice when it comes to new beverage laws.
Brands and Comments
The CBRA Newsletter has not accepted any payment from any of the brands mentioned
in this edition. The editor, Ron Ziff, welcomes comments at ron@cbraliquor.org
CBRA Membership Remains Open
Now, more than ever, access to your industry is important. The CBRA is California's
only statewide association of licensed retailers, and our membership continues to be
open for the first time in 20 years.
At CBRA we deal with licenses and regulations that affect the beverage business on a
daily basis. That's why CBRA offers practical solutions, unique products, services,
information, and timely advice for both large and small beverage businesses. With
reasonable fees, superior service, and associates that are easy to reach, CBRA helps you
to run your business better and easier. One of the most valuable services we offer is that
call to the ABC to ask your question. We can ask that question and keep you anonymous. That's something you just can't do yourself.
Join or renew your valuable membership today. You can't afford to delay.
California Beverage Retailers Association – California's Only Statewide Association of Licensees. We're #1!
If you would like to be removed from this email list, please email to
ron@cbraliquor.org with UNSUBSCRIBE in the subject line.