posted by
cbra
on
Tue, 02/23/2016 - 16:21
California Beverage Retailers Association
Beverage Bulletin
P.O. Box 56686
Sherman Oaks, CA 91413
(818) 788-8120
Ron Ziff, Editor
October 2014
This month's stories include:
Headlines - Heineken Turns Down SABMiller, Scotland Votes to Stay in the UK, AB/Inbev Warns NFL, Treasury Gets Firm Takeover Offers, Drought Update
Celebrities in the Industry - Dan Marino, Damon Huard, Drew Bledsoe, Kyle MacLachlan, Alberto Allessi
Popular Culture - Pink Drink, The Bar-d
Books; Bourbon Desserts, Deadly Tasting: A Winemaker Detective Mystery,
Of Merlot and Murder:A tangled Vines Mystery, Shadows in the Vineyard, Wine Atlas of Germany, Make Some Beer, The Foodies Beer Book, American Sour Beers
Movies - Sideways, James Bond
Wine – Flexible, Oldest Winery, The Only Thing Certain, Santa Rita Hills AVA,
Counterfeit Montelcino, Smaller Italian Vintage, Popular Austrian Wine Calendar,
U.S. Wine Consumption Continues Climb, French Actor Helps Out, Winery Waste to Biofuel, 21 Best Wine Restaurants in California, Hail Hits Burgundy, New Worry in Bordeau, Wine Shipping Lawsuit
Beer - Kirin Founded by Scotsman, Malt Barley Crop Loss, AB/Inbev Sued for Misleading Labels, Miller Lite Rebounds, Pabst Sold to Russian Brewer, America's oldest breweries
Spirits - Drambuie Sold, Restaurants Make High Volume Cocktails Ahead, Rare Scotch, Hangover Free Vodka, Tito's Sued for Misleading Labels
Other Food and Beverage - Soft Drink Bottlers Fight Obesity, French Don't Want More Soda , Coke Promotions, San Francisco Sold Fountain Makes the List, When Starbucks Isn't Good Enough, Restaurants Can't Stop Bad Reviews, Restaurant Wants Bad Reviews, Coffee Shortfall Looms, Pop Tarts New Favorite Breakfast
Oops! Does That Count?
The Changing Market - Home Depot Online Sales Grow, Number of Websites Grows, California Bans Plastic Bags
Health - New Take Along Breathalyzer
...and as always Tasting Notes and the Industry Calendar
It doesn't matter if the glass is half full or half empty. There is clearly room for more wine. -Anonymous
Headlines
Heineken Turns Down SABMiller
SABMiller has offered to buy Heineken for an undisclosed price. The family that owns more than 50% of Heineken has turned down the offer and informed Miller of their "intention to preserve the heritage and identity of Heineken as an independent company." Heineken is the #3 brewer worldwide with a 9.3% market share and sales of $24.88 billion. SABMiller has a 9.6% market share and #1 AB/Inbev has a 19.7% market share. SABMiller brands include Miller, Foster's, Castle, and Peroni. Heineken brands include Heineken, Amstel, and Dos Equis and are distributed in more than 100 countries. One of the reasons for SABMiller's attempted purchase was to protect the company from a takeover by AB/Inbev. Now that it has been turned down it could be more vulnerable to a hostile takeover.
Scotland Votes to Stay in the UK
Scotch distillers and drinkers heaved a huge sigh of relief when the vote came in 55% to stay part of the UK, 45% for independence. The result will be stability for the industry. Now that the election is past, we can look at who was able to vote. Voters had to be at least 16 years old. Voters included British, Irish, or EU citizens living in Scotland, Commonwealth citizens living in Scotland (which includes a lot of English natives), Scottish soldiers stationed anywhere could vote. Scots living abroad could not vote, and that excludes about a million Scots living in England. About 20% of Scots live outside of Scotland and couldn't vote. We interviewed a few distillery reps stationed here. One expressed his uncertainty before the vote, saying he didn't know if he would have to go home to get a new passport. The Scotch Whisky Association issued a statement "The Scotch Whisky industry is determined to play a leading role in shaping discussions that are fundamental to the future success of our industry and our nation."
AB/Inbev Warns NFL
The NFL has been getting a lot of bad press on its handling of players who have been involved in domestic violence. Baltimore Ravens player, Ray Rice, at first was given a 2 game suspension with pay. The team later released him. Several other players have been involved or were convicted on similar charges. Now, one of the biggest sponsors, AB/Inbev has weighed in on the subject. The company has made public a warning to the NFL saying that it was "increasingly concerned." "We are not yet satisfied with the league's handling of behaviors that so clearly go against our own company culture and moral code." AB/Inbev has had a 6 year contract for $1.2 billion with the NFL since 2011. The NFL followed with a statement "We understand. We are taking action and there will be much more to come." Meanwhile, a poll taken by Reuters/Ipsos showed that 54% of the public favored major sponsors dropping the NFL for at least one season. However, nearly 80% said they would still watch games.
Treasury Gets Firm Takeover Offers
As we went to press, Treasury Wine Estates said it had takeover offers from KKR and TPG at A$5.20 per share for the company. There was no indication how TPG would handle the legal conflict with California's tied house laws. TPG also owns Gelsons Markets, a Southern California chain. Treasury's shareholders with more than 50% stake felt the offers undervalued the company and the talks have ceased.
Drought Update
The Metropolitan Water District says that it has used up more than 2/3 of its reserves over the last 3 years. At the current usage rate, it will run dry in 18 months. Next year it may have to cut back the water it delivers to local agencies in Southern California. If it does cut back, there will probably be rationing and higher rates.
The legislature has passed 3 bills to give local agencies responsibility and control over groundwater. Together they make up the "Sustainable Groundwater Management Act."
Several dry or nearly dry streams have started flowing water since the August 24 Napa earthquake. The quake evidently opened fissures in the rocks that allowed groundwater to rise to the surface. The stream with the biggest change has been Wild Horse Creek. Nearly dry before; now it is flowing 200,000 gallons a day. The creek has been a source for the city of Vallejo. Since the earthquake Vallejo has been able to stop buying imported water. Several new streams are now flowing where there was no stream before. It is possible the water flow is only temporary until the sources dry up. Only time will tell.
A Santa Rosa teenager has come up with a new way to save water. A "water fence" 6 feet high and 1 foot thick can be rigged to capture rain water funneled from a home's rooftop. A home with 2000 feet of roof could trap 1,200 gallons for every inch of rainfall. Steven McDowell and his parents are working with investors to develop a marketable product.
Israel has agreed to help California with the drought. An agreement was signed by Governor Brown and Israel Prime Minister Netanyahu for an Israeli company to build a desalination plant in San Diego County. When the plant comes on line in 2016, it will produce 50 million gallons a day. Netanyahu said "We in Israel don't have a water problem. We use technology to solve it, in recycling, in desalination, in deep drip irrigation" Israel leads the world in desalination with 5 plants. The country also leads the world by returning a whopping 80% of its treated sewage water to agriculture. The second best country is Spain with 17%.
Celebrities in the Industry
Retired NFL Quarterbacks, Dan Marino and Damon Huard, are partners in a Washington State winery. Their Passing Time 2012 Cabernet Sauvignon will be released next spring.
Retired NFL Quarterback, Drew Bledsoe, has named his wine Doubleback. His vineyards are on the South facing mountain slopes outside Walla Walla, Washington. The combination of heavy rain, soil, and sunshine produce a rich berry-like Cabernet Sauvignon. His first vintage in 2007 has been rated as a classic.
Actor, Kyle MacLachlan, has starred in Sex & the City, Twin Peaks, and Desperate Housewives. Along with winemaker, Eric Dunham, he makes 400 cases a year of a Cabernet blend. The wine is sold under the Pursued by Bear label. The name comes from a stage direction in Shakespeare's A Winter's Tale; "Exit, pursued by bear."
Italian Designer, Alberto Allessi, has a vineyard on the hills of Eastern shore of Lake Orta in Lombardy. Through research he found that grapes had been grown there in the 9th century. When he bought the property the land was overgrown and fallow. He cleared the area and planted Pinot Noir and Chardonnay, aiming to produce great burgundies outside of France. His wines are sold under the name La Signora Eugenia e il passero solitario (Madame Eugenia and the lonely sparrow). A designer by trade, Allessi has designed the label, bottle, packing, and everything associated with his wine. It will only be sold in Italy.
Popular Culture
Pink Drink
Angelina Jolie and Brad Pitt's wedding got a lot of press this month. The menu was a BBQ served with Miraval Provence Rose' from their own vineyard. For teetotalers there was Bosnian Rose Petal Juice; a drink made from brewed rose petals and simple syrup.
The Bar-d
A group of New York actors that calls itself ShakesBeer, travels the local bars and puts on snap performances of Shakespeare's classics. They will order drinks and suddenly launch into a scene from Romeo & Juliet. When the scene is finished, they move on and do the next scene at another bar. The play is done (almost) authentically. The only differences are that the actors are handed a mug of beer or a straight shot to drink as the play moves along and they try to work in a little improv comedy to spice things up. The actors end up earning about minimum from audience contributions. Actors fight for the chance to get paid and drink at the same time. A recent audition for 10 parts drew 1300 hopeful thespians.
Books
Bourbon Desserts by Lynn Marie Hulsman, University Press of Kentucky, 206 pages, $19.95. This is a cookbook with over 100 recipes for cakes, cookies, custards, ice creams, and other after dinner delights. One of many inspired recipe is "Manhattan Ice Cream" which mimics the popular cocktail. Made with Bourbon, Sweet Vermouth, Bitters, and an orange peel garnish, this one makes the mouth water.
Deadly Tasting: A Winemaker Detective Mystery by Jean Pierre Alaux and Noel Balen. 104 pages paperback, $12.95. The fourth in the series brought to America by Le French Book translated from French by Sally Pane. Wine writer and detective, Benjamin Cooker, tracks multiple murders by identifying a glass of Chateau Petrus 1942 left near each body. (What a waste of good wine!) Previous books in the series include Nightmare in Burgundy, Grand Cru Heist, and Treachery in Bordeaux.
Of Merlot and Murder:A tangled Vines Mystery by Joni Folger, Midnight Ink, 288 pages $14.99 trade paper. A murder takes place at a South Texas wine festival. Elise Beckett is forced to solve the mystery in order to vindicate her grandmother who is a suspect. The second book in the series, following Grapes of Death.
Shadows in the Vineyard by Maximillian Potter, Twelve Press, 305 pages, $27. The true story of the plot to poison the vines of Domaine Romani-Conti. Proprietor Aubert de Villaine received a note threatening to poison the vines if he didn't pay a ransom of 1 million Euros. The fast paced tale follows.
Wine Atlas of Germany by Dieter Braatz, Ulrich Sautter, Ingo Swoboda and Hendrik Holler, translated from German and published by University of California Press, 280 pages $60. Features 67 beautiful color maps, 87 color photos. A comprehensive work detailing the wines, vineyards, and appellations. Explains labels. Lists producers and shippers. Goes into detail on the wines of Ahr, Baden, the Taubertal, and Franconia as well as the more familiar Mosel and Rhine.
Make Some Beer by Erica Shea and Stephen Valand, Clarkson-Potter, 176 pages $19.99. Has brewing instructions, a guide to contemporary styles, recipes for food to serve with beer, brewery histories, and travel tips to get to breweries.
The Foodies Beer Book by Brooke and Luther Fedora. Skyhorse, 176 pages, $24.95. A seasonal guide to cooking with beer. Recipes for beer marinated oysters, beer donuts, and much more.
American Sour Beers by Michael Tonsmiere. Brewers Publications, 400 pages, $21.95. A highly technical book with accompanying history, anecdotes, how to do it, and hints you won't find elsewhere.
Movies
Sideways, the movie about touring California's wine country was released in 2004. Secrets about the movie and its production have just been revealed on the movie's tenth anniversary. Three of the actors share a dinner in the film. In reality all three got food poisoning. Before leaving on their trip, the actors say goodbye to a girl friend. The house directly across the street (not shown in the film) was O J Simpson's Brentwood home. Thomas Haden Church auditioned in the nude. He got the part because no other actor would strip. The movie had business effects: Pinot Noir sales jumped 20%, Merlot sales fell, The Hitching Post restaurant in Santa Ynez had a 30% surge in sales. In the movie the actors taste and drink a lot of wine. Well, not exactly...it was really grape juice; and they say it was so sickly sweet it gave them stomach aches.
Little known fact about James Bond. In the movies Bond drinks Martinis. Specifically, Vesper Martinis. However, in books his favorite drink was a Scotch and Soda. He ordered it 21 times in the series.
Wine
Flexible
One of the best videos we've seen online. "Yoga for Winelovers." Watch this one. It's worth the 75 seconds! http://www.youtube.com/watch?v=oxPuyrfHA3o
Oldest Winery
The Brotherhood Winery of Washingtonville, New York is celebrating its 175th birthday. It is the oldest winery in the country, founded in 1839, the winery has produced a vintage every year since. During Prohibition it was limited to sacramental and medicinal wines. Today it bottles Pinot Noir, Chardonnay, Cabernet Sauvignon, Merlot, Riesling, and Sparkling Wines.
The Only Thing Certain...
Brenda Jo Kibbee of Salinas has been sentenced to 9 months in federal prison and ordered to pay $877,000 to the Alcohol and Tobacco Tax Trade Bureau. Ms. Kibbee operated Monterey Wine Services, a bonded wine cellar. Bonded wine cellars store wine pre-tax, collect and remit the tax when the wine is sold to customers. She sold the wine, collected the tax, and then pocketed it instead of paying it to the agency.
Santa Rita Hills AVA
The Alcohol and Tobacco Tax and Trade Bureau will hear a petition in December to expand the Santa Rita Hills AVA. Two vineyards are requesting the designation; Pence Vineyard and John Sebastiano Winery. The vineyards that currently are in the AVA unanimously oppose the expansion. There is precedent for the change. In the past the agency has expanded other AVA's over strong opposition. The vineyard owners already accredited feel they have spent a lot of time and money building their reputation since the AVA was designated in 2001. The area was made famous in the movie "Sideways." What is at stake for the newcomers is value. Pinot Noir and Chardonnay grapes from the two vineyards sell for $1,000 a ton less than Santa Rita grapes. The contention is that they are consistent with and just as good as the grapes from inside the AVA.
Counterfeit Montelcino
An Italian wine consultant has been caught selling fake Montelcino wine. He was arrested and more than 220,000 bottles of wine were seized. Police say none of the wine had reached retail channels. It was all in the counterfeiter's warehouse or with distributors. In addition to mislabeling the wine, he had stolen about 2,400 official seals and documents to authenticate the wine. He also hacked into Tuscany's Agricultural Ministry's computer to create documents. Members of the Consorzio del Vino Brunello di Montelcino became suspicious when large quantities of Brunello and Rosso appeared on the wholesale market, seemingly from nowhere. The consultant is under investigation for fraud, hacking, and theft. Initially, he has been forbidden to live in Montelcino. The Consorzio has threatened to file a civil suit after the investigation is completed.
Smaller Italian Vintage
The 2014 vintage in Italy will be about 15% below average and the smallest since 1950. Rainfall in July was nearly double normal. The grape crop suffered from various fungus diseases including mildew and Botrytis. Sicily and Apulia were hit the hardest with production off 27%, while Piedmont was off only 8% and Tuscany was slightly above normal.
Winery Waste to Biofuel
A group of researchers at the Swinburne University of Technology in Australia has developed a process to turn the waste from grape crushing into biofuel. The waste consists of stems, seeds, and skins and is not suitable for animal feed or compost. By using a heating process and then adding a combination of 4 fungi, the waste is turned into alcohol, sugar, and acid. Otherwise it would end up in a landfill.
Popular Austrian Wine Calendar
The 2015 Jungwinzerinnen Calendar (translation: young female winemaker) is the 12th edition of this popular wall calendar in Austria. The calendar features young women doing winery chores like pruning or filling bottles in lingerie. The object is to promote the wine industry. Publisher Ellen Ledermuller-Reiner charges only $32 for this best selling wall hanging. See Miss September above cleaning filters. Would your office be complete without it?
U.S. Wine Consumption Continues Climb
US consumption of wine for 2013 was again #1 in the world at 3.3 billion liters, an increase of 5.4% over 2012. France is still at #2 with consumption of 2.8 billion liters, a decrease of 6.9% from 2012.
French Actor Helps Out
French actor Gerard Depardieu is trying to help the French wine industry. In a recent interview with So Film, he claimed to drink 14 bottles of wine a day. He admitted his doctor is "worried." Other medical experts doubt his story.
21 Best Wine Restaurants in California
Wine Enthusiast Magazine featured a list of the 100 best wine restaurants in the country in its August 2014 issue. These are eateries where the food is good, but there is also a great wine bar. 21 of them were right here in California. Here they are in alphabetical order:
A16 – San Francisco, Marina District
animal – Los Angeles, Fairfax Grove
a.o.c. - Los Angeles, Downtown
Auberge du soleil - Rutherford
Hatfield's – Los Angeles, Melrose
Les Marchands – Santa Barbara, Railroad Station
MICHAEL MINA – San Francisco, Financial District (and 17 other locations)
Nopa – San Francisco, Alamo Square
Novo – San Luis Obispo
PRESS St. Helena – St Helena, Napa Valley
Quince – San Francisco, Jackson Square
RN74 – San Francisco, Financial District
Saison – San Francisco
Solbar – Calistoga, Napa Valley
Spinster Sisters – Santa Rosa
Spoonbar - Healdsburg
SPQR - San Francisco
Taste Restaurant - Plymouth
The French Laundry - Yountville
The Restaurant at Meadowood – St Helena
Hail Hits Burgundy
A hail storm ravaged Southern Burgundy on June 28, bringing a sudden change to what was hoped to be a good year. Volnay, Pommard, and southern Beaune were hardest hit; losing up to 70%. Losses in the rest of Burgundy ranged from 20% to 30%.
New Worry in Bordeau
Bordeaux growers in Etre-Deux-Mers and St. Emilion have found a new pest attacking the vineyards. An Asian fruit fly, Drosophila suzukii, visits ripe clusters of grapes and spreads a fungus called Sour Rot. The damage is only minor and in a few vineyards, but the appearance of a new threat is ominous.
Wine Shipping Lawsuit
New York State Liquor Authority has filed charges against Albany retailer, Empire Wine, for shipping wine to customers in 16 states including California. Empire is suing the agency to vacate the charges. Empire contends that the New York agency only has authority within the state and under the Constitution only the federal government can regulate interstate commerce.
Beer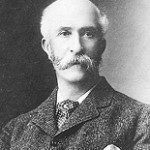 Kirin Founded by Scotsman
Kirin Brewery in Japan was founded by Scotsman, Thomas Glover. Glover arrived in Japan in 1859 and founded several Japanese businesses. He made money in coal mining, shipping, and with businesses that became part of Mitsubishi. His his wife Tsuru and his mansion in Nagasaki were the inspiration for Puccini's opera Madame Butterfly. The mansion is now a public museum. Although unknown in Scotland, he is a hero in Japan. He was the first non-Japanese to be awarded the Order of the Rising Sun. Both Kirin and Mitsubishi trace their roots to Glover.
Malt Barley Crop Loss
Major rainstorms across the northern states of Idaho, Montana, and North Dakota have caused the Malt Barley crop to sprout early. The storms have been an economic disaster for farmers and has created a shortage of Malt Barley, the primary ingredient in beer. Look for higher prices if your favorite beer is available at all.
AB/Inbev Sued for Misleading Labels
AB/Inbev has been sued in the US District Court in Southern Florida. The suit alleges that the labels on Becks Beer were misleading. AB/Inbev asked that the suit be dismissed. Judge John O'Sullivan denied the request, saying that after examining bottles, cans, and other packaging it was difficult to read the "made in USA."
Miller Lite Rebounds
Miller Lite has had falling sales since 2009. The brand was falling further behind Bud Light, Coors Light, and Budweiser. Sales dropped 7% in 2013 alone. In a desperation move, the company designed commemorative white cans identical to the original from 1975. But, there was still no reason to launch the redesigned cans. When Paramount Pictures came looking for a beer sponsor for Anchorman 2, Miller's promo department pulled out the can. The movie was set in 1979, so it was a natural. The movie was released in December 2013. The new can was released January 1. By August 2014 sales were 32 million cans ahead of last year. In some markets sales are up 18%. Customers say they love the taste of the "new beer," even though it's the same old beer in a new can.
Pabst Sold to Russian Brewer
Owner C. Dean Metropoulos has negotiated a sale of Pabst Brewing to TSG Consumer Partners, LLC and Oasis Beverages of Russia for about $750 million. The company was founded by the late Paul Kalmanowitz, who left it to charity. Metropoulos bought Pabst from the City of Hope Foundation for $250 million in 2010. Among the brands involved are Pabst, Schlitz, Colt 45, Old Milwaukee, and others. Metropoulos also owns Vlasic Pickles, Lender's Bagels, Mrs. Butterworth's Syrup, and half of Twinkies.
Pabst Brewing founded 1844
America's oldest breweries
11) Coors Brewing - Golden, CO 1873
10) Jacob Leinenkugel Brewing - Chippewa Falls, 1867
9) Frankenmuth Brewery - Frankenmuth, MI 1862
8) August Schell Brewing - New Ulm, MN 1860
7) Stevens Point Brewery - Stevens Point, WI
6) Miller Brewing - Milwaukee, WI 1855
5) Anheuser Busch - St. Louis, MO 1852
4) Minhas Craft Brewery - Monroe, WI 1845
3) Pabst Brewing - Milwaukee, WI 1844
2) Schaeffer Brewing - NY, NY 1842
1) Yuengling - Pottsville, PA 1829
Spirits
Drambuie Sold
Wm. Grant & Sons has purchased Drambuie from the McKinnon family. The price was undisclosed, but, is rumored to be about ₤100 million. Drambuie and the McKinnon Clan date their history back to July 1746. Prince Charles Edward Stuart (Bonnie Prince Charlie) had been defeated in battle and was on the run across Scotland. John McKinnon helped the prince escape from the Isle of Skye. In gratitude, the prince gave him the recipe for his private liqueur. The family used it privately until 1873 when it began being served in the Broadford Hotel on Skye. One of the customers called it "Drambuie", a Gaelic word, that means "the drink that satisfies." The name has been with the drink ever since.
Restaurants Make High Volume Cocktails Ahead
Bars and restaurants are experimenting with cocktails made ahead, stored in kegs, and dispensed through a pump later. The system offers the advantages of being able to serve the same drink many times when it's busy. Drinks containing fruit juices can only be mixed hours ahead, while all liquor drinks like Martinis and Manhattans can be made days ahead. It works well at conventions and banquets, but isn't suited to intimate bars where the theatrics of mixing are part of the experience.
Rare Scotch
The prices of rare single malt scotch are suddenly skyrocketing. According to an index published by Investment Grade Scotch, prices for the top 100 single malt scotches jumped by 440% from 2008 to July 2014. Sought after labels include Macallan, Bowmore, and Dalmore. A rare bottle of Hanyu Ichiro Ace of Spades Label recently sold for HK$86,000 at Bonhams on August 15. A 6 liter Macallan "M" Lalique decanter sold at Sotheby's for HK$4.9 million. Watch out for fakes. With prices booming, counterfeits are showing up in Asia and Europe.
Hangover Free Vodka
Professor Johannes Van Leeuwen at the Iowa State University has developed a Vodka that is nearly 100% pure. IngeniOz is made from Iowa corn and has nearly all impurities removed. The result is a Vodka that is easier to drink and less likely to give the drinker a hangover. IngeniOz sells for $24 and is currently only sold in Iowa.
Tito's Sued for Misleading Labels
Tito's Handmade Vodka is being sued by Gary Hoffman of San Diego. The suit contends that the uses of the term "handmade" on the label is misleading. The brand sells 15 million bottles a year and can't be considered handmade. Tito Beveridge says he will contest the suit. His pot still process is unique in the industry and approved by label authorities.
Other Food and Beverage
Soft Drink Bottlers Fight Obesity
Coca-Cola, Pepsico Inc., and Dr. Pepper Snapple Group have pledged to cut calories from beverages in the American diet by 20% by 2025. The companies said they will work to steer consumers to smaller drinks and low or zero calorie drinks. They will also show calories on soda dispensing machines. The companies have been under pressure to reduce their contribution to obesity in the country. They fought a legal battle in New York City over the cup size of dispensed sodas and are currently fighting election proposals for taxes on sugared drinks in Northern California.
French Don't Want More Soda
Several fast food restaurants in Paris have started offering American style free refills on soda drinks. The practice caused an instant backlash from restaurant owners, health advocates and others. Some like Serge Hercberg, a healthy eating advocate, feel it will lead to obesity. Others are just upset that the country's cuisine could be drowned in soft drinks.
Coke Promotions
Coca-Cola has been running a promotion with personalized cans and bottles carrying names and asking you to share a Coke with somebody by that name. The company has recalled 2 million bottles with the name "Michael" because they taste bad. The problem was traced to a disgruntled employee who compromised the ingredients. Overall, the promotion has been a success. Sales have drifted down for 12 years. This quarter sales are up 2%. Separately, the company has started canning Surge Soda for the first time since 2001. Surge is a citrus flavored drink with a high caffeine content made to compete with Pepsi-Cola's Mountain Dew. A 12 pack of 16 oz. cans sells for $14 and only through Amazon.
San Francisco Sold Fountain Makes the List
Food and Wine Magazine has named the top 17 soda fountains in the country. Among them, The Ice Cream Bar in San Francisco. We repeat the accolade here because the distinctive feature of this fountain is adult ice cream treats made with adult beverages. Here are a couple: A Dublin Honey made with Guinness, Caramel Honey Ice Cream, Chocolate Syrup, with a Graham's 10 year Tawny Port float; Sunday Morning made from Seasonal Fruit Sorbet with Mumm Napa Prestige.
When Starbucks Isn't Good Enough
Starbucks will be opening 100 specialty coffee stores. The coffee will be "single origin", including Santa Rosa from Guatemala, Rift Valley from Rwanda, and Mount Ramelau from East Timor. The company plans to hype the products like single malt whisky or single vineyard wines. They will sell for $11.99 a 10 oz bag compared to $8.99 for the blends sold now.
Restaurants Can't Stop Bad Reviews
A new law signed by Governor Brown prohibits vendors from writing non-disparagement clauses into consumer contracts. The clauses had allowed restaurants, hotels, health care providers, and others to silence critics by pointing out that their contracts could be enforced and make them pay hundreds of dollars for negative reviews.
Restaurant Wants Bad Reviews
Botto Bistro in Richmond, California is encouraging customers to give it bad reviews. Chefs Davide Cerretini and Michele Massimo are proud of their food but got tired of advertising approaches from Yelp that they considered blackmail. They offer their customers a 25% discount on a pizza if a customer gives them a 1 star review. Business is up since they started the promotion. Yelp has asked them to stop. Cerretini says some businesses buy Yelp reviews. He is proud that he buys negative Yelp reviews.
Coffee Shortfall Looms
Drought in Brazil will put the coffee market into its first deficit production year in 3 years. 2014 production is expected to be 9.3% less than in 2013. This as growing economy's are increasing demand. Look for higher prices this year.
Pop Tarts New Favorite Breakfast
Last month we reported about the decline of the American breakfast as cereal, eggs, and juice take too long to prepare. What has had a steady increase is Pop Tarts. Those flat cakes with goo in the middle have had steady year-by-year increases for the past 32 years. With 30% sugar, are they healthy? For Kelloggs they are. Kelloggs cereal sales were down 5% in 2013. Pop Tarts are the one bright spot for the company.
Oops! Does That Count?
Tesco PLC has suspended four senior executives and brought in outside auditors to examine the company's books after a $400 million overstatement of profit forecast for the first half. The problem involves early booking of income and delayed booking of costs. Tesco left the California market in 2013 after losing several billion dollars on its Fresh and Easy Chain. The costs of the exit may be examined as part of the audit.
The Changing Market
Home Depot Online Sales Grow
Home Depot reported a growth in online sales from 3.1% to 4.2% of total sales for the second quarter. That represents a 40% increase in online sales. The same quarter a year ago showed a 50% growth in online sales.
Number of Websites Grows
In 1993 the ratio of internet users to websites was 1:108,935. In 2013 the ratio of internet users to websites was 1:4.
California Bans Plastic Bags
The California legislature has passed a statewide ban on plastic bags. Governor Brown is expected to sign the law. This will make California the first state to ban the bags. Many California cities already ban the bags; including San Francisco, Los Angeles, and San Jose,
Health
New Take Along Breathalyzer
A device small enough to carry on a key chain that plugs into an Android phone acts as a breathalyzer. DrinkMate is less than 2 inches long, about 1/2 inch in diameter, and weighs 1/5 of an ounce. After plugging into a phone and taking a few seconds to warm up; blowing into the device shows blood alcohol content on the phone's screen. The first model will be sold to advance subscribers for $25.
Tasting Notes
Rhone Rangers
The Rhone Rangers tasting was held at the Vibiana in Los Angeles. Rhone wines have a great deal of depth and body and an earthiness that appeals to the senses. We found many good to great wines and one winery's produce that we consider a "Best Buy." The wines are full and true to type and are priced reasonably. Michael-David Winery in Lodi produces wines that will make your customers very happy. Incognito White 2013 is a blend of 60% Viognier, 20% Muscat, and 20% Sauvignon Blanc $18. Cinsault 2012 Ancient Vines $25 was made from grapes planted in 1885. Tasting this was a rare experience. The Cinsault was a light ruby red with a medium nose and full bodied flavors. Syrah 6th Sense 2012, $16, soft, deep ruby color, nice body. Petite Sirah 2012 Earthquake $26, made from vines planted in 1906, soft, full bodied, a deep ruby color that was almost black. 15% ABV, this wine was our favorite of the event. Contact Western Division Manager John Mangiaracina at 888.707.WINE, 209.368.7384 or vintage@michaeldavidwinery.com
2014 Double Gold Tour
At the 2014 Double Gold Tour wines and spirits that had won at the San Francisco competition were tasted. We found that we agreed with the judges in many cases.
Jed Wines Malbec 2012 Uco Valley, Argentina $32 had good varietal taste, medium body, good nose and color. Made by three Australian winemakers that found their calling in Argentina, Contact Blair Poynton bp@jedwines.com or (707) 236-0363.
Louis Martini Cabernet Sauvignon 2011, Napa Valley, $34. Varietal taste, good color and nose, ready to drink now and will continue to age well for 5 years. The winery is owned by Gallo, who are to be commended for maintaining the quality of this wine. It continues to be the standard for all California Cabs. Available through Wine Warehouse. Contact Ashleigh Sconce ashleigh.sconce@ejgallo.com or (707) 431-5659.
Niner Wine Estates Cabernet Sauvignon 2010 Paso Robles $35. Deep color, good nose, medium body. Contact Andy Niner aniner@ninerwine.com or (805) 226-4878.
Alma Rosa Vineyard Pinot Noir 2012 Santa Rita Hills $45. good varietal flavors, good color and nose, medium body, mellow. Contact Blakeney Sanford blakeney@almarosawinery.com (805) 688-9090.
Maryhill Winery Grenache 2011, Proprietor's Reserve $20. Varietal taste, good color and nose, juicy and full, will age well. Maryhill Winery Mourvedre 2011 $30. Red, good color and nose, ready to drink now. Contact Megan Padgett meaganp@maryhillwinery.com or (509) 773-1976.
Reyes Winery Estate Syrah 2011 $19. Dark color, good nose, light body for a Syrah. Contact Beth Heiserman beth@reyeswinery.com or (310) 869-5251.
Francis Ford Coppola Winery Rosso $11. Nice everyday red blend, a good value that drinks well and is easily accessible and affordable. Contact Renee Berry renee.berry@ffcpresents.com or (707) 251-3224.
Blue Lifestyle Malbec Reserva 2011 Priceless. Full bodied, mellow, good nose and color. Contact – unfortunately this one is not available. It is from a winery owned by Anthony Diaz Blue and partners. It was tasted in a corner of the room. This one is hands down our favorite wine at the event.
Breaker Small Batch Bourbon Santa Ynez Valley, California $49. 5 year old, smooth, good sippin' whiskey. Contact Steve Gertman
stevegertman@gmail.com or (626) 818-0887.
Kirkland Signature, The Glenlivet 40 year old single malt Scotch Speyside, Scotland $700. Excellent well aged scotch, lots of character. Available only through Costco. Contact Steve Lipp steve@alexandermurray.com (323) 627-7762.
Camus Borderies Cognac VSOP Cognac, France $55. Smooth, Cognac flavors, good legs. Contact Alexandra Albu a.albu@camus-intl.com or (305) 878-9949.
Industry Calendar
Featured Trade Tasting
LearnAboutWine will be hosting a great line-up of Argentine wineries that will be pouring Malbec and Torrontes, among other wines at Tasting Argentina on October 22nd at the Peninsula Hotel in Beverly Hills. This Wines of Argentina sponsored event will have up to 40 wineries, featuring the best of Argentina. Argentine Wines were up 5% in sales in 2013 to 6.1 million cases. Are you getting your share of this growth? This tasting is a good opportunity to find some hot saleable wines.
A silent auction, containing lots of collectable and large format wines, benefits TJ Martell Foundation. The T.J. Martell Foundation is the music industry's largest foundation that funds innovative medical research focused on finding cures for leukemia, cancer and AIDS. The Foundation sources and supports early-stage research projects aimed at developing more effective clinical treatments for patients which otherwise might not be funded. Learn more at tjmartell.org.
10/3 Kol Nidre Sundown
10/4 Yom Kippur
10/6 SW&S – Santa Barbara
10/6 Youngs Market– LA
10/11 Mutual Trading Japan Food & Beverage - Pasadena
10/11 Sta Barbara Festival of Harvest - Solvang
10/13 SW&S – Orange County Irvine
10/17-19 PMA Fresh Summit & Expo-Anaheim
10/20 SW&S – Palm Desert
10/22 Tasting Argentina – Beverly Hills
11/6-9 Paso Garagiste Festival – Paso Robles
11/10 SW&S – Mammoth Lakes
11/10 Spain's Great Match – LA
New Legislation for 2014
Our industry has more laws controlling it than most industries. The State
Legislature and the ABC give us license privileges and can take them away. 2014
has several new laws that you must follow. New alcoholic beverage laws will be
introduced that will be effective in 2015. Many critical issues are pending. Is your
business safe? Members are encouraged to look through the Legislative Bulletin. If
there is a new law that is a problem for your business, call the association office
now. The CBRA is your voice in Sacramento. If you are not a member, join today.
The CBRA is your only voice when it comes to new beverage laws.
Brands and Comments
The CBRA Newsletter has not accepted any payment from any of the brands mentioned
in this edition. The editor, Ron Ziff, welcomes comments at ron@cbraliquor.org
CBRA Membership Remains Open
Now, more than ever, access to your industry is important. The CBRA is California's
only statewide association of licensed retailers, and our membership continues to be
open for the first time in 20 years.
At CBRA we deal with licenses and regulations that affect the beverage business on a
daily basis. That's why CBRA offers practical solutions, unique products, services,
information, and timely advice for both large and small beverage businesses. With
reasonable fees, superior service, and associates that are easy to reach, CBRA helps you
to run your business better and easier. One of the most valuable services we offer is that
call to the ABC to ask your question. We can ask that question and keep you anonymous. That's something you just can't do yourself.
Join or renew your valuable membership today. You can't afford to delay.
California Beverage Retailers Association – California's Only Statewide Association of Licensees. We're #1!
If you would like to be removed from this email list, please email to
ron@cbraliquor.org with UNSUBSCRIBE in the subject line.