posted by
cbra
on
Tue, 02/09/2016 - 23:08
California Beverage Retailers Association
Beverage Bulletin
P.O. Box 56686
Sherman Oaks, CA 91413
(818) 693-5561
Ron Ziff, Editor-Ben Ziff, Publisher
October, 2015
This Month's Stories Include:
Headline News Stories-Pope Tries New York and California Wine, AB/Inbev SAB/Miller Merger Set, Treasury Buys Diageo's Wines, Retail and Restaurants Now Responsible for Credit Fraud, Congress May Give Tax Relief
Drought Update-Gin is Better, Water Bottler in Trouble, 200 Year Drought,
Dry campus, Big Gulp!, Record Heat – Record El Nino, Valley Fire in Lake County
Celebrities in the Industry-Willie Robertson, Jeff Gordon, Charles Woodson, Veronica Roth, Gerard Depardieu
Popular Culture-Working Together, Bourbon Sweeps Europe, New Words
Books-The Unofficial Mad Men Cookbook, The Dead Rabbit Drinks Manual: Secret Recipes and Barroom Tales from Two Belfast Boys Who Conquered the Cocktail, The Gentlemen's Guide – Connecting with Your Father-in-Law
Movies-America's Wine: The Legacy of Prohibition
Wine-Pacific Trade Deal, Beaujolais Price Protest, Screw Cap, Chinese Wine Sales Resurgent, Grapes Dumped on Highway, Home for the Holidays, Judy Jordan Back, Robber Has Left the Building, Starbucks Expands Wine Business, Taco Bell Cantina, Burger King Wine, In Love With Wine, Virginia Dare Wine, Perfect Year in Champagne, New Champagne from Old Grapes, 2016 Wine Calendar Published
Beer-AB/Inbev Buys Craft Brewer, Dogfish Head Gets Investor, Asahi Buys Craft Brewer, Constellation Launches Craft Brewery
Spirits-List of Top College Bars Includes USC Favorite
Other Foods and Beverages-LA County Fair Food Sales
The Changing Market-Target Sets Big LA Test, UPS Looks for Strong Holiday Business, Changes in Chain Grocers, A Long and Heavy Holiday Shopping Season
Health-A Glass of Wine a Day Keeps the Doctor Away, Red Wine to Lose Weight,
California Outlaws Anti-biotics in Livestock
and as always...Tasting Notes, and the Industry Calendar
"He never drank water. He always drank wine."
-Peter. Paul, and Mary
Headline News Stories
Pope Tries New York and California Wine
Pope Francis celebrated mass in New York's Madison Square Garden on September 25 with Sacramental wine made by O-Neh-Da Vineyard in the Finger Lakes Region. O-Neh-Da is the oldest dedicated sacramental winery in the U.S. It was founded in 1872 by Bernard J. McQuaid, the first Bishop of Rochester, New York. The winery has provided wines to Catholic, Eastern Orthodox, Episcopal, and Lutheran Churches for 143 years. During his visit the Pope canonized Junipero Serra, founder of the California Mission system. At a reception following the ceremony, the guests were served Harbor Winery Amador County Mission del Sol, a dessert wine made from vineyards planted by the missionaries in 1775. A private dinner of simple Italian dishes was prepared for the Pope by celebrity chef Lidia Bastianich. The Pope, totally in character, preferred the chicken soup and the white rice.
AB/Inbev SAB/Miller Merger Set
This story has been developing and changing day by day. As we went to press this is what we know. AB/Inbev had been in talks with SAB/Miller about a takeover. UK regulations apply to London based SAB/Miller. A formal offer had to be made by October 14. An agreement was reached on October 13 at about $104 billion. The deal will face regulatory issues. In the U.S. the company would likely have to sell Miller/Coors or at least withdraw from the joint venture with Molson/Coors. The two merging companies control about 70% of the U.S. market. AB/Inbev makes money by finding savings in companies acquired. The opportunity for economies in this deal would be in consolidation of SAB's back office operations into AB/Inbev. The big prize is distribution and brands owned in South America and Africa, where the beer industry believes growth will be concentrated over the next 20 years. SAB/Miller is well situated in both of these growth markets. Entry into the same markets would have been costly for AB/Inbev and SAB/Miller would stand in the way as a competitor. AB/Inbev currently has 20.8% share of world beer production and SAB/Miller 9.7%. A completed merger could give AB/Inbev control over 30.5% of the world's beer production. One of the ripple effects in the U.S. would involve sponsorship of sports franchises. The companies currently bid against each other in this competitive area. Their total spend currently amounts to over $500 million to sponsor teams. A merger could mean lower bids and less competitive advertising. Industry analysts say the merger could mean higher beer prices worldwide.
Treasury Buys Diageo's Wines
Treasury Wine Estates has purchased most of Diageo's wine assets for $600 million. The sale includes BV, Sterling, and other brands. Acacia and Chalone were not included in the sale. Is Diageo keeping a presence in the wine industry with these high end labels? Or are they holding out for a higher price? For Treasury the purchase comes at the right time. The company is involved in restructuring after barely skirting bankruptcy. Treasury is divesting its bulk wines and up-scaling. This will be a good fit.
Retail and Restaurants Now Responsible for Credit Fraud
EMV Fraud Liability Shift took place on October 1st. Financial industry experts estimate that 80% of retailers and restaurants have not prepared for the change. What has happened is that the banks and credit card companies have shifted the responsibility for credit card fraud to retailers and restaurants. If you have updated your equipment and are now using the new credit card readers that read the embedded electronic chip, your bank will still accept liability for a fraudulent transaction. If you are still using the old card readers, the loss is yours. That's right. Two cases of scotch or a dinner for 10 paid for with a stolen credit card. You will pay for that purchase because your bank no longer covers you. Based on industry experience during the similar shift in Europe, online fraud doubled and retailers took 3 years to cover themselves.
Congress May Give Tax Relief
Two proposals recently passed the House Ways and Means Committee that will give tax relief to restaurants and retailers. One will allow the cost of a remodel to be written off over a 15 year period instead of 39 years. The second will allow 50% of the cost of capital and leasehold improvements to be written off immediately and the balance over the standard time period.
Drought Update
Gin is Better
Californians could take a lesson from the management at New York's Tiffanys. In the 1960's a drought put water in short supply in 11 Northeastern states. Tiffanys had a famous fountain in a display window. One day passersby noted the fountain flowing freely with a sign that read "This is not New York's precious water. This is Gin."
Water Bottler in Trouble
The State Water Resources Board has issued a second cease and desist order to Sugar Pine Spring Water. The company has been tapping Sierra Nevada spring water without a permit. This time the board has surveillance camera evidence and is threatening a $225,000 fine. The springs feed into the Tuolumne River and fill the Don Pedro Reservoir. Farmers in Turlock and Oakdale as well as the City of San Francisco rely on the water. Sugar Pine went into business in the 1990's and holds Junior Water Rights, which were suspended for 2014 and 2015.
200 Year Drought
Amir AghaKouchak, a civil engineer at the University of California at Irvine, has completed a four year study. He says that the drought combined with 2 years of heat waves make this a 200 year event.
Dry campus
The campuses of UCLA and San Diego State University have been declared "drought endangered" campuses. The designation is intended to bring attention to how much water institutions use. "It's just another reminder that water is a precious resource, and any campus that's in an extreme drought needs to be on high alert of water use," according to the author of the LawnStarter list.
Big Gulp!
The Center for Investigative Reporting identified the biggest single water guzzler in the state. A residential property in Bel Air (Southern California) is using 11.8 million gallons of water a year. That's enough water to comfortably supply 90 homes for a year or flush a toilet 6400 times a day. The individual customer has not been identified. City Councilman Koretz called for the DWP to fine this and other excessive users.
Record Heat – Record El Nino
2015 is now the warmest year recorded in Southern California. There have been a continuous string of heat waves. Contributing to the problem is the water temperature off the coast. Usually the cool water acts as a natural air conditioner with onshore breezes that cool Southern California at night. Water temperature is in the 80 degree range, so there has been no overnight relief. The conditions have been similar in Northern California. The only difference is that there has been rainfall in the south. The dry conditions in Northern California are causing extreme fire danger. All indications continue that we will have a record El Nino in the coming January to March rainy season. Possibly one of the top 3 ever.
Valley Fire in Lake County
The Napa County Fairgrounds was used as an evacuation center for over 1,000 people and hundreds of animals displaced by the Valley Fire in Lake County. Services were provided by the Red Cross and other non-profits. Much of Lake County's population is made up of seniors. The evacuation happened rapidly over the period of a few hours. Many of those displaced arrived at shelters without their wheelchairs, walkers, and medications. E&J Gallo donated $100,000 to the relief effort. More than 75,000 acres were burned in the fire. Fund raising for the relief effort is being led jointly by the Lake County Winegrape Commission, Lake County Winery Association, and Lake County Wine Alliance.
Celebrities in the Industry
Duck Dynasty star Willie Robertson, has promoted his family's line of Duck Commander Wines since 2013. The wines are bottled by Trinchero Estates. The wines include a red blend, Pinot Grigio, Chardonnay, and Pink or White Moscato.
Jeff Gordon, four time NASCAR Series Cup winner, produces specialty versions of California Napa and Sonoma wines. Jeff Gordon Cellars wines are custom bottled and sold directly to restaurants, retailers, and consumers.
Veronica Roth, author of the Divergent book series, is working with her husband, Nelson Fitch to open a wine bar in Edgewater, Illinois on Chicago's north side. The bar will be called Income Tax. The theme will be French-Italian. Fitch loves Nebbiolo and Barbaresco.
Gerard Depardieu is selling his properties and severing all ties with France, his birth country. He renounced French citizenship in 2012 when tax rates were raised to 75% for those at the high end of the earnings scale. He currently holds Russian citizenship granted to him by Vladimir Putin. His properties include investments in Languedoc, St Emilion, and Anjou. He also owns a stake in several Paris restaurants and wine bars. His current dispute with the French government is over how tax money is spent.
Charles Woodson, Oakland Raiders star, has his own wine named Twenty Four, named for his jersey number. The wine has been produced from a leased vineyard in Calistoga since 2005. Charles, along with wine pros Rick Ruiz and Gustavo Gonzalez make 1200 cases of wine a year. During the harvest, Woodson splits his time between the gridiron and the fields. He's very hands-on in both. His 2010 Cabernet Sauvignon sells for $112 a bottle. The winery also produces two secondary labels. "Two", named for his undergraduate days at University of Michigan and TwentyOne for his 7 years spent with the Green Bay Packers.
Popular Culture
Working Together
We don't want to get involved in Presidential politics, but we have to applaud a great idea, when we hear one. Lindsay Graham, Republican Presidential candidate, gave his plan for getting the political parties to work together. "Ronald Reagan did it when he and Tip O'neill started drinking together. That's what I'm going to do. We're going to drink more."
Bourbon Sweeps Europe
Industry experts across the pond are watching America's renewed love affair with Bourbon and whisky of all types with interest. The trend that has swept the U.S. for most of the last decade is now sweeping Europe. In this case the driving force seems to be bar scenes in the TV drama, Mad Men. When Don Draper sits down and orders an Old Fashioned, the next day it's repeated hundreds of times from Helsinki to Berlin to Lisbon. During London's annual Cocktail Week (LCW) bars across the city feature signature drinks. The LCW includes classes in tending bar, mixology, and technical aspects of the field. Most importantly, there is time off to spend at...bars. 30% of the 275 participating bars featured Bourbon cocktails this year. Up from 10% in 2014.
New Words
Each year the Oxford English Dictionary adds new words that have come into usage. One of this year's new words is particularly useful. There are a lot of occasions to use "Wine O'clock". As a matter of fact, this may become one of the most common words we'll use.
Books
The Unofficial Mad Men Cookbook, by Judy Gelman and Peter Zheutlin, Smart Pop Publishing, 288 pages soft cover, $16.95. The book reviews the bars and restaurants seen on the TV series and gives the recipes and culinary tips to finish them professionally.
The Dead Rabbit Drinks Manual: Secret Recipes and Barroom Tales from Two Belfast Boys Who Conquered the Cocktail, by Sean Muldoon and Jack McGarry, Houghton Mifflin, 288 pages $27. Two gifted bartenders have created a "hundred years bar" in New York. They give all the history of the liquors, drinks, mixology, and social history involved in every aspect of the project. To be released October 13, 2015.
While not exactly a book, we felt it was worth including The Gentlemen's Guide – Connecting with Your Father-in-Law by Glenlivet. This is more of an online pamphlet that helps prospective Sons-in-Law to become part of their brides' families. It gives statistics on making those connections, the advantages, and other aspects of this all important part of life. The bottom line, of course, is that a Son-in-Law and Father-in-Law can bond extremely well with a bottle of Glenlivet 15 year old. Read it online for free at http://www.obsev.com/food/get-know-your-father-law-big-bottle-whisky.html
Movies
America's Wine: The Legacy of Prohibition
A documentary film America's Wine: The Legacy of Prohibition produced and directed by Carla De Luca Worfolk. Carla is an Emmy-award-winning producer who has done most of her work with CNN. In working on this film with the Bancroft Library and the Smithsonian Institution, Carla was certainly not new to the wine industry, her father John De Luca served as President of the Wine Institute for 28 years.
Wine
Pacific Trade Deal
A deal was reached between the U.S., Japan and 10 other Pacific Rim Countries on the Trans-Pacific Partnership, the largest trade deal in history. Now the Obama Administration faces the task of getting the deal approved by Congress. This will undoubtedly be one of the year's big stories moving forward. California's agriculture and wine industry will benefit from the deal when it is finalized.
Beaujolais Price Protest
Growers in Beaujolais took to the streets to protest prices. Negociants were offering €180 compared to 2014 pricing of €217 per hectoliter. The growers argued that the 2015 vintage was excellent wine and there is no overproduction. Why should prices be lower? The problem stems from the fact that 85% of Beaujolais Nouveau is sold in bulk. Two huge negociants, Georges Duboeuf and Boisset, dominate the market. Most of the rest is sold through cooperatives. The result of this market structure is that the growers have no bargaining power. Beaujolais growers are averaging €11,000 income per hectare while growers in adjoining Moulin-a-Vent average €90,000 per hectare.
Screw Cap
President Obama made wine industry news by serving a screw cap wine at a state dinner. The dinner honored visiting Chinese President Xi Jinping. The wine served was Washington State Penner-Ash 2014 Viognier, $30 retail.
Chinese Wine Sales Resurgent
China's austerity program may be relaxing. Wine imports in July were up 55% over 2014 to 56 million liters. The value was up 30% to $197 million. August imports surged 29% to 45 million liters. The value was up near 13% at $154 million. Wines at all price levels increased, although growth was greater at the low end of the market.
Grapes Dumped on Highway
A truck carrying red wine grapes hit a 90 degree turn on Highway 128 in Alexander Valley a little too fast and dumped 8,000 lbs. of ripe fruit on the highway. As the truck turned, the flat bed trailers swung out and the hinged bins dumped their loads, just as they would have at a winery. The Highway Patrol said "It is a great slippery, sloppy mess." The name of the vineyard and winery was not disclosed.
Home for the Holidays
Sutter Home has launched a program called Home for the Holidays Initiative. The company will pick 25 active duty members of the military and pay for round trip air fare, ground transportation, and 5 days hotel. Military members will be picked based on financial need, outstanding service, and their answer to "What home means to me." The program will run from October 1 through December 31 and is administered by the Veterans Business Outreach Center.
Judy Jordan Back
Judy Jordan, who recently sold J Winery and Vineyards to E&J Gallo, has purchased Chehalem Mountain Vineyard in Oregon's Willamette Valley. The price and terms were not disclosed, but the property had been listed at $1.25 million. The sale includes 49 acres of which 29 are planted in Pinot Noir, Pinot Gris, and Chardonnay. The vineyard was planted in 1968 by Dick Erath.
Robber Has Left the Building
A man wearing an Elvis Presley wig and a mask of an old man robbed the Monarch Grover Winery tasting room in Grover Beach, about 5 miles south of Pismo Beach. Armed with a semi-automatic handgun he got away with $400 in cash.
Starbucks Expands Wine Business
Starbucks will be spreading its wine and beer offerings to over 2,000 locations across the U.S.
Taco Bell Cantina
Taco Bell is testing a Cantina concept in Chicago and San Francisco starting this month. The customers can order wine, beer, sangria, or twisted freezes along with tapas style shared snacks. Wines offered are Steelhead Cellars and Stack Wine. Shots of Captain Morgan, Don Julio, and Ketel One can be ordered with a Mountain Dew Baja Blast.
Burger King Wine
Burger King may be joining the ranks of fast food restaurants with adult beverages. The company announced "Whopper Wine", a Spanish Tempranillo aged in an oak barrel that was flame roasted on a Burger King broiler. Bottles of Whopper Wine will be given away in a contest. There is no word when and where it will be served and sold.
In Love With Wine
Harlequin Publishing, publisher of romance books for women, has announced a line of wines called Vintages by Harlequin. The line includes north coast Cabernet Sauvignon,
Chardonnay, and a red blend. All are priced at $14.95 and co-packed by Vintage Wine Estates.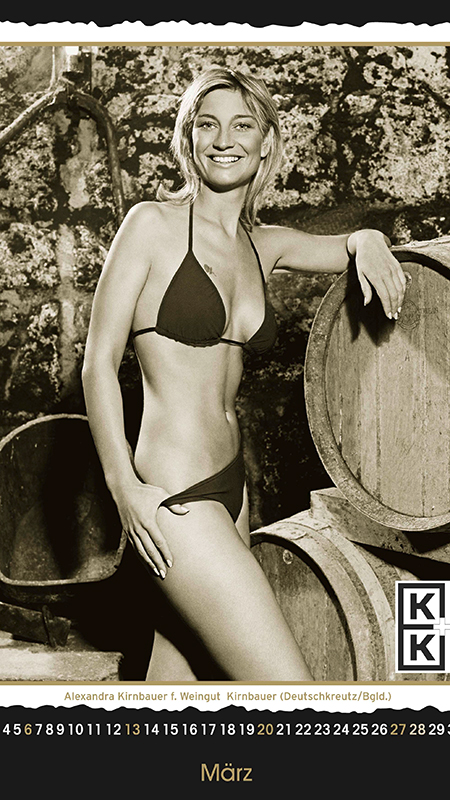 K&K Kimbauer's Alexandra Kimbauer is Miss March
2016 Wine Calendar Published
The Austrian wine industry's 2016 Jungwinzerinnen Kalender (translation: Young Female Winemakers Calendar) has been released. The calendar has been a tradition since 2004 and features young women in the industry posing in lingerie in vineyards and wineries. The calendars cost $28 and can be ordered online from Kreativ Consulting.
Virginia Dare Wine
Francis Ford Coppola bought the 32 acre Geyser Peak Vineyard in Alexander Valley in 2013. The Geyser Peak Label was not part of the deal. Now Coppola has renamed the Vineyard Virginia Dare Winery in honor of the first child born to European Colonists in North America.
Perfect Year in Champagne
2015's perfect weather pattern in Champagne; Spring rain, warm Summer, and cool Fall harvest all have contributed to a classic year. Champagne producers are proclaiming this to be an exceptional vintage even before the wines are fermented and tasted.
New Champagne from Old Grapes
With Global Warming the varieties used to make Champagne; Chardonnay, Pinot Noir, and Pinot Meunier may not continue to do well. The Champagne houses are looking to the re-introduction of four varieties that are allowed in the area and do well in warmer weather. Arbane, Petit Meslier, Fromentot, and Blanc Vrai were all widely planted before the phyloxera epidemic of the 1870's and the battles of World War I. Though rare, they still exist and are among the varieties authorized for the appellation.
Beer
AB/Inbev Buys Craft Brewer
AB/Inbev has announced the purchase of Golden Road Brewing, Los Angeles' biggest craft brewer. The beer will be put into general distribution. Golden Road operates a craft brewery and pub in Los Angeles and is in the process of opening a second location in Orange County. (See Headline story above on purchase of SAB/Miller)
Dogfish Head Gets Investor
Craft brewer Dogfish Head Brewery in Delaware has sold 15% of the company to investment firm, LNK Partners. LNK has similar investments with Au Bon Pain Bakeries, Beachbody, and Fitness Connection. Look for an expansion of distribution.
Asahi Buys Craft Brewer
Asahi has purchased Melbourne, Australia craft brewer, Mountain Goat. The company already owns Cricketers Arms Brewery in Laverton, Australia.
Constellation Launches Craft Brewery
Constellation Brands will enter the Craft Beer market in partnership with celebrity chef Rick Bayless. They will be producing Mexican style beers in Chicago under the name Tocayo Brewing Company. The first entry is Tocayo Hominy White Ale. Plans are to distribute first in the Chicago on-sale market; followed by extending distribution or adding off-sale distribution.
Spirits
List of Top College Bars Includes USC Favorite
Thrillist has come up with a list of the top 33 college bars in the country. Sadly, only one California bar made the list. The 901 Bar & Grill near USC is the one. The "Nine-0" was founded in 1947. It's only a 10 minute walk from Galen Center. The atmosphere is pure USC sports. Nine 50 inch plasma TV screens showed games in real time. When USC games are not playing, live games from the Dodgers, Clippers, Lakers, and Kings fill in the gaps. There's only one local team you won't see here. It will remain nameless. USC students get 25% off food and drinks 11AM to 4PM daily. Drinks are two for one during Happy Hour 4PM to 9PM 7 days. It's the only college bar in California that made the list. You wonder how the rest of our youth are spending their college years.
Other Foods and Beverages
LA County Fair Food Sales
The LA County Fair completed its annual September run. One vendor noted his sales included 20,000 orders of fried guacamole, 20,000 bacon wrapped pickles, and 7,000 Krispy Kreme triple deck burgers.
The Changing Market
Target Sets Big LA Test
Target will be testing a number of new concepts and techniques in a group of 25 stores in the Los Angeles area. The test is called "LA25" and will involve 50 enhancements or changes to present systems. Successful results will be rolled out nationwide. Although the purpose of the program is to improve overall customer experience, some of the changes will be in the back-of-house and supply chain areas.
UPS Looks for Strong Holiday Business
UPS said it plans to hire between 90,000 and 95,000 seasonal employees to support the anticipated increase in package volume that will begin in November and continue through January 2016. "We have initial volume forecasts from our customers and are starting the hiring process for our temporary holiday season jobs," said Myron Gray, President, U.S. Operations for UPS. "We have needs for various positions on all shifts at UPS locations throughout the United States."
Changes in Chain Grocers
Haggen stores, now in bankruptcy, will present a deal to the court to sell 27 stores in Central and Southern California and one in Nevada to Smart & Final. Negotiations are underway to sell 8 stores to Gelsons.
Sprouts Markets will have opened 27 new stores by the end of 2015. 16 more are planned for 2016.
A Long and Heavy Holiday Shopping Season
The ICSC (International Council of Shopping Centers) is predicting an increase of consumer spending over a longer holiday shopping season this year. Overall, they expect a 3.3% increase in holiday gift sales. What does that mean for licensees? For retailers a longer shopping season usually translates into lower sales of gift alcohol items. Knowing this, retailers should be selective and offer attractive gift items and plan on heavy promotion to keep traffic in the stores. For restaurants and bars, your customers are going to be spending time shopping in department stores and malls. At the end of the day they won't want to spend a lot of time preparing dinner. Plan your promotions to snag those shoppers when they are tired at day's end. Then make sure you are staffed so there isn't a long wait for a table or an order to be served. A cranky customer won't give you a second chance at dinner time.
Health
A Glass of Wine a Day Keeps the Doctor Away
A team of researchers at the University of Leicester found that the amount of resveratrol contained in just one glass of red wine may be more effective than a larger dose in pill form.
Red Wine to Lose Weight
A recent study released by Harvard University followed 20,000 women over a period of 13 years. The study found that women that drank 2 glasses of red wine a day had a 70% reduced risk of obesity compared to non-drinkers. The National Institute for Alcohol Abuse and Alcoholism says that when alcohol is substituted for carbohydrates, calorie for calorie, subjects tend to lose weight.
California Outlaws Anti-biotics in Livestock
Governor Brown has signed SB-27, a bill passed by the legislature that prohibits the use of antibiotics to help livestock gain weight. California becomes the first state to take this step. The indiscriminate use of the drugs has been controversial. It has allowed some disease causing bacteria to become drug resistant and allowed the transmission of some diseases from animals to humans. It will still be legal for a licensed veterinarian to prescribe drugs for disease control in livestock. The law goes into effect January 1, 2018.
Tasting Notes
Each month we are out there looking for wines that "over deliver"; wines that offer more than others in their category and price level. We search out the wines that you can buy to help build your business; wines that make customers happy and keep them coming back. These are wines we rate as good buys and best buys. Check our notes. The opinions in the reviews are our own and unsolicited. We receive no compensation from wineries or brokers. This month there were several wine tastings that showed some very nice wines available at reasonable prices. The prices shown are approximate retails.
San Francisco Double Gold Tour
At the San Francisco Double Gold Tour there were a number of good to great wines. We were looking for something that stood out as a good value. We found Red Truck Pinot Noir 2013. This is a classic Pinot Noir with good color, good nose, deep flavors, and a bargain price - $10. Well worth drinking, and a good wine to promote. This will satisfy the beginning drinker and be a good every day table wine for the more experienced. Contact your Classic Wines rep.
Springboard Wine Company
The Springboard Wine Company held its inaugural tasting at Republique in Los Angeles. We were quite impressed with the portfolio of brands. They were all of high quality, well chosen, and will satisfy your customers. We have chosen a few that are good buys. For all contact your salesperson or Sybil Ajay Sanford or Elizabeth Corsini at (800) 542-0736.
Boundary Breaks Riesling 2012 Reserve #198, True Riesling character, slightly sweet, clear, good nose, Finger Lakes New York, $19.99.
Biale Founding Farmers Zinfandel 2013, dark ruby color, good nose, full body, well balanced, Napa Valley, $45.
Paradigm Merlot 2012, good character, good color and nose, fruity and fuller body than would be expected in a Merlot, Oakville, $50.
Textbook Cabernet Sauvignon 2013, good color and nose, full body, right on, Rutherford -Napa Valley $33.
Wrath Ex Anima Chardonnay 2014, dry, 14.2% ABV, flowery nose, fruity flavors, Monterey, $21.
Wrath Pommard 4 and 777 Pinot Noir 2012, good color and nose, excellent character, aged in 40% new French Oak, 40% full cluster grapes, Monterey, $32.
Turnbull Cabernet Sauvignon 2012, good color and nose, full body, well balanced, Oakville, well worth $75
Jean Baptiste Adam Riesling Les Natures 2012, light, fresh, good minerality, $24.
Jetro
At a Jetro (Japan External Trade Organization) tasting we found Manabito Ginjo Sake from the Hinomaru Brewery founded in 1689. Clean, crisp, and refreshing, $30. Available through Youngs Market or contact Linda Noel Kamabata at aspec.sake@gmail.com.
La Mancha US Tour 2015
We were impressed with the quality of wines from LaMancha, Spain shown on the U.S. tour this summer. La Mancha gets 3,000 hours of sunlight a year that ripens 46 varieties of grapes. The yield is relatively low at 1.5 tons per acre, which produces grapes with intense flavors. Best of all, these very sound wines are at very approachable prices. A couple that we selected as best buys were:
Finca El Refugio Legado Tempranillo 2013, good color and nose, bright and fruity, heavy body, will pair with red meat or stand on its own, 100% Tempranillo, $11. Contact Benjamin Galisteo at info@fincaelrefugio.es
Romero de Avila Salcedo Portento Roble 2013, aged 3 months in barrel and 2 years in bottle, mellow, full meaty body, good food wine, yet rich and elegant in the glass, 100% Tempranillo, $12-$13, contact Alberto Garcia Consuegra at wine@bodegasromerodeavila.com.
Industry Calendar – Starting this month, we have divided this section into two calendars; this first is a listing of trade tastings and events.
10/3-4 Vegan Oktoberfest – LA
10/8 Bordeaux Under One Roof - SFO
10/10 Harvest Grand Tasting - Solvang
10/10 Mutual Trading Tasting – Pasadena
10/15-18 Japan Expo – LA
10/19 Youngs Market Tasting – LA
10/28 Simply Great Italian Wines – SFO
11/7 Rhone Rangers – LA
11/1 Daylight Savings Ends
11/7 Rhone Rangers - LA
11/14 Pinot Days - LA
11/15 Taste of Menudo & Pozole – LA
Promotion Calendar – This second calendar is a separate listing of dates that are suitable for promotions that can be used to increase sales at retail or restaurants. Sales are the only reason we are here in business, so take advantage of these opportunities.
National Vodka Day 10/4
National Kegger Weekend 10/10-10/11
Columbus Day 10/12
American Beer Week 2nd week in October
National Red Wine Day 10/15
National Liqueur Day 10/16
Halloween 10/31
Mexican Day of the Dead 11/1
Veteran's Day 11/11
New Legislation for 2015
Our industry has more laws controlling it than most industries. The State
Legislature and the ABC give us license privileges and can take them away. New alcoholic beverage laws were passed that will be effective in 2016. Many critical issues are pending. Do you know about them and are you prepared for the changes. Is your business safe? Members are encouraged to look through the Legislative Bulletin. If there is a new law that is a problem for your business, call the association office now. The CBRA is your voice in Sacramento. If you are not a member, join today. The CBRA is your only voice when it comes to new beverage laws.
Brands and Comments
The CBRA Newsletter has not accepted any payment from any of the brands mentioned
in this edition. The editor, Ron Ziff, welcomes comments at ron@cbraliquor.org
CBRA Membership Remains Open
Now, more than ever, access to your industry is important. The CBRA is California's
only statewide association of licensed retailers, and our membership continues to be
open for the first time in 20 years.
At CBRA we deal with licenses and regulations that affect the beverage business on a
daily basis. That's why CBRA offers practical solutions, unique products, services,
information, and timely advice for both large and small beverage businesses. With
reasonable fees, superior service, and associates that are easy to reach, CBRA helps you
to run your business better and easier. One of the most valuable services we offer is that
call to the ABC to ask your question. We can ask that question and keep you anonymous. That's something you just can't do yourself.
Join or renew your valuable membership today. You can't afford to delay.
California Beverage Retailers Association – California's Only Statewide Association of Licensees. We're #1!
If you would like to be removed from this email list, please email to
ron@cbraliquor.org with UNSUBSCRIBE in the subject line.