posted by
cbra
on
Sun, 09/24/2017 - 17:34
California Beverage Retailers Association
Beverage Bulletin
P.O. Box 56686
Sherman Oaks, CA 91413
(818) 693-5561
Ron Ziff, Editor
Ben Ziff, Publisher
September 2017
"The beer I had for breakfast wasn't bad... so I had one more for dessert."
-Kris Kristofferson in "Sunday Mornin Comin Down"
In this month's edition:
Headline News Stories - 2017: The Weather Harvest - California- France- In Douro, What is Gallo Up To?, Water Plan Doomed, New Sales Tax in L.A.
Celebrities in the Industry - George Lucas, Richard Branson, George and Amal Clooney, Mike Diamond
Books - Cook & Cork, National Geographic Atlas of Beer
Popular Culture - Will & Grace, Stranger Things, Final Fantasy, Blade Runner 2049
TV & Movies - Que Syrah, Shiraz, Back to Burgundy, 23 Part Series, Vineyards and High Heels, Fabletics
Politics - Editorial: The Age of Uncertainty, California Sues Trump, Immigration Enforcement, Champagne and Climate Change
Wine - Chinese Bail Out, Auctions Resume, Paris Burglary, Tasting Room, Burglaries, Chinese Fake Chinese, Rudy's Final Appeal, 6,000 Year Old Wine Tardif Grapes, Wine at Disney World, Blue Wine, Napa Supervisors on Notice, Tasting Room Survey, Women's Wine, Emmy Wine Sparkles, 4 Distributors Sell 1/2 the Wine, Kosher Wines in China?
Beer - Ancient Filter, AB/Inbev Helps Disaster Victims, Thelonius Monk Sues, Breakfast Beer, New Process for Spent Grain, Prohibition Budweiser, Compton Cowboys, Beer Mug Record, Beer Proof Shoes
Spirits - Bourbon Thief Pleads Guilty, Reverse Cocktails, Transparency in Hiring,
Free Drinks for Seniors!, Best Bars in the U.S., Taco Bell to Offer Adult Drinks, World's Best Bartender, Scotch Bikes
Other Foods and Beverages - I'll Have What He's Having, Best NFL Food
The Changing Market - Is There a Wine Bubble?, Amazon Expands Wine Service,
Toys r Us Files Chapter 11, Kelloggs Restructures Snack Sales, Walmart Click and Collect, Business Up at Dollar Stores, Bright Prospects for Halloween, Holiday Sales Look Good, Starbucks Equalizes Employee Benefits, Starbucks Sued
Recipes - Make Wine Cubes, Beer Buttered Popcorn
Health - Drink Moderately to Live Longer
...and as always Tasting Notes and the Industry Calendar
 
Headline News Stories
2017: The Weather Harvest - California
This year extreme weather affected the harvest in every major wine producing area worldwide. Northern California wineries have been in a crisis mode with this year's harvest. Labor has been short all summer. The immigrant labor pool seems to be scarce this year. Then the end of August and start of September there was a heat wave. The city of Healdsburg, the Russian River Valley, and Dry Creek hit 114 degrees. Monterey was at 107 degrees. The grapes ripened and had to be picked before they turn to raisins. Wineries were forced into a bidding war for the available labor and were paying up to $45 an hour. One of the effects was that more than half of the workers hired were women. The timing was interesting. Most of the white grape varieties had already been picked. The red varieties were all ripening at once. Some grapes were not ripening and were only dehydrating. So many vineyards were coming online at the same time that trucking was also stretched past capacity. The effect on California's prime grape: Cabernet Sauvignon is yet to be determined.
- France
The wine grape harvest in France will be the smallest since 1945. Yields look to be off 18% across the country. Some areas fared worse than others. The problem was caused by a combination of problems; frosts in April, hailstorms throughout the spring, and scorching heat during the summer.
- Douro
Drought caused the earliest harvest ever in the Douro Valley. Picking started August 28 and ended September 21.
What is Gallo Up To?
E&J Gallo has quietly launched a new line of wines under the name Proverb that is sold exclusively on Amazon. The wines are Chardonnay, Sauvignon Blanc, Pinot Grigio, Cabernet Sauvignon, Merlot, and Pinot Noir. They are line priced at $12.75. The program is definitely an experiment. Only 182 cases were being offered. The big questions are "What information is Gallo looking for?" And "What will it do with that information?"
Water Plan Doomed
The farmers of the Westlands Water District voted to withdraw and not participate in Governor Brown's twin pipe water project. The move probably dooms the entire project. Their reason: $16 billion is too expensive.
New Sales Tax in L.A.
Sales taxes will increase in most cities in Los Angeles County on October 1. The increase is for Measure H voted in at the last election. The money will go to provide homeless services.
Celebrities in the Industry
George Lucas has bought an estate in Provence. Lucas' Skywalker Properties made the purchase of Chateau Marqui. The estate has 40 ares of organic vineyards, a 7 acre olive grove, and is surrounded by 200 acres of forest. The chateau was built in the 18th century alongside the vineyards that date to Roman times. Varieties at the state include Syrah, Cabernet, Vermentino, Cinsault, Grenache and Sangiovese. The property joins Lucas' two other wine properties in Nicasio, Marin County and Umbria, Italy.
Sir Richard Branson hunkered down in his concrete wine cellar during Hurricane Irma. He posted on his blog: "We are expecting to get the full force of the hurricane in around five hours' time, when we will retreat to a concrete wine cellar under the Great House. Knowing our wonderful team as I do, I suspect there will be little wine left in the cellar when we all emerge." Branson's entire staff camped out in two rooms under his mansion, posting photos of the team playing games and having a "sleepover." "The strength of this hurricane is unheard of," Branson added. "The atmosphere is eerie but beautiful.
George Clooney and his wife, Amal, will give $21 million to charity from the proceeds from selling Casamigos Tequila to Diageo. $1 million will go to The Southern Poverty Law Center. $20 million will go to the Clooney Foundation for Justice to be used for educating and housing refugees.
Mike Diamond, better known as "Mike D" from The Beastie Boys is now a sommelier. He plies his trade at Hearth & Hound in Los Angeles. His own preference: White Burgundies.
Books
Cook & Cork by Harry Mills and Chris Horn, Heavy Restaurant Group, 288 pages, $39.99. The how and why of wine and food pairings by sommelier Horn and chef Mills. They take the reader through taste perception and how flavors amplify each other.
National Geographic Atlas of Beer by Garrett Oliver, Penguin Random House, 304 pages, $40. This ultimate beer lover's guide to the world is filled with stunning photography, unique drinking destinations, little-known histories, and insider knowledge from brewers and bar owners around the globe.
Popular Culture
Will & Grace
Shake Shack will be serving two new shakes in honor of NBC's revival of the TV series "Will & Grace." The first shake is named "Jack & Karen" and is made with Prosecco. The second shake named "Will & Grace" is non-alcoholic. Available only in Los Angeles and New York.
Stranger Things
The "Stranger Things" pop-up bar in Chicago named Upside Down was selling lots of inspired cocktails in a themed setting that looked much like the authentic TV set. This did not set well with Netflix. Their lawyer sent a letter that shut down the bar to the dismay of fans. The show returns to Netflix for Season 2 on October 27. Sorry, no drinks included.
Final Fantasy
Square Enix, the company that makes and franchises the computer game Final Fantasy is celebrating its 30th anniversary with the release of two wines; red and white. Ifrit Rouge and Shiva Blanc are both bottled by Chateau de Bois. The wines are distributed exclusively through Winehouse.com. Both are available for pre-order at $55.
Blade Runner 2049
Johnnie Walker will release a limited edition of Blade Runner 2049 Scotch in conjunction with the new movie.
TV & Movies
Que Syrah, Shiraz
Movie director and producer, Rudolf McClain, has announced a crowd funding campaign for a new movie to be filmed. He needs $350,000 for filming and post production costs involved in shooting "Que Syrah/Shiraz." The documentary will be filmed in France and Australia and be entered in festivals by the end of this year. Contributors would get signed movie posters, private showings for friends, and screen credit as a producer. McClain's previous credits include the film "Merlove" about Merlot.
Back to Burgundy
A new film, "Back to Burgundy," has been released. It is a story about Jean, Juliette, and Jeremie who inherit their father' vineyard in Burgundy. The French title is "Ce Qui Nous Lie" (That Which Binds Us). Jean had left the family business to start his own winery in Australia. Juliette has been running the winery with their father. Jeremie has married into a wealthy wine making family. The dilemma that faces the three is whether to accept their heritage and continue making wine or to sell out and pocket a fortune.
23 Part Series
On September 6 The Wine Institute debuted the first video in a 23 part series to appear on Instagram, YouTube, Twitter, and Facebook. The first video is "California Wine Month."
Vineyards and High Heels
Stefano Tibaldi thought the family wine business was over when his children were not interested. Enter his granddaughters, Daniela and Monica. They took over the winery and enjoy the work. Their video, "Vineyards and High Heels", took first place in the Wine Spectator 2017 Wine Video Contest.
Fabletics
and finally... Kate Hudson has an Instagram video of her workout with a personal trainer to promote her line of workout clothes, Fabletics. During the video she breaks to sip a little wine then returns to pumping with two bottles of her Hudson-Bellamy Rose' instead of weights. 1.1 million have watched. Some have joined in and like the wine.
Politics
Editorial: The Age of Uncertainty
If there is one thing that characterizes the current political and business climate, it's uncertainty. Today's uncertainty is politically based. Brexit, changes in health care, shifts in foreign trade, pros and cons about immigration in many countries, conflicting press releases coming from the White House, and other factors all roil the macro economy. Yet companies and consumers all feel the pain even if they are involved only in a tiny corner of the market. In times of uncertainty, consumers tend to hunker down and wait to make major decisions; companies view declining sales and try to re-build them, even though that isn't the problem. In times like these, it is the job of CEO's and other leaders to provide stability and a feeling of "safe harbor" in order to keep their organizations viable. It starts with a recognition of the uncertainty and the need for the appearance of stability.
California Sues Trump
California Attorney General Xavier Beccera has filed a federal lawsuit to block President Trump's rescission of the DACA program that protects immigrant children. The suit was filed separately from the similar lawsuit by 15 other states. The reason: California is home to 200,000 of the 800,000 DACA children. The California wine industry is highly dependent on immigrant labor; legal or illegal.
Immigration Enforcement
In a turn of events, early this year immigration officials called on U.S. relatives to take care of children caught crossing the border alone. Now ICE (Immigration and Customs Enforcement) is calling on those same relatives to prove their own status or be deported.
Mexico's Foreign Minister Luis Videgaray met with Governor Brown and immigrants before going to Los Angeles to show support for the DACA program. Following that he headed for Washington, DC to meet with Secretary of State Rex Tillerson to discuss DACA and "the wall." There are 10 million foreign born in California. 4 million of those are from Mexico.
Champagne and Climate Change
Champagne producer, Bruno Paillard, said "Anyone in the wine industry who denies the effects of global warming is as stupid as Donald Trump."
Wine
Chinese Bail Out
There are about 160 French Chateaux currently owned by Chinese individuals or corporations. There are rumors that about one fourth of them could be for sale. In some cases the return on investment was not what was expected. In other cases, the plan was to ship wines to the Chinese market. That turned out to be more difficult than the buyers thought. Now some owners want to get out quietly.
Auctions Resume
Bonham's has a wine auction scheduled for September 22 in San Francisco. Featured is a vertical of Screaming Eagle 1996-2014. Fine wines have re-emerged as the most valuable collectible. Values have increased 25% over the past 12 months.
Paris Burglary
Thieves broke into the wine cellar of a luxury apartment in Paris to steal 300 bottles of wine worth €250,000. Police have released no details of the theft. The break-in was accomplished by breaking through a wall of the Paris Catacombs. The catacombs are a network of tunnels that stretch for miles under the city and hold the remains of more than 6 million people. They date back to the 18th century when Paris' cemeteries became full. Some of the earliest burials include headless corpses that were victims of the guillotine.
Tasting Room Burglaries
The San Luis Obispo County Sheriff's office is investigating a series of burglaries of tasting rooms in the county. They are currently reviewing video tapes of the crimes. No arrests have been made as yet.
Chinese Fake Chinese
Police in Xiangyang, China discovered 6,000 bottles of fake wine being offered for sale. These fakes differed from past counterfeits. Instead of imitating famous French and California labels, these were copies of popular low priced Chinese wines, Changyu and Great Wall. They were valued at U.S. $45,000.
Rudy's Final Appeal
Convicted felon, Rudy Kurniawan, lost a final appeal of his 2014 conviction for selling counterfeit wine. The appeal was filed on the premise that his lawyers should have moved to have evidence found in his home not admitted in the trial because it was illegally obtained. Judge Richard Berman ruled that the legal motion would have had no effect because authorities already had probable cause to believe the crime had been committed.
6,000 Year Old Wine
Researchers led by Dr. Davide Tanasi from the University of South Florida have found traces of 6,000 year old wine in containers in a cave near Agrigento, Sicily. The dried remains contained tartaric acid and salts from wine. This pushes back the origins of wine in Italy to the 4th millennium B.C. The findings were published in the Michrochemical Journal.
Tardif Grapes
French growers are looking at re-introducing the Tardif grape to vineyards across the country. The grape is native to Gascony and has qualities that make it a good choice for climate change. It is slow growing, late ripening, and it survived the phyloxera epidemic of the 19th century, so it may be able to be planted without grafting.
Wine at Disney World
Disney World in Florida is now selling wine slushies at its Amorette Patisserie inside the park. The drinks come in two flavors; Strawberry Shiraz and Mango Moscato. The drinks are for adults only.
Blue Wine
Blue Wine from Spain will be available in the U.S. later this month. The product is made by GIK in Spain and gets its color from indigo and a compound in the grape skins. The EU said it does not fit the definition of wine and ordered it removed from shelves in Europe. Now re-labeled "alcoholic beverage" it is allowed. The U.S. bottles will be labeled "wine."
Napa Supervisors on Notice
A group named Alliance for Responsible Government has sent a letter to the Napa County Board of Supervisors claiming that the board has approved winery permits without proper review under California environmental laws or CEQA.
Tasting Room Survey
The Wine Institute released the results of a 2016 survey of tasting room visitors. The average age was 43.9 years. 39.5% were Baby Boomers; Gen X 21.9%; Millenials 36.1%. 53.7% were female and 46.3% male. 30% had belonged to a wine club in the last 3 years. Average household income $86,300.
Women's Wine
Vinovore Wine Shop has opened at 616 N Hoover in LA's Silverlake district. Owners, Den Haan and Dean Harada, will have the nation's only wine store with wines made only by women. They feel the wines are softer, more elegant and that there is a statement to be made.
Emmy Wine Sparkles
Ferrari Trento was the official sparkling wine of the Emmy Awards. Matteo Lunelli celebrated with winners Alec Baldwin, Julia Louis-Dreyfus, and Sterling K. Brown.
4 Distributors Sell 1/2 the Wine
Wines and Vines reports the total market for U.S. produced wines at $62 billion. Just over 50% of that is sold through the top 4 distributors: Southern-Glazers, Republic National, Breakthru Beverage, and Youngs Market. There are 9,217 U.S. wineries and only about 4,000 are represented by the top 10 distributors.
Kosher Wines in China?
Arza, owner of Hayotzer, Israel's fifth largest winery is in talks with China's Peng Dun Group. The subject of the talks is a joint venture to build a winery in Jingmen City in Central China. Hayotzer would own 25% of the project. Production is planned at 1 million bottles a year.
Beer
Ancient Filter
Craft brewer, Mike Holden, has started a brewery on Kangaroo Island off the coast of Australia. The beer he produces is filtered through the island's 500 million year-old Cambrian Era fossil rocks. The process gives the beer a unique flavor.
AB/Inbev Helps Disaster Victims
The AB/Inbev plant at Catersville, Georgia switched to canning clean drinking water for a week to distribute to victims of hurricane Harvey in Texas and Louisiana. The company cans water two weeks a year to distribute to victims of various disasters. The water is shipped through beer distributors in cooperation with the Red Cross. Since 1988 it has donated and shipped more than 76 million cans of water.
Thelonius Monk Sues
Thelonious Monk Jr. has sued North Coast Brewing Co. for copyright infringement. Monk had granted the brewery the right to use his father's name on Brother Thelonious Monk Belgian Style Ale in exchange for profits to be donated to the Thelonious Monk Institute of Jazz. The suit claims the brewery used the name on 17 other souvenir items including cups, hoodies, and T-shirts.
Breakfast Beer
What kind of beer would you drink for breakfast? Here are a few possibilities made by Craft brewers:
Toppling Goliath's Kentucky Brunch Brand Stout, made with coffee
Tree House's Good Morning, a stout made with maple syrup
Founders Breakfast Stout, coffee flavor
Alesmith Speedway Stout, coffee flavor
Great Notion Blueberry Muffin, blueberry flavored
Great Notion Double Stack, pancake flavored
Arizona Wilderness Leggo my Eggo brewed with maple syrup, milk sugar, and biscuit malt
Evil Twin Imperial Doughnut Break made with real doughnuts
Terrapin Cinnamon Roll'd Oatmeal Stout coffee flavored with cinnamon icing
Funky Buddha Morning Wood comes in two flavors; bacon and french toast. The "wood" is for barrel aging.
Dogfish Head Beer for Breakfast made with mush, coffee, and maple syrup
Flying Fish Pork Roll Porter flavored with sausage
Kuhnhenn Cap'n Crunchberrie taste inspired by the cereal
Kuhnhenn Lucky Charms Lager taste inspired by the cereal
Kuhnhenn Cocoa Puffs Stout taste inspired by the cereal
21st Amendment Toast Pastry tastes like Pop Tarts
Cambridge Lox Up Your Daughters, no real lox, made with day old bagels
New Process for Spent Grain
Professor William Chen at the Nanyang Technological University in Singapore has developed a technique to re-use 85% of the spent grain left after the brewing process. The fibers in the grain are turned into nutrients that yeast can turn into more beer. Each year there are 39 million tons of spent grain produced worldwide. The waste is used for fertilizer and livestock feed.
Prohibition Budweiser
AB/Inbev will be introducing an alcohol free version of Budweiser in the UK this Fall. The brew is named "Prohibition" and claims to be made with the same recipe used by Annheuser-Busch during the U.S. Prohibition years.
Compton Cowboys
Guinness has added a commercial to its "Made of More" series featuring the "Compton Cowboys." The group is made up of young men from the Los Angeles area that have given up gang life to rescue and care for unwanted horses. According to marketing director, Duncan Elliott, "The Compton Cowboys are a group of people who have made a bold and unexpected choice to live a different life. Through their love and devotion to their horses and each other, they are a source of inspiration and a cause for hope within their local community."
Beer Mug Record
German waiter, Oliver Strumpfel set a new world record by carrying 27 1 liter beer mugs for 40 meters without spilling a drop. The record was set at an event in Abensberg, Germany. Mr. Strumpfel says he trains at the gym to keep his strength. The filled mugs
weigh 110 lbs. The record for women is 19 mugs held by Anita Schwarz set in 2008.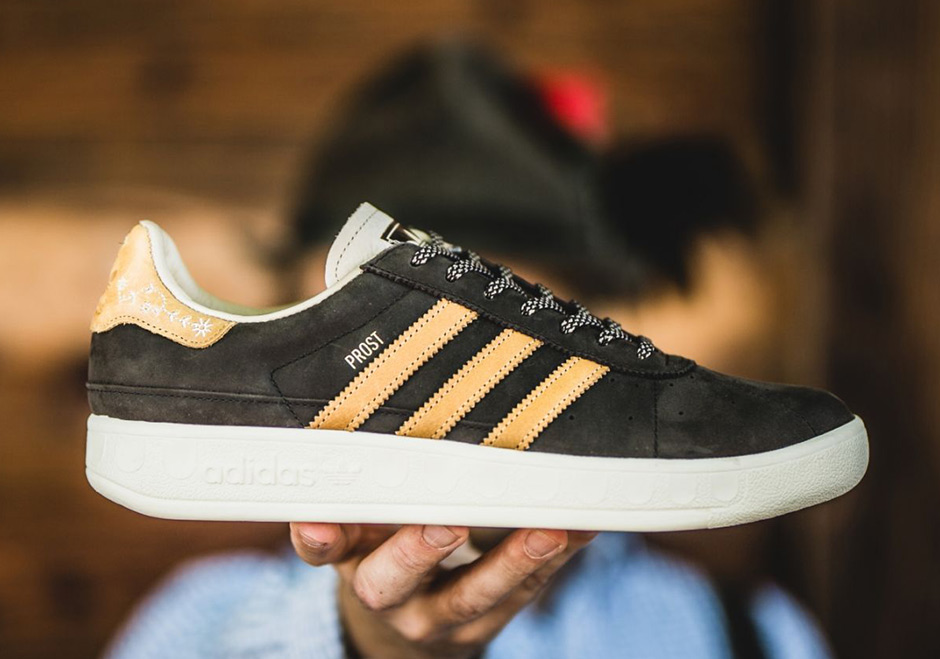 Beer Proof Shoes
and finally... Adidas has released a limited edition of sports shoes that are resistant to beer spills. The release was timed for sales at Germany's Oktoberfest. The shoes are full grain leather uppers and leather lined. "Prost" is embroidered on the side of each shoe. Get your pair for only $200.
Spirits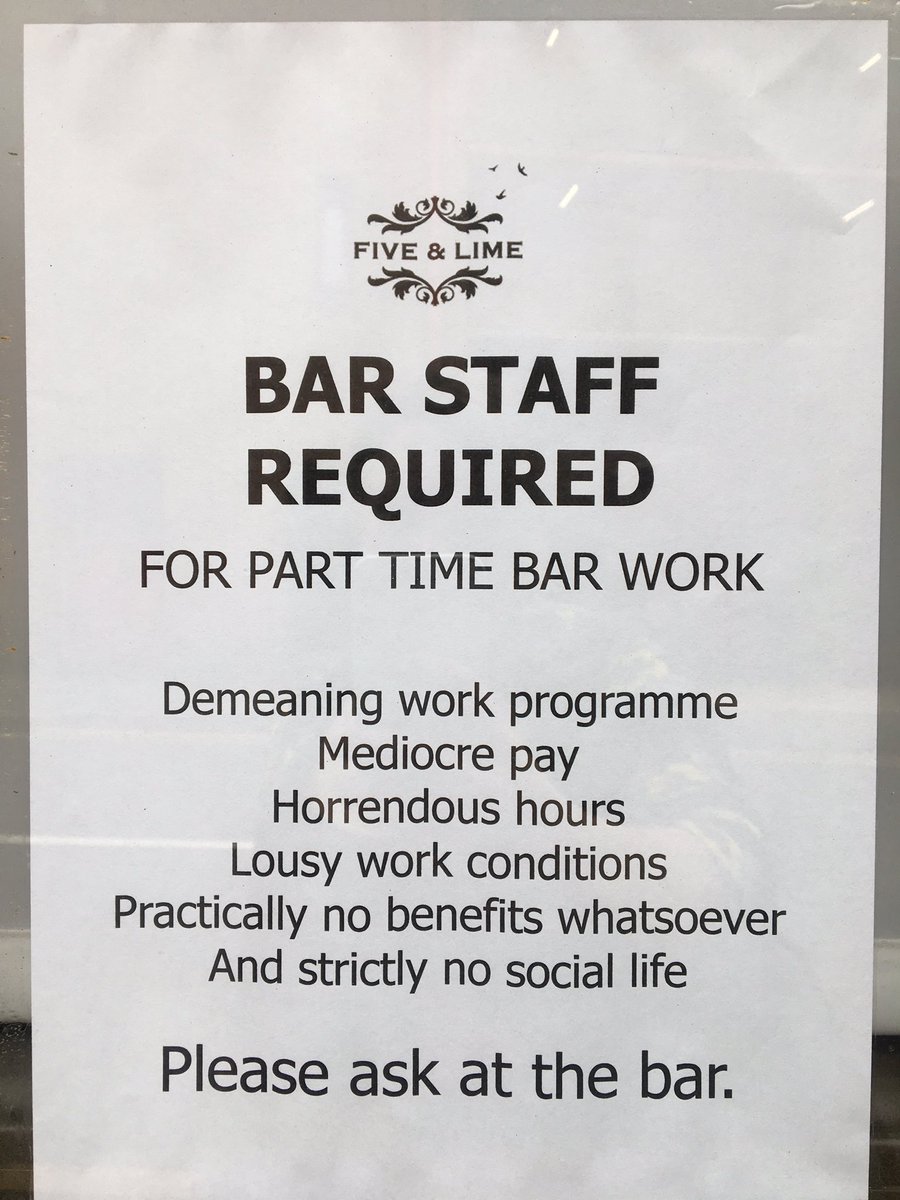 Transparency in Hiring
The Five & Lime bar in Surrey, UK just wasn't getting enough interest in its help wanted ads. He was getting too little response and looked just like the competition. Owner, Darren Ayres, decided to try something different. Brutally honest and tongue-in-cheek, he posted what you see above. He says he was "quite taken aback by the interest." He added "Hopefully my new staff won't hold me to the job description."
Bourbon Thief Pleads Guilty
Gilbert Curtsinger pleaded guilty to being the ringleader of a group that was apprehended in 2015 for stealing more than $100,000 worth of Bourbon. The theft included more than 20 cases of Pappy Van Winkle and 20 cases of Eagle Rare. The whiskey was distributed by co-conspirators who were members of his softball team. Curtsinger was an employee at the Buffalo Trace Distillery. He faces up to 15 years in prison.
Reverse Cocktails
One of the trends sweeping the on-sale trade is Reverse Cocktails. What's a reverse cocktail? It's made by reversing the ingredient proportions. A Reverse Manhattan is 2 parts Sweet Vermouth, one part Rye; a Reverse Martini is 2 parts Dry Vermouth, one part Gin. The cocktails have a flavor profile very similar to the original; with much lower alcohol.
Free Drinks for Seniors!
Filthy's Bar in Newcastle, UK was accused of "ageism" on Facebook. The bar was accused of discriminating against older patrons. In response the bar is offering free drinks to customers over 80 years old. The bar caters to college students. So far there have been no takers, but the bar has received phone calls about possible busloads of seniors. The bar manager says he will have a firm ID policy to keep 79 year-olds from sneaking in for free booze.
Best Bars in the U.S.
Food and Wine Magazine has announced the best cocktail bars in the country. Four from California made the list.
Harlowe, Los Angeles
The Chestnut Club, Los Angeles
Comstock Saloon, San Francisco
Copa d'Oro, Santa Monica
Pour Vous, Los Angeles
Taco Bell to Offer Adult Drinks
Taco Bell will be adding up to 350 upscale "cantinas" in major cities. The locations will offer the standard menu plus wine, beer, and slushies made with Tequila, Rum, or Vodka.
World's Best Bartender
Kaitlyn Stewart won the title of World's Best Bartender in Diageo's 2017 competition. More than 10,000 bartenders from 57 countries entered the contest. 55 of them made it to the finals where the competition was tough. Ms Stewart practices her mixing skills at the Royal Dinette in Vancouver, Canada.
Scotch Bikes
and finally... Glenmorangie has announced the production of a limited number of bicycles made from the staves of used Whiskey barrels. The staves were shipped to bike maker, Renovo, in Oregon where the wood frames were constructed. The price tag: a mere $6,950.
Other Foods and Beverages
I'll Have What He's Having
Quarterback, Tom Brady, drinks up to 25 glasses of water a day. He adds electrolytes to everything he drinks; including lemonade, smoothies. He also downs four protein shakes a day. You too could play like Brady. Just follow the diet in his new book, soon to be released.
Best NFL Food
Food and Wine Magazine has picked the best food at every NFL stadium. Here are California's choices:
Oakland Raiders – Alameda Coliseum. Kinders BBQ. Chicken legs dripping with sauce.
San Francisco 49ers – Levi Stadium. Crabby Seafood Sandwiches.
Los Angeles Chargers – StubHub Center. Vegetarian BLT (beets, baby arugula, grape tomato jam, and goat cheese on pecan raisin bread).
Los Angeles Rams at the Coliseum. There are several choices: Lobsterdamus (lobster rolls), Rooster Republic (chicken fingers), Black Sugar BBQ Rib Co, and Cheezus (gourmet grilled cheese).
The Changing Market
Is There a Wine Bubble?
Some marketing analysts speculate that there may be a marketing bubble developing in the premium end of the alcoholic beverage industry. While premium wine sales and volume continue to increase; that increase is not racing along at the rate it did for the past few years. The same is true for Craft Beers. In fact, a number of Craft Brewers have closed their doors in the past several months. Premium Spirits sales seem to have stalled since late in 2015. While not ready to make predictions, they recommend caution. Wine production, prices, and vineyard land prices are at all time highs. There could be more downside risk than upside potential.
Amazon Expands Wine Service
Amazon Prime now offers 2 hour delivery of wine, beer, and spirits in some locations in
Cincinnati, OH; Chicago, IL; Columbus, OH; Los Angeles, CA; Minneapolis, MN; New York City, NY; Phoenix, AZ; Portland, OR; Richmond, VA; San Diego, CA; San Francisco Bay Area; Seattle, WA. 20 other cities are soon to be added. The acquisition of Whole Foods 450 stores has provided the opportunity for this expansion. More than half of the stores are licensed. The complexity of alcohol rules has stymied most others. Amazon has the computer expertise to tackle this issue.
Toys R Us Files Chapter 11
Toys R Us filed bankruptcy leaving 1,600 stores and thousands of employees in limbo. The company had $5 billion in debt with a payment of $400 million due in 2018 that could not be met. It was out of cash.
Kelloggs Restructures Snack Sales
Kelloggs has transitioned its snack division from DSD to retailer warehouse sales over a 6 month period. The purpose of the move was to free up its own resources to properly address the consumer online business. Kelloggs is the first food manufacturer to make the change. Consumer "click and collect" where the product is ordered online and picked up in store is still small, but growing. It's less than 2% of the market, but grew 70% in the last year. Kelloggs estimates online sales have the potential to be 10% of its business. The change involved reducing sales force and trucking, eliminating some SKU's, and re-figuring the price structure.
Walmart Click and Collect
Walmart has expanded "Click and Collect" to 1,000 stores. Customers order online and pick up at the store. Some units are totally self service. The company is rapidly back filling units to accommodate Google voice ordering.
Business Up at Dollar Stores
Dollar Tree, Dollar General, and 99 Only stores all reported increased sales during the first half of this year. The increased sales are attributed to pressure on lower income shoppers as the government reduced the benefits and number of recipients on SNAP and other food assistance programs. 99 Only has tested and will be rolling out a new low profile store layout with shelving only 5 feet high. The move has reduced shoplifting where it was tried and increased profits by nearly 1/2 per cent.
Bright Prospects for Halloween
Prosper Insights and Analytics predicts Halloween sales will grow 8.3% this year to 9.1 billion. 179 million Americans are expected to purchase $86.13; up from last year's $82.93. That shouldn't be scary if you get your share.
Holiday Sales Look Good
Forrester recommends retailers tune up their systems now. Fulfillment, mobile checkout, and management of the system will be the keys – for some. Online holiday sales are expected to increase 12% to $129 billion this year. The number of customers will increase 3%. Each customer's purchase should increase 8% to $689. Omnichannel is the theme; the ICSC predicts that 96% of customers will buy something from a retailer that has both online and brick-n-mortar presence. 40% will buy online and pick up in the store.
Starbucks Equalizes Employee Benefits
Starbucks has long had different personnel policies for store employees and execs. That will all end October 1 as more liberal exec benefits are extended to all employees. Baristas had 6 weeks maternity leave after giving birth. Now they will have 16 weeks and fathers and adoptive parents will get 12.
Starbucks Sued
The Simon Property Group has filed suit against Starbucks for the closing of 78 Teavana shops in Simon's shopping centers. Starbucks recently announced the closure of all 379 Teavanas. The suit asserts that the leases have covenants to continuously operate. The closures will violate that clause "causing damage to Simon's properties." The suit claims Starbucks is "shirking its responsibilities." The suit could create a precedent throughout the commercial real estate industry.
Recipes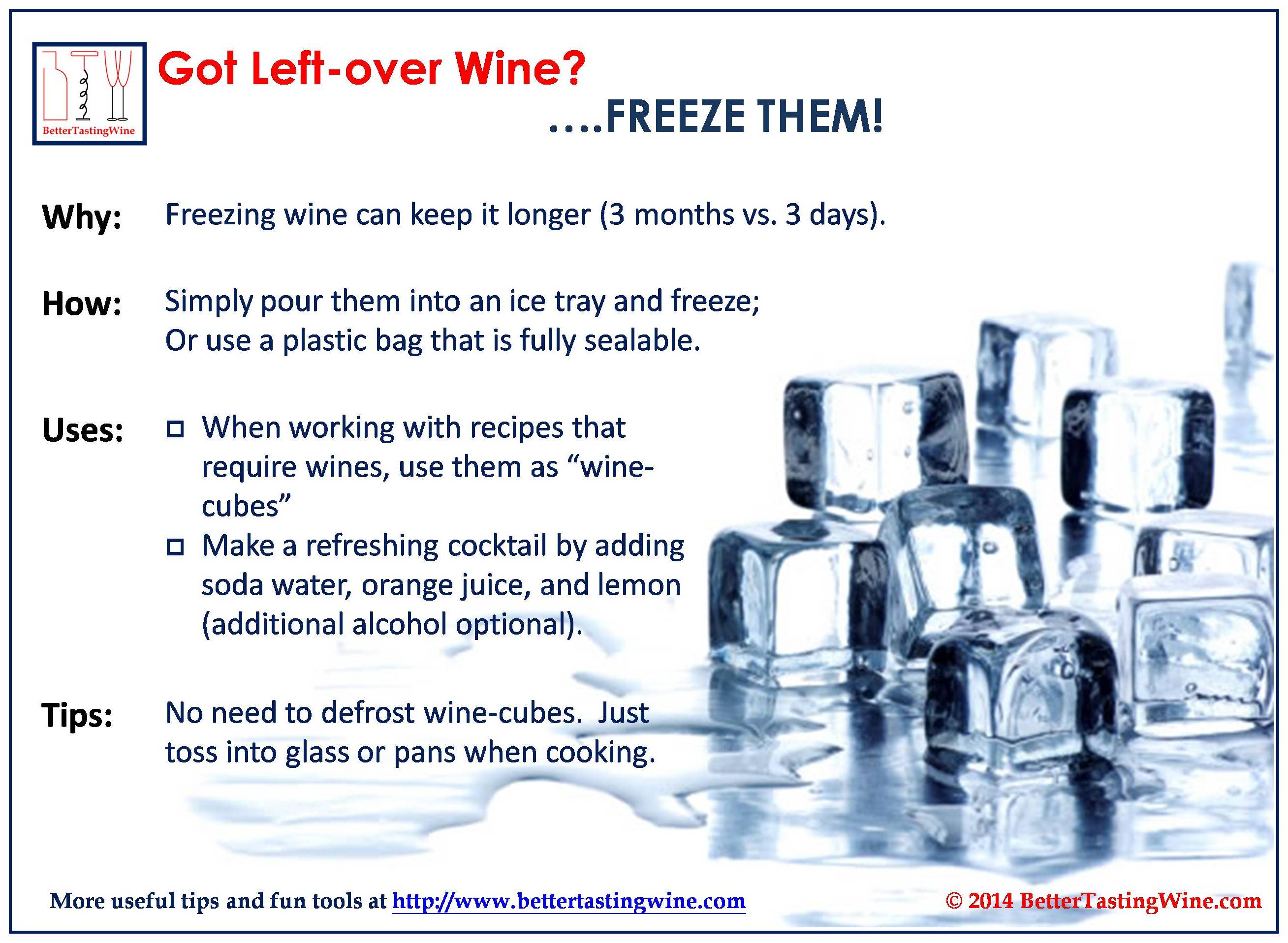 Make Wine Cubes
Have a bottle of wine that you just can't finish, and don't want to waste the little bit left over? Pour the wine into ice-cube trays, and freeze. Pull out a few cubes for a pan sauce that needs oomph, or toss some into a wine spritzer or pitcher of sangria.
Beer Buttered Popcorn
1 bowl of warm freshly popped popcorn
1 teaspoon salt
1 tablespoon unsalted butter
1 tablespoon IPA
1 tablespoon brown sugar
Put salt, butter, IPA, and brown sugar in a pot. Heat and mix. Pour over the popcorn. Enjoy!
Health
Drink Moderately to Live Longer
Researchers from the University of Texas Medical Branch, the Capital Institute of Pediatrics in Beijing, and Shandong University have completed a study of 330,000 Americans and found that moderate drinkers had the best mortality rates. Both non-drinkers and heavy drinkers were more likely to have cardiovascular and other diseases.
Tasting Notes
Each month we are out there looking for wines that "over deliver"; wines that offer more than others in their category and price level. We search out the wines that you can buy to help build your business; wines that make customers happy and keep them coming back. These are wines we rate as good buys and best buys. Check our notes. The opinions in the reviews are our own and unsolicited. We receive no compensation from wineries or brokers. This month there were several wine tastings that showed some very nice wines available at reasonable prices. The prices shown are approximate retails.
Revel Wine
The Revel Wine Portfolio Tasting showed a multitude of fine California Wines. We only had space to review a few select labels. Contact Revel Wines for a complete list. orders@revelwine.biz or in SoCal Tom Hunter (213) 309-7890 or Northern Cal Matthew Plympton (415) 425-5277.
Hunt & Harvest Wines Napa Sauvignon Blanc 2016, light, fruity, clean, clear, 13.0 ABV, $18. Willamette Pinot Noir 2014, soft, good nose, ruby colored, 13.0 ABV, $30. Napa Cabernet Sauvignon 2015, 94% Cab, 6% Merlot, full body, good nose, dark ruby, 14.0 ABV, $30. Napa Sangiovese 2013, soft, full, good nose, dark ruby, 13.5 ABV, $30. Contact Kate Walker kate@longmeadowranch.com or (707) 963-4555.
Johan Vineyards Willamette Gruner Veltliner 2014, light, fruity, slightly acidic, dry, 11.8 ABV, $24. Contact Morgan Hall morgan@johanvineyards.com or (720) 495-2934.
Pence Gamay/Pinot Noir Blend 2015, Santa Barbara County, dark ruby, good nose, medium body, good food wine, 13.5 ABV, $33. Contact Blair Pence blair@penceranch.com or (213) 910-1971.
Petrichor Vineyards Rose' of Grenache 2016, Sonoma, very bright pink, good nose, light acidity, medium body, $25. Contact Audra Chapman audra@petrichorvineyards.com or (727) 686-0526.
Ranchero Cellars, Paso Robles Grenache Blanc 2015, refreshing, minerality, character, good nose, light straw, 14.1 ABV, $23. Viognier 2014, fruity, minerality, good nose, light straw, 14.2 ABV, $25. Carignan 2013, spicy, full body, fruity, dark ruby, good nose, 14.2 ABV, $30. Contact Justin Trabue justin@rancherocellars.com or (805) 423-3765.
Rose & Son, Santa Ynez, Sauvignon Blanc 2016, organic, light, fresh, minerality, 12.9 ABV, $21. Merlot/Cabernet Sauvignon/Sangiovese blend 2015, (28% M, 22% CS, 28% Sang, Carmeniere 11%, Petit Verdot 5%, Malbec 6%) organic, dark ruby, good nose, balanced, interesting full blend, $25. Contact Jonathan Rosenson jonathan@roseandson.com or (818) 974-6610.
Garber & Co.
The Garber & Co. tasting showed an interesting collection of wines made from varieties of grapes not often seen. It was a rare treat. Contact garberandco@gmail.com or 310.455.1287 or cell (310) 922-4471.
Monge Granon Clarette de Die Tradition Deme NV, 85% Muscat a petits grains, 15% Clairette Blanche, demi sec, clean, clear, fruity, an excellent buy at $15.
Domaine Schaller Chablis 2015, bright, fresh, clean, clear, rich grape flavors, good nose, no oak, an excellent buy at $23.
Lelievre Cotes de toul Auxerrois 2016 (100% Auxerrois) pleasant, clea, clear, fruity, a good buy at $16.99.
Grenouillere Negrette 2014, 100% Negrette, dark ruby, good nose, medium body, $23.
Zorah Karasi Areni Noir 2014, Armenia, dark ruby, good nose, full body, $40.
Industry Calendar
9/11 Epic Wines – SFO
9/18 Chambers & Chambers – Newport Beach
9/18 Winemonger Imports/Blu Danube – LA
9/18 Epic Wines – LA
9/18 Garber - LA
9/19 Winemonger Imports/Blu Danube – SFO
9/25 WineWise – SFO
9/25 Youngs Estates – LA
9/25 Wine Warehouse – LA
9/25 Southern Wine – Long Beach
9/26 Youngs – Irvine
9/28 Youngs – Rancho Mirage
9/30 Mutual Trading - Pasadena
9/30 LA Beerfest - LA
10/2 WineWise – LA
10/2 Farm Wine Imports – LA
10/3 Chambers Italian - Oakland
10/4 Wines of South Africa – Marina del Rey
10/4 Chambers Italian – Santa Rosa
10/11 Chambers Sparkling - SFO
10/23 Mosaic – Palm Desert
Promotional Calendar
September
September California Wine Month
September National Bourbon Heritage Month
September 4 Labor Day
September 7 National Beer Lover's Day
September 9 California Admission Day
September 11 Patriots' Day
September 15 National Creme de Menthe Day
September 16-October 8 Oktoberfest
September 20 National Rum Punch Day
September 22 First Day of Autumn
September 27 German Oktoberfest begins
September 28 National Drink-a-Beer Day
September 29 National Coffee Day
September 30 National Mulled Cider Day
October
October National Applejack Month
October 4 National Vodka Day
October 9 National Pizza and Beer Day
October 14-15National Kegger Weekend
October 15 National Red Wine Day
October 16 National Liqueur Day
October 19 National Gin & Tonic Day
October 21 National Mexcal Day
October 27 American Beer Day
October 31 Halloween
New Legislation for 2018
Our industry has more laws controlling it than most industries. The State
Legislature and the ABC give us license privileges and can take them away. New alcoholic beverage laws were passed that will be effective in 2018. Many critical issues are pending. Do you know about them and are you prepared for the changes. Is your business safe? Members are encouraged to look through the Legislative Bulletin. If there is a new law that is a problem for your business, call the association office now. The CBRA is your voice in Sacramento. If you are not a member, join today. The CBRA is your only voice when it comes to new beverage laws.
Brands and Comments
The CBRA Newsletter has not accepted any payment from any of the brands mentioned
in this edition. The editor, Ron Ziff, welcomes comments at ron@cbraliquor.org
CBRA Membership Remains Open
Now, more than ever, access to your industry is important. The CBRA is California's
only statewide association of licensed retailers, and our membership continues to be
open for the first time in 20 years.
At CBRA we deal with licenses and regulations that affect the beverage business on a
daily basis. That's why CBRA offers practical solutions, unique products, services,
information, and timely advice for both large and small beverage businesses. With
reasonable fees, superior service, and associates that are easy to reach, CBRA helps you
to run your business better and easier. One of the most valuable services we offer is that
call to the ABC to ask your question. We can ask that question and keep you anonymous. That's something you just can't do yourself.
Join or renew your valuable membership today. You can't afford to delay.
California Beverage Retailers Association – California's Only Statewide Association of Licensees. We're #1!
If you would like to be removed from this email list, please email to
ron@cbraliquor.org with UNSUBSCRIBE in the subject line.