posted by
cbra
on
Fri, 02/05/2016 - 10:03
California Beverage Retailers Association
Beverage Bulletin
P.O. Box 56686
Sherman Oaks, CA 91413
(818) 693-5561
Ron Ziff, Editor
Ben Ziff, Publisher
April 2018
Barack and Michelle Obama enjoying a Guinness.
In this month's edition:
Headline News Stories - "Breaking" News, Heitz Cellars Sold
Celebrities in the Industry - Hillary Duff, Sammy Hagar, Adam Levine, Amar'e Stoudemire, Conor McGregor, Wu-Tang Clan, Jay-Z Beyonce, E-40, Jeezy, Ryan Reynolds, Alan Cumming
Books - Cocktails Across America, A Spot at the Bar, 100 Wines to Drink Aboard Your Yacht, Dear, Rum Diary
TV & Movies - The Miracle of Alto Adige, The High and the Mighty, It's a Wonderful Life, Wine Podcast
Popular Culture - The Masters, Coachella
Politics - Wine Pairing
Wine - Wine Aged Too Long, Reducing Oxygen Ripens Grapes, Record Price for Burgundy, Swimming With Wine, Petrus Loses Trademark Case, Greasy Pairing,
Grape Prices Rise, The Neighbors are Hopping Mad, Rough Market Ahead?, Strong Market Ahead?, Expert Opens Wine Bar, Counterfeit Wine, Century Vines, Century Champagne, New Distributor for Gallo, Spanish Crop Falls Short, Taking Off!
Beer - More Brewers, Beer Thieves, Infused Beer, Beer Recall, Free the Beer, In a Pickle, Ancient Brewery Found, Brewery vs. Farmers, UC Beer, Costco Commercials
Spirits – Crossovers, Tofu Liquor, New Kinds of Scotch?, Non-Alcoholic Gin,
Museums Bars, Vodka in the Clouds, Yappy Hours
Other Foods and Beverages - Only in California, Bargain Prices at Whole Foods, Best Burgers, 10 Best Restaurants of the Year 2018, Take Me Out to the Ballgame, No More Tabasco?
The Changing Market - Will Wine Lose?, Baseball is Losing, Vacation in Space,
Brick & Mortar Disaster Ahead, Amazon Sets New Record
Recipes - Gordon's Cup, Honeyed Coffee Gin & Tonic
Health - Non-Drinking Humans Evolving, Drink Beer, Not Wine, Good Thoughts: Red Wine, Red Wine and Stents, Less Sex – More Alcohol, Botox at the Bar!
...and as always Tasting Notes and the Industry Calendar
Headline News Stories
Bordeaux Wine Case Settled
Bordeaux's Criminal Tribunal handed down the guilty verdict April 5 against Grands Vins de Gironde (GVG), fining the company nearly $500,000 (with half the fine suspended). "It is a substantial offense," said Judge Caroline Baret, telling the courtroom that the victims were both supermarket shoppers, who were being unfairly duped, and the image of French wine, which risked being tarnished in foreign markets. Eric Marin, GVG's former director of purchasing and cellar manager, was also found guilty and given an $18,000 suspended fine. Charges related to a period when he was no longer in his post were dropped. Meanwhile, the company continues to deny that the wine was intentionally falsified. In a release they said that less than 1% of its wine was mislabeled due to an error by two inexperienced employees.
"Breaking" News
Sony Pictures is suing Knee Deep Brewing Co. for infringement of patent rights. The brewer is selling Breaking Bud Beer. Sony claims the brew is taking advantage of its Breaking Bad cable TV series. The series is the most watched and critically acclaimed of all time. The beer is 6.5% ABV. In his defense, Knee Deep's Jerry Moore stated: "I was surprised by the unexpected lawsuit filed against us by Sony, especially after they originally contacted us many years ago touting their appreciation of our Breaking Bud beer that made gentle fun of their show. Shortly after Breaking Bud was introduced, in early 2015, I actually received an email from a Sony representative that said: "It seems the Knee Deep team are big fans of Breaking Bad and we really appreciate the call out to our very popular show".
Heitz Cellars Sold
Heitz Cellars has been sold to Arkansas billionaire Gaylon Lawrence, Jr. Lawrence is a director of Tennessee Bank & Trust and a principal in The Lawrence Group, a farming company. Heitz Cellars was founded in 1961 by Joe and Alice Heitz. It grew from an original 8 acre vineyard to today's 1,100 acres ranch, of which 425 acres are planted in grapes. Varieties grown are Cabernet Sauvignon, Sauvignon Blanc, Chardonnay, Zinfandel, and Grigñolino. The 34 acre Martha's Vineyard section of the property will remain owned by Tom and Martha May. A contract will allow the grapes to continue to be sold to Heitz. Heitz Martha's Vineyard Cabernet Sauvignon sells for $250 750ml.
Celebrities in the Industry
Actress Hillary Duff has teamed with the Callie Collection to sell a line of Central Coast Wines. First out are Chardonnay, Pinot Grigio, and a Red Blend; all at $13.
Sammy Hagar and Adam Levine have a new Tequila/Mezcal blend called Santo Puro MezQuila.
Former NBA star Amar'e Stoudemire launched a kosher wine in time for this year's Passover. Stoudemire played for the New York Knicks and the Phoenix Suns in his 16 year career. He moved to Israel in 2016 to play for Hapoel Jerusalem and is a part owner of the team. The wines include Red Blends and Cabernet Sauvignon priced from $60 to $245.
Boxer, Conor McGregor plans to launch his Irish Whiskey named "Notorious." The boxer already has a fight on his hands as a brewer claims rights to the name.
Hip Hop group Wu-Tang Clan has a Vodka and 3 Liqueurs. Although the group is American, the spirits are only available in Australia.
Jay-Z has added a new Champagne to his Armand de Brignac line. The wine dubbed "The Twins" honor the two babies born to him and wife, Beyonce, last June. They are named "Sir" and "Rumi." Earlier, they had trademarked the name "Blue Ivy" in honor of their daughter. But, they were prevented from using it because someone had prior rights.
Rapper, E-40, whose real name is Earl Stevens, will be selling a line of Tequila in addition to the wines he is already selling. The Tequila is called E. Cuarenta which translates as E-40. There will be a Blanco, Reposado, and Anejo.
Grammy Award winner, Jeezy, an investor in Avion Tequila and founder, Ken Austin sold the brand to Pernod Ricard.
Actor Ryan Reynolds has purchased an ownership interest in Aviation Gin. The brand is bottled in Portland Oregon by Davos Brands. Reynolds will hold a seat on the board and will be the brand's creative director. He says "Aviation is the best tasting gin in the world. Once I tried it, I knew I wanted to get involved with the company in a big way. If you think all gin tastes the same, you'd be mistaken. Aviation is in a completely different league and I couldn't be prouder to be a part of the company."
Alan Cumming, star of CBS show Instinct, has opened Cumming's Bar in New York's East Village. Cumming first kindled his interest in the business when Campari sponsored a bar in his dressing room for the show, Cabaret on Broadway for a year.
Books
Cocktails Across America, Post Card View 30's, 40's, and 50's; by Diane Lapis and Anne Peck-Davis; Countryman; 224 pages; $24.95. Features a collection of vintage cocktail bar post cards from restaurants, saloons, ice skating rinks, and bowling alleys. Gives recipes of the featured drinks from the venues including Ramos Gin Fizz, Moscow Mule, Hemingway Daiquiri, Thin Ice, and a Las Vegas Atomic Cocktail. Read the book and remember restaurants like the Brown Derby and the Carousel Lounge.
A Spot at the Bar by Michael Madrusan and Zara Young, Hardie Grant Publishers, 224 pages, $29.99. What'll it be? Something light and refreshing, or big and boozy? Join the internationally acclaimed team from The Everleigh for an evening of good drinking, festive hosting and classic style. From an aperitif at sundown, a nightcap in the early hours, right through to a hair of the dog the morning after, we invite you on a wild and romantic journey in celebration of the golden era of drinking and entertaining. Madrusan is the owner of The Everleigh, Australia's best cocktail bar. The Everleigh is more than just a bar - it is an experience. With more than three hundred recipes for fond and forgotten classic cocktails, including favorite variations, A Spot At The Bar will transport you back to the golden era of elegant drinking. Tips and tricks for hosting the perfect soiree, what to pour into your punch bowl and how to dress with savvy style, round out a cocktail book like no other.
Iconic: 100 Wines to Drink Aboard Your Yacht by Edward Dunnet, Onshore Cellars. Some of the wines included in the book include, Château Haut-Brion, Domaine de la Romanée-Conti, Gaja, Sassicaia, Penfolds, Dominus, Ataraxia and La Rioja Alta and, one expects, a fair bit of Champagne and rosé as well. Selling wine to yachts is totally unique in that the demands of this industry are unlike any other. Yacht owners want to drink the world's most impressive wines on a daily basis and this book is designed for them to keep onboard as a reference point while they are enjoying a bottle.
Dear, Rum Diary by PuPaDo Family, Create Space Independent Publishing, 84 pages $6.99. Make an awesome month with 31 best Rum recipes. Cooking with Rum, making cocktails and summer drinks.
TV & Movies
The Miracle of Alto Adige
James Suckling has released a documentary, The Miracle of Alto Adige. The 23 minute film is about the vineyards on the steep mountainsides of northeastern Italy. Suckling says "Alto Adige is a picturesque place, dotted with castles, small towns, and apple orchards as far as the eye can see. But it's on the steep mountainsides, where most of the grapes are grown, and some of those vineyards are as high as a thousand meters, making them extremely difficult to farm. If you believe that greatness is never easy, then the producers in Alto Adige are making great wine because it certainly isn't easy."
The High and the Mighty
We just finished watching the 1954 John Wayne film The High and the Mighty and were struck by the magic bottle of Scotch. In this disaster film an airplane engine fails and John Wayne is able to quietly get the passengers and crew safely home. As the stewardess, played by Doe Avedon, pours Scotch for two passengers. One old fashioned glass is 1/2 full and the other about 1/3. Suddenly the plane shudders and the drinks slide to the side of the galley. When she slides the two glasses back, they are now both 3/4 full and have ice cubes in them. Truly magic Scotch on the rocks!
It's a Wonderful Life
Fitzgerald's Bar in Chicago was transformed into Nick's Bar in Pottersville for a special event commemorating the movie, It's a Wonderful Life. "Nick's is the bar that exists in the world that George Bailey doesn't exist in," the bar explains on the event's Facebook page. "It's a juke joint atmosphere, where they serve hard drinks for men who want to get drunk fast." The event was an immediate sellout when 5,000 people expressed an instant interest in attending. The bar finally limited attendance to 80 patrons per night.
Wine Podcast
E&J Gallo has launched of a new wine-based podcast hosted by American comedian and actor Ben Schwarz with the aim of breaking down the world of wine for complete novices with equal parts humor and education. Schwarz is best-known for his role of Jean-Ralphio Saperstein on the Amy Poehler-penned sitcom Parks and Recreation. "Taping this podcast was a blast. It was just me and my buddies sitting around, having wine and silly conversations, but also learning something along the way," said Schwartz. "I've always loved wine, but now I can sound like I know a little something about it." The first episode, titled, "Can I Ask You a Question, Sweet Winemaker?" features winemaker, Mark Williams, from Napa's William Hill Estate Winery, who discusses the best places to drink wine and the legacy of California and New Zealand wine regions.
Popular Culture
The Masters
The Masters Golf Tournament was the site of an unusual game of "Beer Pong." Australian golfer, Jason Day, shanked his ball into a grove of trees off the 4th tee. After hitting a tree, it bounced off a spectator's shoulder and landed in another man's plastic cup of beer. What to do? Bring out the rule book. The fan had to empty his cup and gulped it down. The Day had to identify the ball. Finally, he got a free drop and was able to continue his game.
Coachella
Electric Sky was the only wine for sale at the Coachella Music Festival. The wine is packed in four plastic cups stacked in a plastic sleeve. Price at retail $12.99. The brand was designed for sale at music festivals and album premieres.
Politics
Wine Pairing
What kind of Wine do you pair with tariffs? California Wine. Some vintners in northern California and the Central Coast are anticipating a tough market ahead. They have spent years building their brand names in China. The retaliatory 15% tariff will put them at a disadvantage against competitors from Australia and New Zealand who already have an advantage in the cost of taxes, land, and shipping. Wines from New Zealand, Chile, Georgia, all ready enter tariff free. Next year Australian Wine will also be tariff free. All wines except for those coming from the U.S. will have a 1% decrease in VAT. European Wines will also appear more attractive in comparison. California, Oregon, and Washington exports to China totaled $167 million last year. The total tax on U.S. Wine will range from 48.2% to 67.7%.
Wine
Wine Aged Too Long
A team of archaeologists in Shaanxi Province excavating tombs in western China have found a sealed 2000 year old bronze vessel that contained 300 ml of Rice Wine that was still liquid. The vessel and wine date to the Qin Dynasty, sometime between 475 and 206 BC. According to Dr Zhang Yanglizheng "the liquid is a milky white and a little muddy."
Reducing Oxygen Ripens Grapes
The University of Adelaide published a study in the Journal of Experimental Botany, "Hypoxia in grape berries: the role of seed respiration and lenticels on the berry pedicel and the possible link to cell death." Basically, the study found that there are pores in the stem of the grape berry that carry oxygen through channels into the grape. Shiraz grapes turned out to have smaller channels for oxygen transmission than Chardonnay Grapes. During ripening the amount of oxygen is reduced. The effect is increased by the higher temperatures of global warming. The study was led by Dr. Steve Tyerman.
Record Price for Burgundy
A case of Domaine de Romanee Conti 1988 set a new record for a case of Burgundy wine in a European auction. The wine drew $364,340 at Christies in March.
Swimming With Wine
Wine bottle inflatables are available for summer fun in the pool or at the beach. The floats come in two varieties; Cabernet Sauvignon or Sauvignon Blanc. Buy them from Kangaroo on Amazon at $29.95.
Petrus Loses Trademark Case
Chateau Petrus has lost its case against smaller Petrus Lambertini. The famed chateau had said the use of the name "Petrus" on the label will confuse consumers to think it is a second label of the prestige chateau. The court did not agree. Petrus Lambertini, a Bordeaux blend, has been marketed for 6 years. The name refers to the Mayor of Bordeaux, who refused to turn over the keys to the city to the King of Castile, who conquered the region in the year 1208.
Greasy Pairing
Moet & Chandon's Communications Manager, Marie-Christine Osselin, has come up with what she calls "a low brow pairing", french fries and Champagne. "Champagne drinkers don't have to frown on the junk food, insisting that the saltiness and crunchiness of the fries can best compliment Champagne's zesty acidity and its fine bubbles. Invariably, a low dosage good quality Champagne works well with salty dishes."
Grape Prices Rise
In 2017 prices for California Red Wine grapes were up an average of 5.1%; White Wine grape prices were down 3.6% ; Napa Valley Red wine grape prices showed the biggest increase at 11.5%.
The Neighbors are Hopping Mad
The vineyards at Millbrook Winery in Australia have been continuously raided by kangaroos. A hungry kangaroo can eat more than 100 lbs of grapes a day. The winery had planned and had permits to start culling the animal population. Then, there was a backlash from angry local residents who took to Facebook, calling the company "murderers." The winery relented and canceled the project.
Rough Market Ahead?
Silicon Valley Bank has released its State of the Industry Report for 2018. The report predicts that the Wine industry is nearing the end of a 20 year growth cycle. Overall dollar volume has increased, while tonnage has decreased slightly. The factors involved are aging baby boomers, growth of the millennial segment. Sales have increased at the over $10 level, while there is downward sales pressure at the lower and upper ends of the market.
Strong Market Ahead?
Vinexpo says that U.S. sales of wine were $34 billion in 2016. The marketing analysts
predict that sales will rise to $45 billion in 2021. Further, they say the U.S. will lead in both volume and value increases of both still and sparkling wines. The star performer in wines being shipped to the U.S. is New Zealand.
Expert Opens Wine Bar
James Suckling will be opening a wine bar in Hong Kong called James Suckling Wine Central. He considers it both a Wine bar and a showroom. As a showroom it will show the wines he has chosen including Great Wines of the World, Great Wines of Italy, and Bordeaux Confidential. All the Wines will be served by the glass.
Counterfeit Wine
Police in Zhengzhou City have broken up a ring that has been producing fake Penfold's wine for over a year. 50,000 bottles that would retail for $80 U.S. to $1270 U.S. were confiscated. The entire lot would have sold for $2.8 million U.S. Authorities found a fully integrated counterfeiting operation. Wines were bottled, branded with fake labels, and shipped to the group's own stores in five major cities including Shanghai and Beijing.
Century Vines
Cos d'Estournel will be releasing a limited number of large format bottles from the 2015 vintage. Labeled COS 100, each bottle will be engraved and numbered. There will be ten 12L Balthazars and one hundred 3L Double Magnums. Most will be sold privately, but two will be sold at auction in New York and Hong Kong. The auction proceeds will go to charity. The wines were made from a plot that was planted during the First World War by women. At the time, the men were at war and it was up to the women to sustain the vineyard plantings. The plot is known as "Parcelle des Femmes." Wines from century old vines in such a special property should be truly exceptional.
Century Champagne
On February 23, 1900 the cellars of Pol Roger suffered a catastrophic loss as the roof and parts of the caves of its Wine storage facility collapsed after heavy rains. The ground had dropped 13 feet below the cellar buildings trapping 1.5 million bottles. Later the area was covered with concrete. The winery is currently undergoing an expansion and the owners decided to see if they could retrieve anything form the buried storage area. So far excavations have yielded 19 intact bottles from the 1890's. The exact vintage is not known, but they are thought to be from 1887 to 1898.
New Distributor for Gallo in China
E&J Gallo and Nanpu Distributors have ended their agreement for distribution of Carlo Rossi Wines in China. The wines will now be distributed by Eternal Asia. The brand is selling at a rate of about 800,000 cases annually. Gallo had hoped to see sales increase to 1.5 million cases by 2020 but may face headwinds from new Chinese tariffs.
Spanish Crop Falls Short
The 2017 wine grape harvest in Spain was down 20% from the harvest a year earlier. The decline was caused by frosts, heat waves, and drought.
Taking Off!
...and finally. The Exhibit Bar in the Balham district of London, UK is putting on Naked Speed Dating events. Tickets cost ₤20. Guests must be between 23 and 35, take off their clothes in the changing rooms, and mingle while enjoying "bottomless Prosecco." (Editor: "Bottomless"?)
Beer
More Brewers
Figures released by the U.S. Brewers Association show that there are now 6,000 brewers in the country. That's an all time record.
Beer Thieves
Police in the Quebec city of Longueuil are looking for information leading to the arrest of a gang that stole three trucks from a depot that were scheduled for deliveries the following day. Loaded on the trucks were 20,000 cases of Grolsch Beer and quantities of beef jerky and pepperoni. The trucks were later found abandoned empty in Montreal. The total theft was valued at C$500,000.
Infused Beer
Keith Villa has retired from Miller/Coors and is hoping lightning strikes him twice. Villa recently retired from the giant brewer with a plan for new ventures. He first gained recognition by developing Blue Moon Beer. Blue Moon has become the best selling Beer that isn't a lager. His new venture is non-alcoholic Beer that gets its kick from an infusion of THC, the active ingredient in M--------. The brews are planned in three formulations; light, regular, and heavy bodied.
Beer Recall
AB/Inbev's Stella Artois has recalled a batch of the beer with broken glass fragments in the bottles. The beer was packed in 330ml bottles in multi-packs and in Best of Belgium assortments distributed in the U.S. and Canada. The affected bottles can be identified by code by filling out the form on the website https://stellaartois.expertinquiry.com/
Free the Beer
The Canadian Supreme Court sent down a ruling that allows provinces to prohibit the movement of alcohol. Gerard Comeau had bought beer in Quebec and took it home to New Brunswick to take advantage of lower prices in 2012. A police inspection at the border found 30 cases of beer in his vehicle. The province fined him C$240. The Supreme Court upheld the fine. The press had called the case "Free the Beer."
In a Pickle
A new trend in beer drinking is sweeping the Midwest. They're putting a pickle in a mug of beer. The vinegar and salt of the pickle provide a contrast that brings out the brightness and depth of flavor in the beer. Some are branching out and using green olives or pepperoncini.
Ancient Brewery Found
Researchers from the Oriental Institute have been studying the ruins of Tel Edfu 400 miles south of Cairo. There they found remnants of ancient buildings that were involved in the related production of making beer and bread. The site was active about 2400BC at the end of the fifth Egyptian dynasty.
Brewery vs. Farmers
A battle is developing over the construction of a new brewery in Mexicali, Baja California. The plant could be finished in 2020, produce 58 million cases of Corona and Modelo a year. Eventually, production could be four times that amount. It will cost $1 billion to build and will provide 750 permanent jobs. The problem is that the brewery would use 132 million gallons of water a year and eventually four times that. Local farmers want all that water and are fighting to keep it.
UC Beer
UC Davis has teamed with Sudwerk Brewing Co. and Doug Muhleman, a former VP at Anheuser-Busch to make its own beer from rice. The brew is named Gunrock after the mustang that is the university's mascot. The rice was locally grown and donated by Jack DeWit, a Davis alumnus. The beer is said to be light bodied, flavorful, and easy to drink.
Costco Commercials
...and finally. Randy Colpek is a fan of Costco's Kirkland Light Beer. He drinks 18 cans a day; 5 days a week. He has filmed his own commercials for the beer. "Kirkland Light! Available in 48 packs where you buy your pants." See the videos at
Spirits
Crossovers
Re-using barrels and mixing types of beverages seems to be a growing trend. 1,000 Stories Zinfandel is aged in used bourbon barrels. Cooper & Thief Napa Sauvignon Blanc is aged in used tequila barrels. Código 1530 Tequila is aged in used Napa Cabernet Sauvignon barrels. UK's Chapel Down Winery is brewing a beer with Chardonnay lees. Budweiser has brewed a limited edition flavored with Jim Beam barrel staves. Cerveza Mica in Spain has mixed a batch of Tempranillo grapes grown nearby into the beer. Upon arrival they are cold macerated and blended in without fermentation.
Tofu Liquor
Professor Liu Shao Quan and student Chua Jian Yong, from the National University of Singapore, have successfully found a way of turning tofu whey into a new alcoholic beverage – sachi – which means 'bliss'. The process takes three weeks and involves soaking and grinding soy beans to make soy milk, followed by coagulating it to form tofu and then separating the tofu from its whey. Sugar and acid is then added to the whey, which is then fermented to form an alcoholic beverage. Chua said, "Very little research has been done to transform tofu whey into edible food and beverage products. I had previously worked on alcohol fermentation during my undergraduate studies at NUS, so I decided to take up the challenge of producing an alcoholic beverage using whey. The drink turned out to be tasty, which was a pleasant surprise."
New Kinds of Scotch?
Word has gotten out that Diageo has been in talks with The Scotch Whiskey Association in an attempt to make drastic changes in production rules. One of the changes was to allow whiskey to be aged in used tequila barrels. Another would allow chocolate to be mixed into the mash during fermentation. Still another would allow the making of low alcohol versions of whiskey. In a statement Diageo said "We are always looking at ways to innovate to both protect and secure the future success of the category." The association has the power to make and enforce rules on producers. They stated that "Scotch Whisky is a product renowned for its quality, craft and heritage. The regulations which govern the production of Scotch Whisky are the solid foundation on which the industry's success is built."
Non-Alcoholic Gin
Surendran & Bownes has released a non-alcoholic gin called Labdanum. The 0% alcohol 'spirit' and is designed to give "discerning drinkers a detox-friendly spirit alternative". Its makers claim the organic, vegan-friendly, alcohol-free 'spirit' is similar to the 'London Dry' gin style, but has "added complexity from the use of exotic aromatics more common in perfume making than gin production". The price tag is about $27 a 750ml.
Museums Bars
Some museums have bars to make adults feel more at home while looking at exhibits. The Met. New York's Metropolitan Museum of Art has 9 restaurants with 38 full time employees. According to Clyde Jones III, a Met senior VP, "People have gotten more sophisticated in their consumption of food and beverage. We need to be able to provide them that interesting wine, that craft beer, that specialty cocktail. They view us as a place that's at the top of its game from an art perspective. So they want us to be at the top of the game from a hospitality perspective as well."
Exploratorium. This San Francisco museum runs an annual event called Science of Cocktails. Guests have the run of the 75,000 foot museum while they enjoy their favorites. "Many adults are interested in drinking and in mixology, so this event encourages visitors to engage in an inquiry-based drinking experience. How are spirits made? Why do bitters taste good in some drinks but not in others? What's happening to my brain and body when I drink alcohol? Does it really matter whether I drink beer or liquor first?" says Martin Rock, Director of Communications.
San Diego Museum of Art. The museum's restaurant, Panama 66, features California Wines, Craft Beers from San Diego County, Baja California, and cocktails made with Craft Spirits and local produce.
Vodka in the Clouds
Hilton Head Distillery is capturing water vapor from the clouds that pass over the island and using it in the proofing process to make Aermoor Vodka. The resulting product is "a pure, crisp, clean vodka with a subtle, sweet aroma".
Yappy Hours
...and finally. The Ritz Carlton in Laguna Niguel is offering a series of cocktail events for dogs. Once a month you can take your best friend along to the bar. Bowser will get a complimentary homemade dog biscuit and a drink of water infused with a choice of chicken, cheese, bacon, or liver. The monthly event supports Wounded Veterans Initiative of Canine Companions for Independence. Special events are scheduled for Yappy Howl-o-Ween with prizes for the best costume and Yappy Howl-iday with a picture with Santa.
The Kelvin restaurant at the W Hotel in San Diego has Paws on the Patio every Wednesday. Pets get dog biscuits, doggie ice cream, or carrot sticks.
Other Foods and Beverages
Only in California
What's the latest food trend? "Modern Mexican". It's expression is in vegan Latino food made without cholesterol or cruelty. The edibles can be found in pop-ups from Oakland to San Diego, but are most prevalent in Orange County. Loreta Luiz's La Vegana Mexicana operates out of an incubator kitchen and sells at farmer's markets and grocery stores. Featured foods are plant based and don't pretend to be faux meat. Lard-free tamales — stuffed with nopalitos in tomatillo sauce, mushrooms in chile guajillo, black bean and mole are among the favorites. Vegan by Victoria's (709 N Bristol St, Santa Ana) is run by Earvin Lopez. The panaderia bakes daily including cookies, conos, cuernitos coated in sugar, vegan tres leches cakes, two kinds of flan and stuffed bolillo rolls. Best of all is vegan concha. Taqueria La Venganza makes its food with a variety of plant proteins including tofu. Chef Raul Medina is known for his carnitas, chicharron, tripas, vegan pozole, vegan quesadillas, and vegan barbecue. At Mission Bar (302 N Main St, Santa Ana) Tuesdays and Saturdays.
Bargain Prices at Whole Foods
A study done in Cincinnati showed that a $50 bag of groceries from Whole Foods delivered through Amazon Prime Now is about 5% cheaper than a bag from Kroger delivered through Instacart.
Best Burgers
Food & Wine Magazine, in its endless quest to find the best in comestibles has named the 27 "Best Burgers in America." Here the 6 California winners are listed along with F&W's description.
San Franscisco – Mission Bowling Club. These outrageously delicious burgers made their debut at the short-lived Mission Burger pop-up in the Duc Loi Supermarket in 2009 and have now found another unorthodox home: this six-lane bowling club. Its loose, juicy patties are seared in beef fat, topped with Monterey Jack cheese and caramelized onions and served in buns from Acme Bread.
Los Angeles - A Frame. F&W Best New Chef 2010 Roy Choi gives his architecturally impressive burger an Asian twist with toasted sesame seeds in the mayo and fresh shiso leaves on top of the lettuce. In keeping with Choi's more-is-more ethos, there's also tomato confit, pickled red onions, hot sauce and sharp cheddar cheese, all on a buttered brioche bun.
Throughout California – In 'n Out Burger. Even superstar chef Thomas Keller is a fan of the West Coast chain—and with good reason. The cooked-to-order burgers are made with beef from Southwest ranches and served with hand-cut fries. For a messier, more indulgent experience, order your burger "Animal Style" for extra sauce and chopped grilled onions.
San Francisco – Zuni Cafe'. Signature Burger: House ground hamburger (served in a grilled rosemary focaccia). Instead of traditional cucumber pickles, legendary chef-owner Judy Rodgers accents her burgers with thin-cut zucchini strips pickled in apple cider vinegar, mustard seeds and turmeric.
Los Angeles – Father's Office. Signature Burger: The Office Burger (dry-aged beef patty topped with Gruyère cheese, Maytag blue cheese, arugula and applewood-bacon compote).
Sang Yoon's noodle bar Lukshon might be getting a ton of buzz, but the provocative chef first made his name with his dry-aged beef burgers. Among the finest in the country, they justify the strict no-ketchup policy. The 36 craft beers on tap change seasonally.
Healdsburg – Healdsburg Bar & Grill. Signature Burger: HBG Burger (fresh-ground Meyer Natural Angus beef patty topped with Alexander Valley Gourmet pickles, served in a toasted Costeaux Bakery sourdough bun; roasted garlic mayonnaise on the side).
For his terrific burger, star chef Douglas Keane uses a 70-30 lean-to-fat ground beef ratio.
10 Best Restaurants of the Year 2018
Food and Wine Magazine named its 10 Best Restaurants of the Year for 2018. Two from California made the list. Reems in Oakland features Middle Eastern food made with an Arab point of view. Chef/owner Reem Assil owes her menu and touch to a Syrian-Palestinian ancestry. She grew up in Massachusetts and after a trip to Lebanon, decided to try a restaurant in California. "I wanted to cultivate understanding in the most humane way possible—through food. I look around my restaurant on a Saturday afternoon. I see Jews and Arabs eating together. I see people who are not politicized just enjoying a meal. And I think, this is what peace looks like." Reems 3301 E. 12th St., Ste. 133, Oakland.
Lasa in Los Angeles also made the list. The restaurant is the dream of brothers Chad and Chase Valencia. The proprietors are native Angelenos, whose parents came from the Philippines. Filipino food stems from a blend of Chinese, Spanish, and Pacific flavors. The Valencias have taken this cuisine and curated it with western cooking methods. The menu reflects the multicultural metropolis that is 21st Century Los Angeles. Lasa 727 N Broadway, Los Angeles.
Take Me Out to the Ballgame
California's stadiums have a menu of new foods in time or baseball season.
Angel Stadium: Halo Dog. An all beef hot dog with bacon, charro beans, shredded cheese, and pico de gallo.
AT&T Park – San Francisco Giants: Gilroy Garlic Fries. French fries with minced garlic and parsley.
Dodger Stadium: Nacho Helmet. Carne Asada Nachos in a 64 ounce plastic helmet.
Oakland Coliseum – Oakland A's: Ribs & Things. Pork ribs, links, tri-tip, and BBQ sauce.
Petco Park – San Diego Padres: Baked Bear Ice Cream Sandwich. A slab of ice cream between two fresh baked cookies.
No More Tabasco?
The world's supply of Tabasco Sauce is in danger of disappearing forever. The peppers that make the sauce are grown only on Avery Island in Louisiana. With global warming the island and the marsh that surrounds it are rapidly sinking into the sea.
 
The Changing Market
Will Wine Lose?
Rabobank reports that wine sales could suffer if M_______ is legalized nationwide. The biggest wine consuming demographic groups could make the switch if allowed. Wealthy middle aged women and other groups are most likely to make the change. Currently, they have the most to lose if caught with illegal substances. 79% of consumers believe it is safer than alcohol. 34% of women, 56% of baby boomers, and 67% of those earning more than $50,000 say they would give it a try.
Baseball is Losing
Attendance is down precipitously at Major League Baseball games. No one knows why. The average attendance so far this year for 221 games is 27,532. That's an average of 2,700 less than last season. It could be that attendance will rise as the weather gets better. But last year attendance fell after the season got going. What is happening? Are fans going to other sports like soccer? Or is it something else? Whatever the cause, it is not good for sales of hot dogs and Beer.
Vacation in Space
Houston-based Orion Span Inc intends to open the first luxury hotel in space in 2021. Aurora Station will host 6 guests for a twelve day stay in space. Two crew members will prepare meals and handle other duties. During the trip guests will see 384 sunrises and sunsets. The cost only $792,000 a day per person.
Brick & Mortar Disaster Ahead
UBS tells us that 16% of retail sales are currently done online. The sales analysis company predicts that the figure will rise to 25% by 2025. Assuming a 2% growth in overall sales, that means that the shift from brick-and-mortar stores to online will close another 80,000 stores nationwide. To put it in a different perspective, it's the equivalent of closing 10 Toys 'r Us chains every year for the next 7 years.
Amazon Sets New Record
Amazon has revealed that Amazon Prime now has 100 million members. Founder and CEO Jeff Bezos wrote "13 years post-launch, we have exceeded 100 million paid Prime members globally. In 2017 Amazon shipped more than five billion items with Prime worldwide, and more new members joined Prime than in any previous year – both worldwide and in the U.S. Members in the U.S. now receive unlimited free two-day shipping on over 100 million different items."
Recipes
Gordon's Cup
from the book A Spot at the Bar
2 oz. gin
¾ oz. Simple syrup (1:1)
5 fresh lime chunks
6 cucumber slices, 3 reserved for garnish
Tools: muddler, shaker
Glass: double rocks
Garnish: cucumber slices, flakes salt, fresh-ground pepper
Add lime, cucumber and simple syrup to a shaker and muddle. Add the gin and cracked ice and shake briefly. Pour into a chilled double rock glass. Garnish with fresh cucumber and sprinkle with salt and pepper.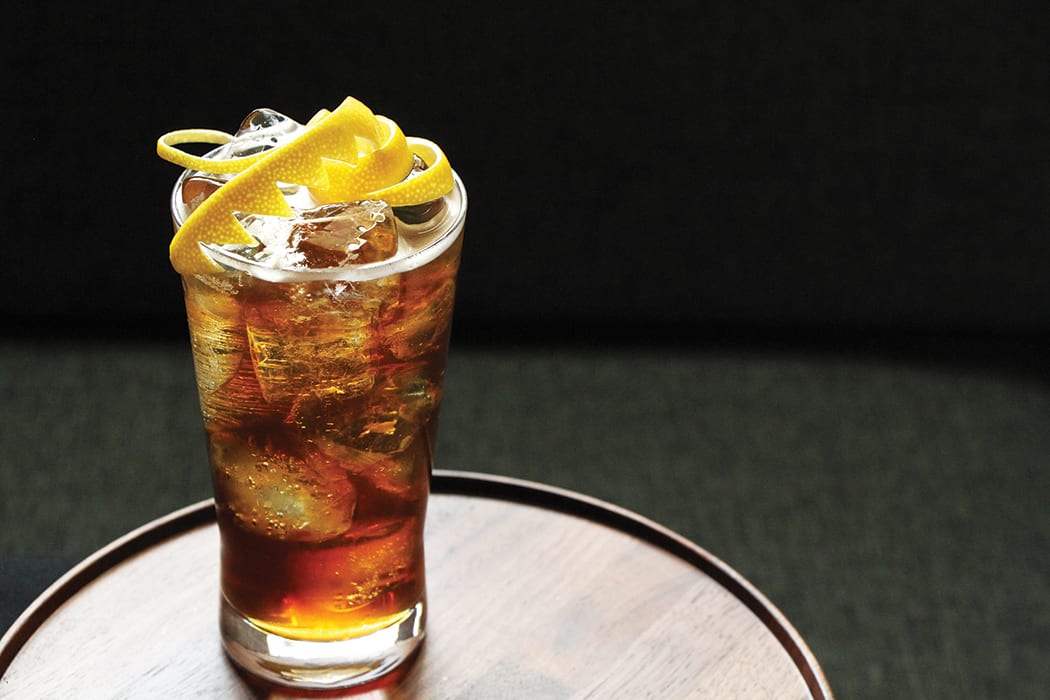 Honeyed Coffee Gin & Tonic

served at
Kumiko
in Chicago
1 oz. gin
½ oz. Honey syrup (2:1)
1½ oz. cold-brew coffee
Tonic water
tools: barspoon
glass: Collins
garnish: lemon peel
Fill a glass with ice. Stir to chill the glass, then strain out the melted water. Combine the coffee, honey syrup and gin in the glass. Stir to chill, then top with tonic water, add more ice as needed and twist a lemon peel over the top of the drink and use as a garnish.
Health
Non-Drinking Humans Evolving
A new study published in the Nature Ecology & Evolution Journal shows that human genes are evolving to make alcohol consumption unpleasant. The gene variant that has been discovered controls the synthesis of alcohol in the body. The ADH gene breaks alcohol into components including acetaldehyde faster than the body can digest it, making people feel sick. The study was done by Penn Cell and Molecular Biology doctoral student, Kelsey Johnson and Pharmacology Professor, Benjamin Voight.
Drink Beer, Not Wine
A study led by Professor Mike McCollough of Cal State San Luis Obispo found that Craft Beer is better for you than Red Wine. The Beer is not pasteurized and contains niacin and brewer's yeast which are known to reduce bad cholesterol. "We all know that a glass of red wine is good for you, but it turns outs a pint of craft beer is better, it has got more good things in it," Professor Mike McCullough, said "Your instances of heart disease and your instances of type 2 diabetes decreases on an amount that's comparable, if not a little bit more, than if you are drinking red wine."
Good Thoughts: Red Wine
A study published in Scientific Reports shows that consuming Red Wine in small doses contributes to cleaning one's mind. Dr Maiken Nedergaard at the University of Rochester Medical Center said "In this study, we have shown for the first time that low doses of alcohol are potentially beneficial to brain health, namely it improves the brain's ability to remove waste." The study was done on mice, but was the equivalent of 2.7 drinks per day in humans.
Red Wine and Stents
Professor Tammy Dugas at the LSU Department of Comparative Biomedical Sciences is studying adding Red Wine compounds to the stents that are inserted in arteries to prevent the arteries from narrowing. The compounds would be slowly released into the blood as the artery heals from a heart attack.
Less Sex – More Alcohol
A study led by Galit Shohat-Ophir at Bar-llan University in Israel showed that male fruit flies that were deprived of sex were more likely to consume alcohol than flies that mated.
Botox at the Bar!
...and finally. The Christopher Hanna salon in Sydney, Australia is being criticized for offering oysters, caviar, cocktails, and Champagne with cosmetic treatments like Botox or face lifts. "This is unorthodox, there is often a degree of trivialization of these types of treatments," Gazi Hussain, vice president of the Australian Society of Plastic Surgeons. Christopher Hanna's co-founder, Sam Badawi, defended the decision to mix drinks with treatments. "This is a place where people are pampered to the max and everything just flows, from the food to the treatments to the cocktails. Whether you've booked in for hair styling or having injectables or laser, we've designed it so you can have a drink and fine food while you're having your hair done."
Tasting Notes
Each month we are out there looking for wines that "over deliver"; wines that offer more than others in their category and price level. We search out the wines that you can buy to help build your business; wines that make customers happy and keep them coming back. These are wines we rate as good buys and best buys. Check our notes. The opinions in the reviews are our own and unsolicited. We receive no compensation from wineries or brokers. This month there were several wine tastings that showed some very nice wines available at reasonable prices. The prices shown are approximate retails.
Planet Wine
The Planet Wine tasting offered a number of good to excellent wines and some very good buys.
Chateau Haut-Coulon 2015, Cotes de Bordeaux, from a small vineyard in Cadillac, less than 4 hectares, a blend of Merlot, Cabernet Sauvignon, Petite Verdot. Full body, bright, good nose, very dark color. Our favorite at the tasting, $29.
Champagne Lombard Brut NV, bright, fresh, good nose, good bubble structure, a traditional blend of Chardonnay, Pinot Noir, and Pinot Meunier. One of several expressions by this house. Will please the public with a reasonable price of $49.
Anne de Joyeuse had several Vin de Pays wines that are particularly suited to the California retail market, but would also do well as restaurant by the glass selections. Sauvignon Blanc 2017, good nose, fruit forward, fresh, crisp. Pinot Noir 2016, good nose, dark ruby, light and fresh. Merlot 2015, round, fruity, full, good nose, a very satisfying Merlot. Malbec 2016, full, round, good nose, deep color. Chardonnay 2017, bright, easy drinking, good nose balanced. All would sell well and keep your customers very happy and coming back at $12 to $15.
For these and other Planet Wine selections contact Los Angeles General Manager, Guillaume Blanchet Guillame@PlanetWineLA.com or 415-307-6006; Orange County and Santa Monica Samantha Trichard Samantha@PlanetWineLA.com or 323-681-5413; Downtown LA & Pasadena Adrien Rodriguez Adrien@PlanetWineLA.com or 415-612-0348. In Northern California call 510-232-9463.
Industry Calendar
4/10 Revel Wine – SFO
4/16 New Zealand Winegrowers - SFO
4/18 Northern Cal Produce Expo – Alameda
4/19 Spring to Loire - SFO
4/24 Oregon Wine Trail – LA
4/24 Rising Star Wine Group - Carmel
4/25 Alto Adige - LA
5/19 Paso Robles Wine Festival
5/21 Henry Wine Taste the World - SFO
5/22 Henry Wine Taste the World - LA
5/23 Henry Wine Taste the World – San Diego
Promotional Calendar
Holidays
April
April 1 April Fool's Day
April 6 New Beer's Eve
April 7 National Beer Day
April 9 International Gin and Tonic Day
April 17 World Malbec Day
April 19 National Amaretto Day
May
May 4 National Homebrew Day
May 5 National Homebrew Day (First Saturday in May)
May 5 Cinco de Mayo
May 7 National Cosmopolitan Day
May 9 National Moscato Day
May 10 Mexican Mother's Day
May 13 Mother's Day
May 13 World Cocktail Day
May 16 Mimosa Day
May 19 World Whiskey Day
May 21-26 American Craft Beer Week
May 25 National Wine Day
May 28 Memorial Day
May 30 Mint Julep Day
June
June 4 National Cognac Day
June 7 National Moonshine Day
June 9 National Gin Day
June 10 National Iced Tea Day
June 14 National Bourbon Day
June 17 Father's Day (3rd Sunday in June)
June 19 National Martini Day
June 27 National Orange Blossom Day
June 30 National Mai Tai Day
New Legislation for 2018
Our industry has more laws controlling it than most industries. The State
Legislature and the ABC give us license privileges and can take them away. New alcoholic beverage laws were passed that are effective in 2018. Many critical issues are pending. Do you know about them and are you prepared for the changes. Is your business safe? Members are encouraged to look through the Legislative Bulletin. If there is a new law that is a problem for your business, call the association office now. The CBRA is your voice in Sacramento. If you are not a member, join today. The CBRA is your only voice when it comes to new beverage laws.
Brands and Comments
The CBRA Newsletter has not accepted any payment from any of the brands mentioned
in this edition. The editor, Ron Ziff, welcomes comments at ron@cbraliquor.org
CBRA Membership Remains Open
Now, more than ever, access to your industry is important. The CBRA is California's
only statewide association of licensed retailers, and our membership continues to be
open for the first time in 20 years.
At CBRA we deal with licenses and regulations that affect the beverage business on a
daily basis. That's why CBRA offers practical solutions, unique products, services,
information, and timely advice for both large and small beverage businesses. With
reasonable fees, superior service, and associates that are easy to reach, CBRA helps you
to run your business better and easier. One of the most valuable services we offer is that
call to the ABC to ask your question. We can ask that question and keep you anonymous. That's something you just can't do yourself.
Join or renew your valuable membership today. You can't afford to delay.
California Beverage Retailers Association – California's Only Statewide Association of Licensees. We're #1!
If you would like to be removed from this email list, please email to
ron@cbraliquor.org with UNSUBSCRIBE in the subject line.